Love Letter To Karen

– Kenny Drew, Jr.

A lyrical medium Latin song with Kenny's signature romanticism. The A sections feature a dialogue between the melody and the bass line.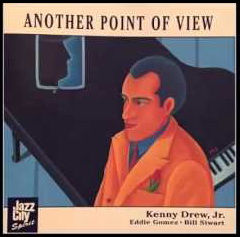 All selected items will be available for download after purchase.
Recording:

Kenny Drew, Jr. - Another Point Of View

Recorded on:

November, 1993

Label:

Jazz City Spirit (TKCB-70304)

Concert Key:

A minor, No key center

Vocal Range:

, to

Style:

Latin (medium)
Piano - Kenny Drew, Jr.
Bass - Eddie Gomez
Drums - Bill Stewart
This beautiful Latin song is a great example of the romantic side of Kenny Drew, Jr. The melody flows lyrically through a moderately long AABCDE form, 58 measures in total. This form has an unusual contrast in the length of the sections: the A and C sections are eight measures long, but the B section is 20 measures. D is six measures and E is again eight. The first four measures of the A and C sections feature a rhythmic dialogue between the melody and the bass line, which on the recording is doubled by the piano.

This song's key center is generally A minor, but with visits to many other keys. The D section, which has no melody and is essentially like an interlude between choruses, vamps two measures of A minor and two of A major; it is also used as an intro and ending. The A section changes start in A minor but modulate to B♭ major and D♭ major, resolving back to A minor at the end. The first eight measures of the bridge have a pedal on E♭; the next four move the same pedal down to D♭, with the same melody transposed. The last eight measures of this section feature a colorful, classical-sounding progression that goes through a descending series of minor keys, with the melody rising in contrary motion, before modulating back to A minor. After the C section, which is like A but ending in D♭ major, the D section features more contrary motion based on the end of the B section, getting back to A minor for the E section vamp.

Our lead sheets feature a fill that Kenny plays near the end of the B section. The C treble clef lead sheet also shows two-note voicings that Kenny plays in the second half of this section and also the beginning of the D section, where he voices the melody in sixths. The melody has quite a wide range, and our E♭ and C bass clef lead sheets have some phrases an octave lower. The whole melody can be played on tenor sax an octave below where Kenny plays it on piano, but trumpet players will probably want to take some of the B and D sections down an octave; these are indicated in our B♭ lead sheet.
Kenny Drew Jr.'s sixth album as a leader, "
Another Point Of View
" was his fourth for the Jazz City/Jazz City Spirit label. It was also his only recording with Eddie Gomez and Bill Stewart. Gomez and Stewart's only other recording together was on baritone saxophonist Nick Brignola's final album, "Tour De Force" from 2000.
According to friends of Kenny's in Florida, "Karen was the love of his life. They broke up, but he still remained relatively close with her."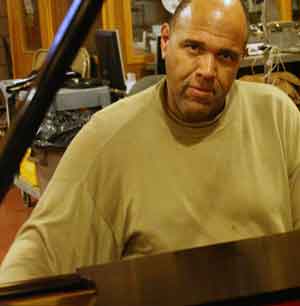 June 14, 1958 – August 3, 2014
Kenny Drew, Jr., son of pianist/composer Kenny Drew, Sr., started music lessons at the age of four. He studied classical piano with his aunt Marjorie, but soon found he enjoyed playing jazz as well. He performed worldwide with a comprehensive variety of musicians, including Stanley Jordan, OTB, Stanley Turrentine, Slide Hampton, the Mingus Big Band, Steve Grossman, Yoshiaki Masuo, Sadao Watanabe, Smokey Robinson, Frank Morgan, Daniel Schnyder, Jack Walrath, Ronnie Cuber and many others. Read more...