Las Palmas

– Kenny Drew, Jr.

This mellow bossa is harmonically simpler than many other Kenny Drew, Jr. songs. Our C lead sheet shows some distinctive melodic ornaments that Kenny uses on the recording.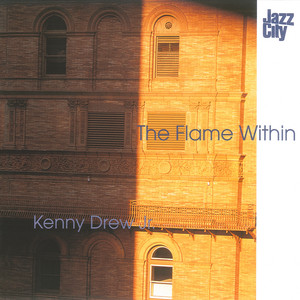 All selected items will be available for download after purchase.
Recording:

Kenny Drew, Jr. - The Flame Within

Recorded on:

November, 1987

Label:

Jazz City (D28Y0207)

Concert Key:

E-flat

Vocal Range:

, to

Style:

Latin (Bossa)
Piano - Kenny Drew, Jr.
Bass - Charnett Moffett
Drums - Al Foster
A charming, mellow bossa, Las Palmas is simpler than many other Kenny Drew, Jr. songs while still in his signature style. The melody in the two A sections is quite diatonic in E♭ major, going up and down mostly in thirds. The bridge goes to G major with a similar melodic structure, shifting to G minor at the 5th measure to resolve back to E♭. The C section starts like A, but the melody develops in a wider range, leading to a descending cycle that extends this section to 12 measures. As in several of Kenny's songs, the last resolution goes to a vamp alternating two chords, in this case D♭6 and B6 (written in our lead sheets as C♭6 to avoid switching from flats to sharps). This D section vamp ends on E6(♯11), which is held out for two measures in the head but only one on the solos for a more even phrase length.

There is an intro based on the same vamp, nine measures long with the two measures of E6(♯11) at the end. Our lead sheets show what Kenny plays on the intro, but the vamp at the end of the head is open to solo over.

Several grace notes that Kenny plays are shown in our lead sheets. The C treble clef lead sheet shows some tied-over grace notes in the A section that he uses to harmonize the melody notes a third below; these are regular grace notes in the other lead sheets. Our B♭ trumpet lead sheet is written in a low register; we feel that this song could be a great feature for trumpet, or particularly flugelhorn, in this warm and mellow range. Because of the wide overall range of the melody, this one and our E♭ and C bass clef lead sheets change octaves in a few places relative to the C treble lead sheet.
"
The Flame Within
" was Kenny Drew, Jr.'s second recording and his debut as a leader. In March 1987, he played on four songs on bassist Charnett Moffett's album "Net Man," Charnett's own leader debut. Kenny and Charnett also played together on both of their second albums as a leader: "The Rainbow Connection" and "Beauty Within", respectively. Drummer Al Foster also played on some of the album "
Kenny Drew, Jr.
" in 1991, Kenny's first for the Antilles label.
Other songs on "The Flame Within" feature tenor saxophonist Bob Berg, who didn't otherwise record with Kenny but had played on his father
Kenny Drew's
all-star 1977 album "
Lite Flite.
"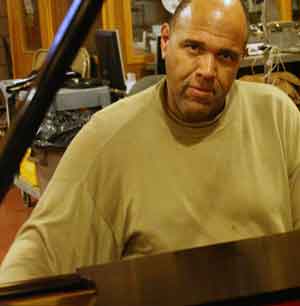 June 14, 1958 – August 3, 2014
Kenny Drew, Jr., son of pianist/composer Kenny Drew, Sr., started music lessons at the age of four. He studied classical piano with his aunt Marjorie, but soon found he enjoyed playing jazz as well. He performed worldwide with a comprehensive variety of musicians, including Stanley Jordan, OTB, Stanley Turrentine, Slide Hampton, the Mingus Big Band, Steve Grossman, Yoshiaki Masuo, Sadao Watanabe, Smokey Robinson, Frank Morgan, Daniel Schnyder, Jack Walrath, Ronnie Cuber and many others. Read more...