Keep Your Circle Small

– Brian Lynch

Full of angular lines and unpredictable harmonies, this song is an exciting challenge. There's quite a bit of dialogue between the melody and rhythm section figures, fully notated in our Concert Condensed Scores (for both Brian's quartet and quintet recordings). We also have "as recorded" horn parts from the latter arrangement.
All selected items will be available for download after purchase.
Recording:

Brian Lynch - Keep Your Circle Small

Recorded on:

June 24, 1995

Label:

Sharp Nine (CD 1001)

Concert Key:

No key center

Vocal Range:

, to

Style:

Swing (medium up)
Trumpet - Brian Lynch
Piano - David Hazeltine
Bass - Peter Washington
Drums - Louis Hayes
An advanced song, intricately detailed in both melody and harmony. Check out the hard swing on Brian Lynch's two recordings—no easy feat for a song with so much going on. The melody lines are often angular and convoluted, connecting unpredictable chord progressions. This melodic complexity is broken up in a few places by longer notes, filled in by bouncy bass figures (doubled by piano). These occur in the last four measures of each section; the form consists of eight-measure A and B sections, 10-measure C and 12-measure D. Though no section exactly repeats, the rhythm section figures are similar in each section; the second four measures of D are similar to the beginning of C. The changes combine slippery stepwise movement with II-V7s; the ends of the B and D sections, in C major and D major respectively, are really the only places to hold onto harmonically. The solo changes are similar to the head without the rhythm section figures and hits.

A two-staff condensed score is available for this quartet version. The bottom staff shows the bass notes for the head except for where the bass is walking. Piano comping figures are shown under the top staff, and drum figures under the bottom staff. On this recording, the bass line from the last four measures of the head is played at the end of the last solo chorus to set up the out melody. The coda vamps and fades on the last four measures.
"
Keep Your Circle Small
" was the very first release on the Sharp Nine label. The second, recorded one month later, was
David Hazeltine
's "
4 Flights Up.
" Brian Lynch recorded three more albums for Sharp Nine: 1997's "Spheres Of Influence," 2000's "Tribute To The Trumpet Masters" and "Brian Lynch Meets Bill Charlap" in 2003. Brian appears as a guest on pianist/vocalist
Dena DeRose
's 2002 Sharp Nine album "Love's Holiday."
All selected items will be available for download after purchase.
Recording:

Brian Lynch - Songbook Vol 1: Bus Stop Serenade

Recorded on:

August, 2016

Label:

Hollistic Music Works (HMW 19)

Concert Key:

No key center

Vocal Range:

, to

Style:

Swing (medium up)
Trumpet - Brian Lynch
Alto Sax - Jim Snidero
Piano - Orrin Evans
Bass - Boris Kozlov
Drums - Donald Edwards
This quintet recording is slightly slower but similar in arrangement to the original quartet version. A condensed score is available for this one as well, with a trumpet 1st part and alto sax 2nd part as recorded. The horns flicker between unison, octaves and harmony, with most of the longer melody notes harmonized. This version goes straight to the out head from 4-feel in the solos, without the bass figure setting it up. The coda is a bit different: a four-measure phrase based on the end of the head is tagged three times, with only a two-measure repeating bass line instead of the full four. A fourth repeat of this phrase finishes the same as the end of the head, but with the last two measures at half the previous tempo and slowing down to a different final chord (D♭/D).
A revisiting of earlier Brian Lynch compositions, "
Songbook Vol. 1: Bus Stop Serenade
" is the third of four Lynch albums so far featuring alto saxophonist Jim Snidero. Jim played on Brian's debut as a leader, "Peer Pressure," in 1986; around that time, the two played together in Toshiko Akiyoshi's big band. Brian also played on three of Jim's albums including the latter's debut, 1984's "On Time."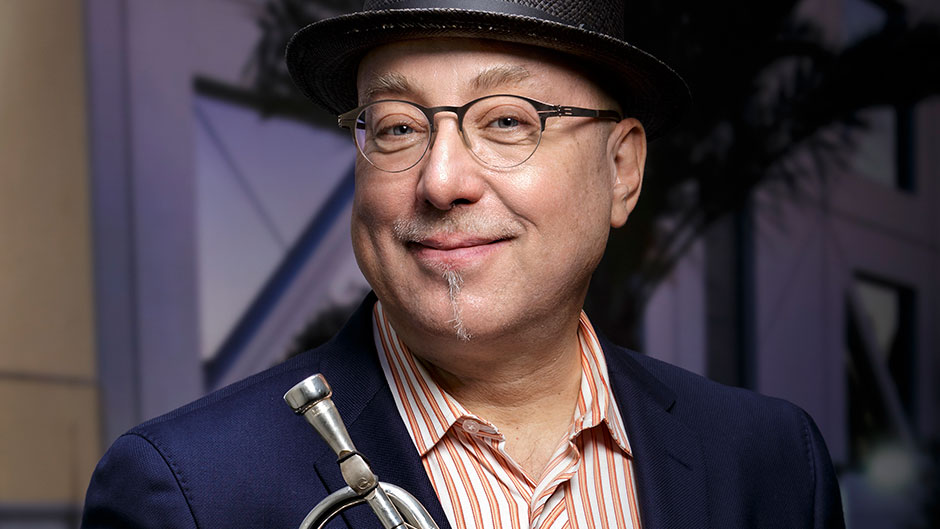 born on September 12, 1956
Grammy Award-winner Brian Lynch is one of the most influential and well-respected trumpeters in both Latin and straight-ahead jazz. Brian grew up in Milwaukee and apprenticed with Midwest-based keyboardists Buddy Montgomery and Melvin Rhyne; he went on to earn his degree from the Wisconsin Conservatory of Music. After moving to New York in 1981, he earned his stripes working with jazz giants such as Art Blakey, Horace Silver, Barbarito Torres, and Phil Woods. Lynch recorded many records as a leader—23 since he began recording in 1986. Read more...