Jive Coffee

– Peter Bernstein

A unique adaptation using the chord progression of Tea For Two, this popular Peter Bernstein song creates an infectious 5/4 groove. Check out Peter having fun performing it on the videos below.
Recording:

Larry Goldings - The Intimacy Of The Blues

Recorded on:

1991

Label:

Minor Music (801017)

Concert Key:

A-flat

Vocal Range:

, to

Style:

5/4 swing (medium)
Guitar - Peter Bernstein
Organ - Larry Goldings
Drums - Bill Stewart
Video
Jive Coffee performed by Peter Bernstein, guitar; Larry Goldings, organ; Bill Stewart, drums, at the Village Vanguard, 2013.
Peter with Brad Mehldau, piano; Larry Grenadier, bass; and Jeff Ballard, drums, at Jazz Baltica in 2006.
Peter Bernstein, guitar; Sam Yahel, piano; Marco Panascia, bass; Willie Jones III, drums: Peperoncino Jazz Festival , Summer 2010.
Peter Bernstein, guitar; Sullivan Fortner, piano; Peter Washington, bass; Billy Drummond, drums: Buenos Aires Festival de Jazz 2015.
This is a very popular Peter Bernstein composition which he's performed many times (including the four video performances above—click on the video shown, and you'll see the other videos to click on and view). Although inspired by and based on the changes of the 1925 standard
Tea For Two
, Peter creates a whole new world to explore, putting you in 5/4 with an infectious four-measure rhythm section vamp figure. He then further surprises you, modulating his four-measure pattern up a half step for the start of the melody. The rhythm section groove divides the measures into three beats followed by two beats, as in Dave Brubeck's
Take Five
.
The equally infectious melody is relatively simple and diatonic to the chord progression. The down-a-half-step intro is used as an interlude between soloists, also reappearing as a vamp for a drum solo before the out head, and as an ending.
The available lead sheets show the basic melody, but the examples below detail ways Peter has performed it. He always has fun with the melody, exploring it in many different ways, and we've shown his interpretations of the first four measures of the melody from four different performances:

On the original Larry Goldings recording, Peter stretches out the grace notes at the beginning of the measures to eighth note triplets. He adds similar grace notes to beat 4 on these measures; the arrows indicate that the grace notes are on the downbeat. These fourth beats are anticipated with an extra low E♭ 8th-note.

The slightly slower "Signs Of Life" recording is closer to the lead sheet's melody, but Peter again anticipates the fourth beats with another low E♭.

This version from Jazz Baltica 2006 is faster. Peter adds the grace notes on the fourth beats (becoming a 16th-note triplet on the second measure), but does not add the low E♭ anticipating them on the first two measures.

This even faster version comes from a Village Vanguard performance in 2013 with the same trio from the first recording. Peter plays the melody more freely, with triplets instead of grace notes throughout and laying back on the third and fourth measures.
from Peter:
I remember hanging with Larry Goldings and we were working on playing some things in 5/4: blues and some different standards. One day we started playing around with
Tea For Two
, we both loved that song and the chord progression laid so nicely in 5. I remember the first phrase sticking in my head and just put it together along with the opening vamp which we made into an open thing for
Bill Stewart
to play over. We started playing that tune in 1989 and we still do.
Tea For Two
will endure forever!
Peter has recorded
Jive Coffee
three times. It appears on his 1994 album "Signs Of Life," in a quartet setting with Brad Mehldau, Christian McBride, and Gregory Hutchinson. A little over 20 years later, the same quartet made a live recording. Click on the second and third album covers for more details. As can be seen from the videos above, Peter has performed this song with a wide variety of groups including those from the two studio recordings.
Recording:

Peter Bernstein - Signs Of Life

Recorded on:

December 17, 1994

Label:

Criss Cross Jazz (1095)

Concert Key:

A-flat

Vocal Range:

, to

Style:

5/4 swing (medium)
Guitar - Peter Bernstein
Piano - Brad Mehldau
Bass - Christian McBride
Drums - Gregory Hutchinson
For a detailed description of this song and Peter's interpretations of the melody, click on the first album cover. This quartet recording, like all subsequent versions, begins with solo guitar one time through the vamp before the rest of the band comes in.
"Signs Of Life" is Peter's second album as a leader. The first, "Somethin's Burnin'," is another Criss Cross album from 1992 also featuring Brad Mehldau with bassist
John Webber
and drummer Jimmy Cobb.
This was Christian McBride's first recording with Peter; they also recorded together with Erena Terakubo and with Marianne Solivan. Peter and Gregory Hutchinson were both on a LaVerne Butler record from earlier in 1994 also featuring pianist
Rob Bargad
; they have also played together with vocalist Kevin Mahogany and trumpeter
Ryan Kisor
, among others.
Recording:

Peter Bernstein - Signs LIVE!

Recorded on:

January 4, 2015

Label:

Smoke Sessions (SSR 1705)

Concert Key:

A-flat

Vocal Range:

, C4 to C4

Style:

5/4 swing (medium)
Guitar - Peter Bernstein
Piano - Brad Mehldau
Bass - Christian McBride
Drums - Gregory Hutchinson
This live version is around the same tempo as the "
The Intimacy Of The Blues
" recording (first album cover). Peter plays the melody with grace notes rather than triplets, most similar to the Jazz Baltica version (see the video under album 1). Everyone stretches out here, with an extended drum solo over the intro vamp; the same vamp is also stretched out at the end, bringing the track to an epic 19 minutes in length.
"
Signs Live!
" was recorded a little over 20 years after "
Signs Of Life.
" The making of this album is a sign of the times in terms of jazz history, especially with regards to music that continues the bebop/hard bop tradition. The reunion of the exact same players after such a long time was exceptionally rare when this music was at the vanguard of jazz—for example, the lineup of a '50s record playing together again in the '70s, or a '60s record in the '80s. These were times when the music was moving on; the flow of jazz was much faster than today. Fewer musicians in the '80s, who had been playing hard bop in the '60s, wanted to continue on the same path 20 years later. Now that jazz has diversified in so many directions, there is more room for the specialists like Peter Bernstein to keep getting to the heart of the music, focusing on refining their artistic vision rather than on pushing it forward.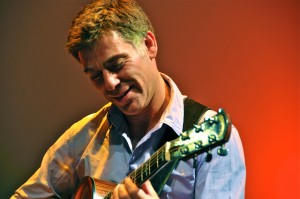 born on September 3, 1967
Jazz guitarist Peter Bernstein has been a part of the jazz scene in New York and abroad since 1989. During that time he has participated in over 80 recordings and numerous festival, concert and club performances with musicians from all generations. Read more...