Herman's Helmet

– Jack Wilson

An eclectic song that combines stop-time, bossa and swing over an extended form. The two recordings differ in many details. Our lead sheet is close to the version by Blue Mitchell, which has a sextet arrangement with full score and parts; we also have a condensed score for Jack's own recording.
All selected items will be available for download after purchase.
Recording:

Jack Wilson - Song For My Daughter

Recorded on:

December 16, 1968

Label:

Blue Note (BST 84328)

Concert Key:

No key center

Vocal Range:

, to

Style:

Swing (medium)
Vibes - Victor Feldman
Guitar - Howard Roberts
Piano - Jack Wilson
Bass - Andy Simpkins
Drums - Jimmie Smith
- plus strings
For a detailed description, click on the second album cover. Jack Wilson's first recording is much slower than Blue Mitchell's later version. A condensed score is available showing the melody and important string and vibes countermelodies for Jack's version. It is largely a piano feature; Jack plays the melody a bit differently in the first and second A and B sections, and generally interprets it expressively, especially in the more lyrical bossa sections. The bridge of the in head is bossa throughout.

This recording has a rather clever form, just over two choruses long. After the head, Jack solos for most of a chorus; the D.S. is eight measures before the end of the form, going to the first B section of the head. This is followed by the second A and B sections, then straight to the coda.

There are a few harmonic differences from the Blue Mitchell recording. The passing chords in the hits in measures 3 and 7 of the A section are major: E♭maj7-Dmaj7-D♭maj7. The seventh measures of B1 and F (but not B2) have rhythmic hits that go from D♭ major back to C major. The coda vamps and fades as on the other recording, but alternating D♭maj7 with A/D♭.

Lead sheets are available here; for the sextet arrangement, click on the second album cover.
Jack Wilson recorded another version of this song in January, 1963, but it remains unissued. "
Song For My Daughter
" is Jack's only album as a leader to feature vibraphonists other than his frequent collaborator, Roy Ayers. Besides Victor Feldman on this song, other tracks feature Stan Levey and Tommy Vig on vibes—both are better known as drummers.
Bassist Andy Simpkins is best known as a member of the trio The Three Sounds; his last recording with this trio was three months before this Jack Wilson session, on the album "Elegant Soul."
All selected items will be available for download after purchase.
Recording:

Blue Mitchell - Vital Blue

Recorded on:

June 26-27, 1971

Label:

Mainstream (MRL 343)

Concert Key:

No key center

Vocal Range:

, to

Style:

Swing (medium)
Trumpet - Blue Mitchell
Alto Sax - Ernie Watts
Tenor Sax - Joe Henderson
Piano - Walter Bishop, Jr.
Bass - Stanley Gilbert
Drums - Doug Sides
Despite its long form and changes of feel and key, Herman's Helmet is quite a relaxed song, relatively simple especially compared to some others by Jack Wilson. The lyrical melody really holds the song together. The form is 64 measures long, essentially AABC; our lead sheets and parts show a rehearsal letter every eight measures, as ABABCDEF. E and F are the same as A and B. There is no singular key center; the A section begins in C major, while the B section goes to E♭ and D♭ major. The bridge (C and D) visits F and D major. The changes are generally straightforward II-V7s throughout.

The A section of the head is stop-time, with rhythm section hits filling in the longer notes of the melody, going to a bossa groove at B. On this Blue Mitchell recording C swings with a 4-feel, returning to bossa in the second half of the D section. Solos are on the head form, swinging throughout with slightly simpler changes. The coda vamps and fades out in D♭ major (in this version alternated with A♭7sus/D♭).

Our lead sheets (click on the Song For My Daughter album cover) are closer to this version than Jack Wilson's earlier recording. The melody is a bit simplified in the lead sheet (to accommodate for melodic interpretation in the style of Jack's version), but the changes are the same as the Blue Mitchell recording. The chord hits in the 3rd and 7th measures of A are different in the two recordings; on this one the passing chords are minor (Em7-E♭m7-Dm7).

In our lead sheet, we indicate to go to the coda at the end of F of the out head. The arrangement on this recording, however, goes to the coda after the second B section; the out head is simply ABAB without a bridge.

Full score and parts are available for the sextet arrangement from this version. In a few horn voicings on the recording, two horns are in unison with the third playing a harmony note; in our score and parts we've changed these to three-note chords, as unisons are hard to tune in this situation.

We feel this comparatively simple song can be a good educational tool, especially for the rhythm section. Our bass part is fully notated on the head, and we have two different piano parts—a notated part with voicings, and another showing the melody as a cue with hits below the staff. In the coda we show the beginning of saxophonists Ernie Watts and Joe Henderson's improvised lines over the vamp before it fades out.
"
Vital Blue
" is surprisingly obscure for an album with such an all-star lineup. This was the second of Blue Mitchell's six Mainstream albums, and one of only two of Blue's albums featuring Joe Henderson. Blue and Joe first recorded together on the former's classic 1963 Blue Note album "Step Lightly;" their only other recording together is on three songs on Joe Zawinul's 1966 album "Money In The Pocket."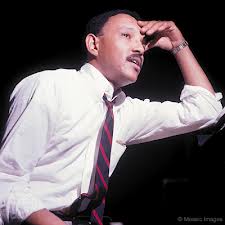 August 3, 1936 – October 5, 2007
Pianist Jack Wilson was born in Chicago but moved to Fort Wayne, Indiana, at age seven. By his fifteenth birthday, he had become the youngest member ever to join the Fort Wayne Musician's Union. At the age of seventeen he played a two-week stint as a substitute pianist in James Moody's band. After graduating from the local high school, Wilson spent a year and a half at Indiana University, where he met Freddie Hubbard and Slide Hampton. He went on to tour with a rock 'n roll band, which led him to Columbus, Ohio, where he found the then-unknown Nancy Wilson and Rahsaan Roland Kirk. He settled there for a year, then moved to Atlantic City, where he led the house band at the local Cotton Club. Read more...