Here's That Mann

– Eddie Costa

Here's That Mann has a complex melody with many different themes; when put together, it's nothing but fun! Lead sheets and second parts available, as well as a guitar and a vibes part.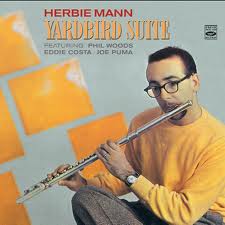 All selected items will be available for download after purchase.
Recording:

Herbie Mann - Yardbird Suite

Recorded on:

November 2, 1957

Label:

Savoy (MG 12108)

Concert Key:

F

Vocal Range:

, to

Style:

Swing (medium up)
Tenor Sax - Herbie Mann
Alto Sax - Phil Woods
Vibes - Eddie Costa
Guitar - Joe Puma
Bass - Wendell Marshall
Drums - Bobby Donaldson
The audio excerpt starts at the beginning of the track, with the melody. There's a lot going on, so this head will require some rehearsal time. Our lead sheets show the melody along with cues when short sections of the melody are played by vibes on the recording, so each instrument has the whole melody covered. Second part editions are available, also with cued sections that were played by guitar on the recording. Second parts will work in any quintet format.

To keep the arrangement of the recording intact, a Vibes and Guitar edition are also available.

All the information for the entire group is in the C treble clef lead sheet, so the arrangement can be played by a trio.

The first Eddie Costa composition on jazzleadsheets.com,
Blues Plus Eight
, had Eddie playing piano on the recording, and it was recorded two months after this one. The "
Yardbird Suite
" session features Eddie playing vibes, which is the instrument most people associate with him. In 1957, however, Eddie won
both
Downbeat Critics Poll awards, Vibes and Piano. Within the two months separating these two dates, he recorded four more sessions, one of which was at the Newport Jazz Festival on July 6.
Maybe some of you didn't know that flutist Herbie Mann also plays tenor sax. Here's your chance to check him out on tenor.
Eddie Costa was a great creative talent who unfortunately died young. The Lord jazz discography lists him as doing 194 sessions between 1950 and 1962. That's an average of sixteen every year.
With no piano in the ensemble on this track,
Joe Puma
finds himself as the primary harmonic comper, providing the chordal hits to Costa's start-and-stop melody and laying down a smooth carpet for the up-tempo soloing of the rest of the band.
Guitar players should pay special attention to Puma's seamless voice-leading during his comping, which lends a richness and fluidity to the sound. Puma also takes two As of solo in which he displays his bebop-centric linear concept and articulative abilities.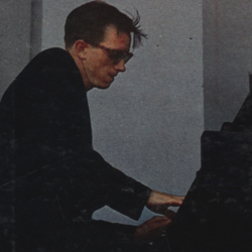 August 14, 1930 – July 28, 1962
Pennsylvanian jazz pianist and vibraphonist Eddie Costa had a far too brief career in jazz. Raised in a rural coal mining town, Costa learned piano with his brother Bill where both were first influenced by swing. Later, he was exposed to pianist Bud Powell, and his focus shifted slightly. Self-taught on the vibes, he became an excellent sight reader—that ability led to a great deal of studio work. In 1957 Costa led a quintet that included Phil Woods, Art Farmer, Teddy Kotick, and Paul Motian. His next recording was 1958's "Guys and Dolls Like Vibes" with pianist Bill Evans, originally credited to the Eddie Costa Quartet and now reissued on CD as "Bill Evans and Eddie Costa, Complete Quartet." Read more...