Flashback

– Art Farmer

An interesting melody that leaps and weaves through an open "broken time" intricate harmonic roadmap. Trumpet, piano and drum transcription editions help you delve deep into the "Silk Road" recording.
All selected items will be available for download after purchase.
Recording:

Art Farmer - You Make Me Smile

Recorded on:

December 13 & 15, 1984

Label:

Soul Note (1076)

Concert Key:

F

Vocal Range:

, to

Style:

Swing (medium)
Flugelhorn - Art Farmer
Tenor Sax - Clifford Jordan
Piano - Fred Hersch
Bass - Rufus Reid
Drums - Akira Tana
This melody is great for getting wide interval jumps together both technically and into your ear. This ABABC form composition also provides an intricate harmonic roadmap. In this recording, Art Farmer is looking for a real open "broken time" feel for the AB sections, so the melody can be played softly, which helps him give more contrast to the two notes that separate the two AB sections; the chords that appear in parentheses in the A sections of the head can be played in the D section of the solo changes.

Though the bridge contrasts in feel, the real contrast is with the last four measures of the melody, which also appear as an intro. The tonal quality of this passage, with the rhythmic hits, create a light, upbeat mood that provides a brief release from the minor, half-diminished and altered dominant chord qualities elsewhere in the song.
This is the second recording of this song. The first, from 1983, comes from the album "Nostalgia," a reunion of Farmer and Benny Golson's Jazztet; on that recording the song was titled Solstice. Bassist Reggie Johnson also recorded Flashback in the '80s, on the album "First Edition." He was familiar with the song by then; as he says in the liner notes, "I played it a lot with him [Art Farmer], but kept hearing it slightly faster and with more energy."
All selected items will be available for download after purchase.
Recording:

Art Farmer - Silk Road

Recorded on:

June 11 & 12, 1996

Label:

Arabesque (AJ 0130)

Concert Key:

F

Vocal Range:

, to

Style:

Swing (medium)
Flumpet - Art Farmer
Tenor Sax - Don Braden
Tenor Sax - Ron Blake
Piano - Geoffrey Keezer
Bass - Kenny Davis
Drums - Carl Allen
This three-horn arrangement is virtually identical to the two-horn arrangement from the "You Make Me Smile" album. The horns are in unison for nearly the whole melody, harmonized only in the intro and in the similar figure at the end of the head. In fact, the arrangement was expanded by adding a third part below the existing second part of the earlier recorded quintet version. Our Piano and Drum Corner editions let you investigate in detail how pianist Geoffrey Keezer and drummer Carl Allen comped on the recording. See the Piano Corner and the Drum Corner tabs.
On this recording Art plays the flumpet, a custom-made instrument that combines qualities of the trumpet and the flugelhorn. "Silk Road" was Art Farmer's last US studio recording. All the players had recorded with Art before except tenor saxophonist Don Braden.
Geoffrey Keezer
first recorded as a member of the Art Farmer Quartet live at "The Blue Note" in Fukuoka, Japan in May, 1991, at age 20. After another recording under Farmer's leadership in 1992, Carl Allen joined the rhythm section with Keezer for recordings in 1994, 1995 and our 1996 recording.
This song is one of many that Art recorded several times in different settings; others include his own
Mox Nix
and Kenny Drew's
Context.
Art Farmer Trumpet Solo
Farmer's chorus
[clip]
is accompanied only by bass and drums. It is a classic example of his melodic, introspective later style. He begins with a lick related to the interlude of
A Night In Tunisia.
The chord symbols are not indicated on the transcription, as bassist Kenny Davis is essentially pedaling through most of the two A sections.
Geoffrey Keezer Piano Solo
Pianist Geoffrey Keezer packs a lot of different textures and rhythms into one chorus of solo
[clip]
. In each of the two A sections and the bridge, he begins relatively simply for about eight measures, then takes off! The interplay between the two hands is constant and a distinctive feature of this solo. Especially note the counterpoint that begins the second A section, followed by harmonized 16th-note passages.
Geoffrey Keezer Piano Comping Geoffrey Keezer's comping on both the in and out heads is very active and at times almost overshadows the simpler melody. On the in head his voicings are more concentrated in the middle register, but use a mix of fourth- and third-based structures. The out head's comping covers a wider range and is rhythmically and texturally more varied, beginning with several single-note lines. In several places he explores internal voice-leadings in a classic bebop style; the most prominent of these appears in the second to last measure of the first A section on both the in and out heads. Here, he moves the 5th of the F major chord chromatically up to the 6th, inserting the 7th as a surrounding or passing tone. On the out head this is harmonized in 6ths.

The Gm7(♭5) chords on the second, fourth, and sixth measures appear in parentheses; they are not always stated. Keezer's voicings here are within the range of possibilities given by A7♯5(♯9), but always subtly different from those he uses on that chord.

Don Sickler: "Art Farmer was alway picky about his rhythm section accompanists. I remember when we used to discuss different pianists, he would often say "he's too busy for me." He was always looking for imaginative but sensitive players that didn't comp too much, especially when he was soloing. Art loved Keezer's textural palate of colors and although Keezer often plays a lot of notes and interjects wild rhythms, Art always felt his sensitivity to the situation at hand, and loved playing with him, accepting his challenges to find those special 'notes' Art used in his solos."
Carl Allen drum comping
Two separate transcriptions are available for Carl Allen's playing on
Flashback:
Drum Comping (Melody) and Drum Comping (Art Farmer Solo).
The Drum Comping (Melody) transcription has everything Carl plays behind the in and out melodies:
-- the melody is shown above the drum staff
-- four-bar intro [check out the audio excerpt above]
-- in melody [check out the audio excerpt above]
-- four-bar setup for out melody (corresponds on lead sheet to last two bars of solo section followed by
D.S.
)
-- out melody [here is a taste of Carl behind the out melody
clip
]
The Drum Comping (Art Farmer Solo) transcription shows what Allen plays behind Art Farmer's solo:
-- Art's solo is shown above the drum staff
-- starts two measures before the solo
[clip]
Don Sickler: "It's not your ability as a drum soloist that will get you the gig! It's your ability to comp both for the melody and for the soloists that matters."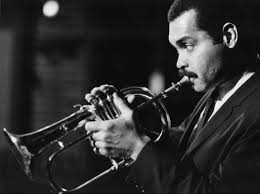 August 21, 1928 – October 4, 1999
Featured in a recent JazzWax article, journalist Mark Myers says "there's simply too much great Art Farmer on Prestige during this early period to single out any one LP" as a perfect album! Check out Art and Gigi Gryce here and here. Read more...