Mox Nix

– Art Farmer

Two different solos by Art Farmer, both equally masterful and melodic. Available in B-flat and C editions.
All selected items will be available for download after purchase.
Recording:

Art Farmer - Modern Art

Recorded on:

September 10, 11 or 14, 1958

Label:

United Artists (UAL 4007)

Concert Key:

D minor

Vocal Range:

, to

Style:

Swing (medium up)
Trumpet - Art Farmer
Tenor Sax - Benny Golson
Piano - Bill Evans
Bass - Addison Farmer
Drums - Dave Bailey
1958 was another productive year for Art. It started on January 5, when Art recorded Sonny Clark's "Cool Struttin'" album (it became a monumental hit in Japan). The next day, Art recorded on a Jimmy Giuffre session, and on January 13 he recorded his second album with the Horace Silver Quintet. Still in January, he recorded with
Mal Waldron
. On April 19, he did his own "
Portrait Of Art Farmer
" album for Contemporary Records. After several more recording dates, he started the "
Modern Art
" recording sessions, but he didn't miss a George Russell date on September 12, during the recording of "Modern Art."
After "Modern Art," on December 17, 1958, Art recorded with the Gerry Mulligan Quartet, an important piano-less group, for the first time.
Transcribed Trumpet Solo:
This is the earliest of two recorded Art Farmer solos on
Mox-Nix
that we're making available. Our audio excerpt for the "Modern Art" album starts with Art's third solo chorus
trumpet
. He's a master soloist: he started simply in his first chorus, with a four-measure phrase that he developed during the solo. By the third chorus, when our audio except starts, he's in full swing and builds through a fourth chorus before handing it over to tenor saxophonist Benny Golson.
Jazzleadsheets.com has posted Art Farmer solos from 1954, 1956, 1960, and 1982. This is our first solo of Art's from 1958, but it's certainly not the last one we'll put up. Art Farmer is a fantastic artist on trumpet, flugelhorn and flumpet: an impeccable and creative soloist.
All selected items will be available for download after purchase.
Recording:

Art Farmer - Benny Golson - Meet The Jazztet

Recorded on:

February 6, 1960

Label:

Argo (LP 664)

Concert Key:

D minor

Vocal Range:

, to

Style:

Swing (medium up)
Trumpet - Art Farmer
Tenor Sax - Benny Golson
Trombone - Curtis Fuller
Piano - McCoy Tyner
Bass - Addison Farmer
Drums - Lex Humphries
Art had recorded with Benny Golson when both were part of the Oscar Pettiford Orchestra in 1957. Then, Art recorded on Benny's "
New York Scene
" album. After a few more dates as sidemen together, they recorded "
Modern Art
." Golson and Farmer continued to record together, and in May of 1959, Benny arranged Art's tentet album "Brass Shout." Art went to Europe with the Mulligan quartet (May and June, 1959), but came back in July to do his own "Aztec Suite" album, arranged by Chico O'Farrill for a larger ensemble.
Art remained busy with other work but found time to put together an important new group, The Jazztet. As the title of our record indicates, this is the group's first recording.
Recorded Sextet Arrangement:
This is a classic Art Farmer arrangement for the inaugural recording of a new group that exploded onto the jazz scene in 1960. The other members of this new Art Farmer/Benny Golson sextet included a young McCoy Tyner on piano (only his second recording session), Art Farmer's twin brother Addison on bass, and Lex Humphries on drums.
Mox-Nix
has involved ensemble sections, backgrounds and rhythm section parts. Because of that, we feel a full score and parts are necessary, so the printed sextet arrangement is available at
ejazzlines.com
.
Transcribed Trumpet Solo:
Our audio excerpt starts right on Art's first complete chorus
trumpet
. Art's approach is entirely different from the way he started his solo on "Modern Art," because the arrangement concept for the soloist is entirely different. Notice that the piano lays out after striking and holding the initial chord of Art's first chorus. At the end of the solo clip, you'll hear the piano comes back in with punctuating background figures which continue for Art's second chorus. The rhythm section comps normally for his third chorus. For his fourth chorus, the other two horns enter with their own punctuating background figures.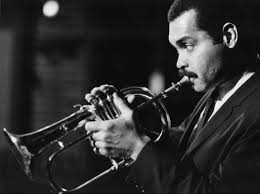 August 21, 1928 – October 4, 1999
Featured in a recent JazzWax article, journalist Mark Myers says "there's simply too much great Art Farmer on Prestige during this early period to single out any one LP" as a perfect album! Check out Art and Gigi Gryce here and here. Read more...