Fiesta

– Cal Massey

With this song, his first recorded composition, Cal Massey had the high honor of having his music played by Charlie Parker. This sweet-sounding Latin song was later recorded by Philly Joe Jones.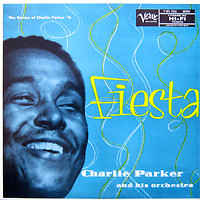 All selected items will be available for download after purchase.
Recording:

Charlie Parker - Charlie Parker

Recorded on:

March 12, 1951

Label:

Clef (EPC337)

Concert Key:

F

Vocal Range:

, to

Style:

Latin (medium)
Alto Sax - Charlie Parker
Piano - Walter Bishop, Jr.
Bass - Teddy Kotick
Drums - Roy Haynes
Congas - Luis Miranda
Bongos - Jose Mangual
Fiesta
is a long-overlooked classic of the bebop-Latin oeuvre. Its sweet, sunny melody floats over the groove, giving Charlie Parker on this recording a chance to expressively squeeze and massage it in all the ways he was so wont to do. Our lead sheet reflects the way he plays the in head.
The changes are relatively straightforward, with the A section beginning with alternating Fmaj7 and G♭13(♯11). This alternation, though a distinctly bebop sound, was way ahead of its time in this early Latin-jazz setting, being a popular vamp tonality in much later Afro-Cuban and especially Brazilian jazz. The bridge swings; on this recording the solos are swinging throughout. There is a four-measure percussion intro; Charlie Parker takes the head out on the C section after 24 measures of piano solo, and ends with a slightly different melody on the last four measures (indicated as the coda in our lead sheet).
We also have a melody transcription from a recently issued alternate take
[clip?]
. Here Parker molds the melody slightly differently. He transforms the melodic rhythms in particularly ingenious ways in the seventh measure of the first A section and the eighth measure of the bridge.
Fiesta was first issued as one of the 4 tracks on a Clef 45 EP that was simply called "Charlie Parker" (EPC337). The March 12, 1951, recording session is labeled as Charlie Parker's Jazzers. They recorded five compositions that day, all but one with more than one take. Bird's first recording of his classic My Little Suede Shoes was on this session. And now, thanks to the release of "Unheard Bird: The Unissued Takes," we can also hear the false start and 1st take of Fiesta.

This is also the first recording of this rhythm section (Bishop/Kotick/Haynes) with Bird—the Lord discography also lists seven more Bird sessions with this rhythm section, including "Charlie Parker With Strings."

In an essay about Cal Massey, baritone saxophonist Fred Ho mentions an interview with Cal's widow in which he learned that pianist Walter Bishop, Jr., lived with the Masseys in the late 1940s. That connection is probably how Cal got to have Fiesta recorded by Charlie Parker. Bishop, bassist Teddy Kotick, and percussionists Luis Miranda and Jose Mangual all played on both of Parker's Latin small-group recording sessions for Clef. The other session, recorded January 23, 1952, also features Benny Harris on trumpet and Max Roach on drums.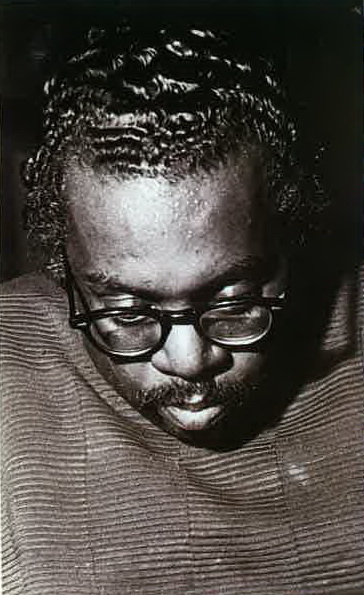 January 11, 1927 – October 25, 1972
Calvin "Cal" Massey is best known as a composer whose works were recorded by some of the greatest musicians of the bebop and hard bop era. Born in Philadelphia but raised in Pittsburgh, Cal moved back to Philadelphia in his teens and met John Coltrane, starting a friendship that would last the rest of Coltrane's life. Read more...