Empty Room

– Fritz Pauer & Mark Murphy

This powerful, contemplative ballad by Fritz Pauer has a great poetic lyric by Mark Murphy. You can check out how three great singers interpret Mark's lyric, starting with Mark himself. Mark sings it in the original instrumental key of F (see Sound Within An Empty Room). Both Dena DeRose and Rachel Gould sing it in B-flat. Dena, also being a great pianist, sings a self accompanied version, and Rachel's performance is our exclusive MP3 track available as well as a Minus You practice track without the vocal.
Recording:

Mark Murphy - Shadows

Recorded on:

June 12 & 13, 1996

Label:

TCB (33802)

Concert Key:

F

Vocal Range:

Tenor, C3 to E4 written 8va

Style:

Ballad
Vocal - Mark Murphy
Tenor Sax - Karlheinz Miklin
Piano - Fritz Pauer
Bass - Ewald Oberleitner
Drums - Dusan Novakov
Our audio excerpt starts at the beginning of the track. Immediately, you hear the magic of Mark Murphy! He starts solo voice for the first A section, captivating with his storytelling and phrasing of his lyric. Pianist and composer Fritz Pauer then sets up the second A section, starting his sensitive solo accompaniment of Mark with the chord progression over a C pedal. You'll hear why Fritz was one of the most sought-after vocal accompanists in Europe.
from Don Sickler:
I was blessed to get to work with Mark Murphy on a couple of recording projects (see
There's No More Blue Time
as an example), so I know Mark's unique magic as a vocal interpreter. I feel ALL singers (and instrumentalists) should check Mark out, and his
Empty Room
is a classic where he also gets to interpret his own lyric. You've got to check out his whole captivating performance, so find it on YouTube, or wherever you can, and you'll really be able to get inside of Mark Murphy's magic.
Recording:

Dena DeRose - Remembering Fritz Pauer

Recorded on:

June 14, 2013

Label:

Barnette (BRCD 0040)

Concert Key:

B-flat

Vocal Range:

Alto, F3 to A4

Style:

Ballad
Piano and Vocal - Dena DeRose
Dena obviously has heard Mark Murphy's classic recording of Empty Room, and has now created her own great version of Mark's lyric. Our audio excerpt starts at the beginning of the track. After her interesting strum on the strings of the piano, she starts voice alone at A, like Mark does, except in the fourth measure she starts to accompany herself on piano.

Released under the title The Sound Within An Empty Room.
On the album "
Remembering Fritz Pauer (Live)/Jazz Piano Austria, Vol. 2
" Dena DeRose's performance is labeled
Sound Within An Empty Room
, which was Fritz's
original instrumental title
. In actuality Dena performs Mark Murphy's lyric version of Fritz's beautiful piece which Mark simply titled
Empty Room
. Reading our bio of Fritz on jazzleadsheets, you'll see that Fritz retired in 2009 from 20 years of teaching at the University in Graz (Austria) Jazzdepartement, where among others, he would have accompanied Dena when she was a guest professor at the school.
Recording:

Rachel Gould - The JazzLeadSheets Songbook

Recorded on:

October 23, 2004

Label:

jazzleadsheets.com (JLS 1006)

Concert Key:

B-flat

Vocal Range:

Alto, F3 to A4

Style:

Ballad
Vocal - Rachel Gould
Piano - Cecilia Coleman
Bass - Tim Givens
Drums - Vince Cherico
Our audio clip starts at the top of the track, with Rachel Gould interpreting the melody in a rubato setting, with piano as a background. The recording continues this way for the first two A sections. Then Rachel sets up the "time" entrance for the rhythm section a bar before the bridge.
Known for her vocal phrasing and technique, Rachel Gould exquisitely molds the melody into a lyrical innovation crafting each word around the notes.
Lyric Description:
Empty Room
hauntingly describes an estranged narrator, left with only the sounds of emptiness. The solitude evokes memories of an old lover, memories filled with pain and regret. How to rid the room of the echoes of past love? Stay within the noisy heartache of the past, or quiet the sound for a moment with lustful fun? Anything is better than this taunting. But the only way to end the noise is with the friendly sounds of new love.
No-vocal version:
The two rubato A sections of the recording will enable you, the singer, to interpret the rubato phrases of the solo piano accompaniment, making the song your own. When the rest of the rhythm section enters with "time" setting up the bridge, you'll still be free to express the song with your own inflections as you tell the story.
The piano solo that was in Rachel's recording has been eliminated for the instrumental accompaniment-only version. After the opening melody, the track modulates back to a repeat of the bridge, then continues to the final ending. This is a common format for jazz ballads.
If another key would be better for you, send the key you'd like to
Don
and we'll post the transposition on the website for purchase. If you're not sure which key is best, send us your range and we'll work with you to figure out the best key.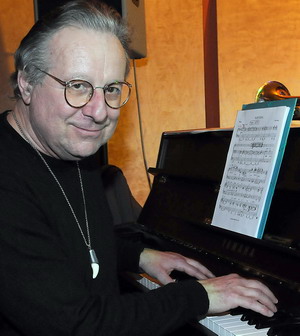 October 14, 1943 – July 1, 2012
Born in Vienna, Austria, acclaimed European pianist and composer Fritz Pauer began his career in the early 1960s, making his first recording (at age 19) with the Hans Koller quartet in 1962. He moved to Berlin, Germany, 1964-68, and played at Dug's Night Club & Jazzgalery as accompanist for Herb Geller, Johnny Griffin, Don Byas, Booker Ervin, Dexter Gordon, Leo Wright, Carmell Jones, Pony Poindexter, Jimmy Woode and vocalist Annie Ross, recording with many of them. Read more...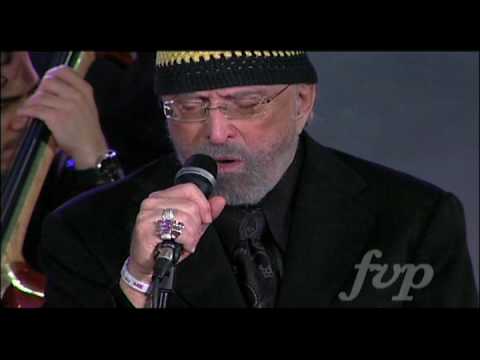 March 14, 1932 – October 22, 2015
Known for his unique inventiveness and improvisations, jazz vocalist and lyricist Mark Murphy has a distinctive post-bop vocal style. Raised in Syracuse in a musical family, he sang with his brother's dance band and studied theater and voice. Moving to New York in 1954, he recorded his first album, "Meet Mark Murphy" with Decca Records and then signed with Capitol in 1959, under whom he released four LPs. He went on to record classic jazz with Riverside Records, hitting the charts in 1963 with the singles of Fly Me To The Moon and Angel Eyes, procuring him the "New Star of the Year" award in Down Beat Magazine's Reader's Poll. Read more...