Dungeon Waltz

– Booker Little

A deep, intricate 3/4 song in Booker Little's signature style. Besides second parts and a condensed score for the quintet arrangement, we also have a trumpet part showing Booker's articulations from the recording.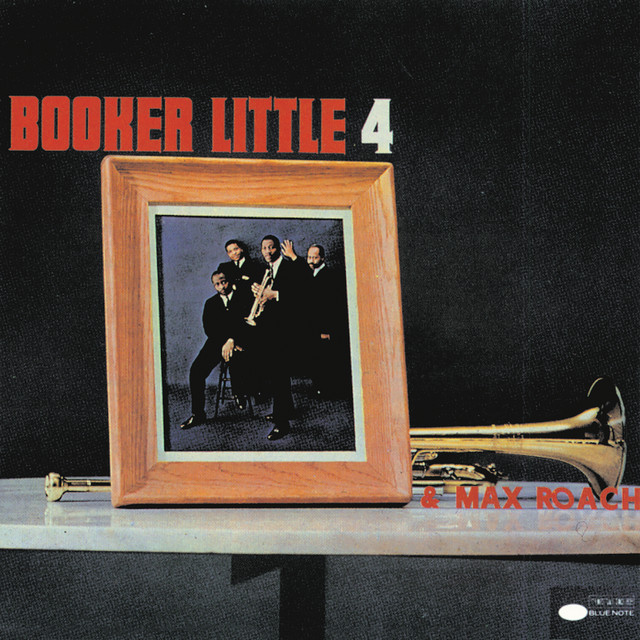 All selected items will be available for download after purchase.
Recording:

Booker Little - Booker Little 4

Recorded on:

October, 1958

Label:

United Artist (UAL 4034)

Concert Key:

D-flat

Vocal Range:

, to

Style:

3/4 swing (medium)
Trumpet - Booker Little
Tenor Sax - George Coleman
Piano - Tommy Flanagan
Bass - Art Davis
Drums - Max Roach
Not quite as dark or slow as the title implies, Dungeon Waltz is nevertheless a deep, dramatic song in that unique Booker Little style. It's full of his signature unpredictable melodic shapes and harmonic twists; the many minor chords with flat 5ths, often resolving to major chords, give the song a bittersweet mood. The form is 34 measures long, ABCD with each section eight measures except for the 10-measure D; the A and C sections are the same and B and D start similarly but go in different directions in the fourth measure.

This song takes a while to resolve to the tonic: the changes begin with a II-V7 to E♭ major, and then descending II-V7s from Gm7(♭5) finally arriving on D♭ major in the third measure of B. The end of B goes to F major, while the D section visits B and A major before the final resolution. There is a 10-measure intro with an F minor tonality; the last two measures are a piano solo leading into the head. On the recording, the bass walks on the intro and solos, but plays a "2-feel" of dotted quarter notes through the head.

Second parts and a condensed score are available for the two-horn arrangement. For much of the intro and head, the horns are harmonized tightly in close intervals. In several places the harmony rubs a half step below the melody for one note, which is resolved either by contrary motion—as at the beginning of the intro—or one part moving while the other stays on the same note, as in the third and fifth measures of A. The last measure of the coda has quite an unusual voicing, way ahead of its time: the second part holds D♮ on a D♭ major chord, while the melody starts on E♭ and resolves in a descending line, leaving the second part unresolved against the rhythm section.
In 1958, 3/4 time in jazz was still relatively new; few were exploring it as much as Max Roach.
Dungeon Waltz
is a great example of Roach in 3, as well as an obvious forerunner to Booker's later composition recorded as
Waltz Of The Demons
,
The Grand Valse
, and
Booker's Waltz
.
George Coleman, from Memphis like Booker himself, also played on the trumpeter's final album "Booker Little And Friend" in 1961. In January 1959, Booker and George played on two songs on an all-star session for United Artists issued as "Down Home Reunion," featuring players originally from Memphis. These songs, both standard blues, also appeared as bonus tracks on the Blue Note CD reissue of "
Booker Little 4 & Max Roach
," though Roach was not on that session.
Booker Little's melody articulation: We have also created a separate edition: Trumpet (1st part) - Booker Little. How an artist articulates can be very personal. Booker Little's melody interpretation on Dungeon Waltz is a great example of how he uses his articulation to shape his melody in his own personal way. He only plays the intro, coda, and the A and B sections once on the recording, but plays the C and D sections twice (after the solos they D.S. back to C), so you have two more chances to listen to how he may vary the nuances of his articulation.

Don Sickler: "The main reason I've elected to do a separate Booker Little Trumpet part on Dungeon Waltz is because there are a couple of "trumpet" things that Booker does that I wouldn't put in a B♭ melody lead sheet for another B♭ instrument; the articulations would make no sense to a Soprano Sax or Clarinet playing the 1st part in your ensemble or playing the melody in a quartet format. An example here is using an alternate fingering for the E grace note in the 5th measures of A and C, which lets Booker make a smooth connection (slurred) from the downbeat into the syncopated F. Also, listening to how Booker gets into the third measure of the opening D section, he might also be slurring into that measure using the same false fingering grace note E, but the 2nd time through D he clearly tongues the downbeat F, so I left it that way on the part.

"Examination of the starting triplet in the 2nd measures of B and D I also find very interesting. The two horns on the recording play these notes in octaves. Tenor saxophonist George Coleman plays them legato, while Booker plays each note of the triplet short. If the front line of the quintet is Soprano Sax or Clarinet playing the top part, they might prefer to phrase with the Tenor Sax 2nd part, so I left Booker's articulation out of the B♭ lead sheet.

"Often, I have used slurs to indicate just that—a slur—but I've also added slur markings as phrase marks, to show how I hear Booker shape his inner phrasing. Booker can tongue extremely smoothly if he wants, or he can also just slur, and use slight breath accents to shape his phrasing.

"One of the things I feel is so important about Booker's playing is his individuality. How he uniquely shapes his phrasing is very important in grasping an understanding of this remarkable trumpet player who unfortunately left us too soon at 23 years of age."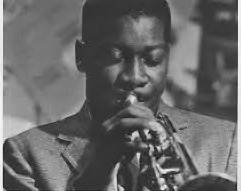 April 2, 1938 – October 5, 1961
A tragic loss to the world of jazz at age 23! Hearing is certainly believing: in Booker's short life, he still was able to leave us with recordings and compositions that are guaranteed to astonish and captivate. His effortless-sounding virtuosity ranks him as one of the greatest trumpet players. He was also a gifted composer, who obviously took composing very seriously, as his recording output shows. Booker began on trumpet when he was 12 and played with Johnny Griffin and the MJT + 3 while attending the Chicago Conservatory. He worked with Max Roach (1958-1959) and then freelanced in New York. He recorded with Roach and Abbey Lincoln, was on John Coltrane's Africa/Brass album, and was well-documented during a July 1961 gig at the Five Spot with Eric Dolphy. Booker Little led four sessions before his tragic early death. Read more...