Dotty's Dream

– Harold Vick

An exploration of moving II-V harmonic progressions. Lead sheets and second parts available.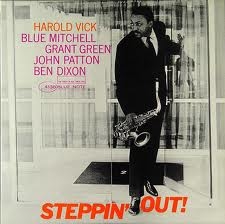 All selected items will be available for download after purchase.
Recording:

Harold Vick - Steppin' Out

Recorded on:

May 27, 1963

Label:

Blue Note (BLP 4138)

Concert Key:

B-flat

Vocal Range:

, to

Style:

Swing (medium up)
Trumpet - Blue Mitchell
Tenor Sax - Harold Vick
Guitar - Grant Green
Organ - Big John Patton
Drums - Ben Dixon
The audio excerpt starts with a three-measure introduction in 3/4 time, which could certainly lead you to think the melody would also be in 3/4, but that's not the case. This short 3/4 section is only used on the recording as the introduction to the opening melody and the return of the melody, and it's indicated on all lead sheets. The horns play a background (indicated in all parts) behind the organ solo. The two horn parts, melody and harmony, outline the moving II-V harmonic progression making this a great solo vehicle for getting this basic chord movement into your comfort zone as a soloist. The ABA solo section (with background) is a separate second page for each leadsheet.

"Steppin' Out"
was recorded at the legendary
Van Gelder Studio
in Englewood Cliffs.
Blue Mitchell is featured on the melody throughout this composition. Harold and Blue first recorded together earlier that year (January 2) on a Brother Jack McDuff (organ) session for the Prestige label. On March 8, 1965, they joined forces again on John Patton's "
Oh, Baby!
" session for Blue Note. In June, 1966, Blue was also on Harold's RCA recording "The Caribbean Suite," and a month later they were the front line for another organist's session, Richard "Groove" Holmes.
More from
this album
.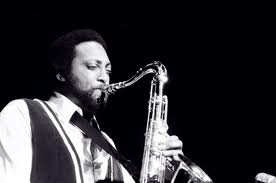 April 3, 1936 – November 13, 1987
Harold Vick is a quintessential example of a great saxophonist and composer who never gained wide public recognition, but was always highly regarded by his fellow musicians. Even jazz legend Sonny Rollins paid compositional tribute to him in 1998 with Did You See Harold Vick? Harold was born in Rocky Mount, North Carolina, which is also the birthplace of Thelonious Monk. At 13, Harold received a clarinet and inspiration from his uncle Prince Robinson, a well-respected clarinetist and tenor saxophonist who played with the likes of Duke Ellington, Roy Eldridge and Louis Armstrong from the 1920s-1950s. Read more...