Dedication

– Kenny Drew, Jr.

An homage to Kenny Drew, Sr., by his son, this ballad goes on a harmonic journey as it develops the main theme.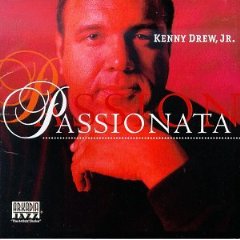 All selected items will be available for download after purchase.
Recording:

Kenny Drew, Jr. - Passionata

Recorded on:

February 25-27, 1995

Label:

Arkadia Jazz (70561)

Concert Key:

C minor

Vocal Range:

, to

Style:

Ballad
Piano - Kenny Drew, Jr.
Bass - Peter Washington
Drums - Lewis Nash
This gorgeous ballad is also a great study in modulation. It's basically an AABA structure. The opening two measures of the melody start the development of Kenny's three-note theme. Kenny explains: "The first three notes of the melody [letter A1] are the same as the first three notes of my father's great ballad Serenity played backwards." The theme then starts modulating away from C minor, leading us to C-sharp minor to start A2, a ten-measure section. B is 9 measures, starting with triadic movement over a C pedal, then modulating briefly to triadic movement over an A pedal. It modulates several more times before arriving at the last A (letter C) now in D minor.

Ballad performances rely on the interpretation of the performer for their power, so we always try to start you out with the composer's correct melody (ours comes from Kenny's manuscript). In the Arkadia recording, Kenny plays the first A rubato, so we decided to start our sample audio excerpt with Kenny's second A. The excerpt also gives you a glimpse of how Kenny starts the bridge.

Dedication
is a tribute "for my father, Kenny Drew." Kenny, Jr., also tells us: "I wrote this song in my father's memory, trying to emulate his flair for writing classic jazz ballads." Kenny Drew, Sr., was one of our great jazz pianists and composers. The ballad
Dedication
reveals some of the similarities and complexities of both father and son.
See more of Kenny's music from
this album
.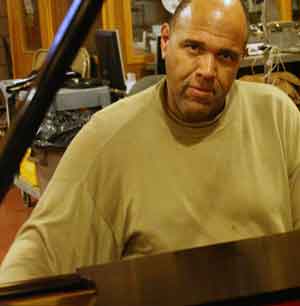 June 14, 1958 – August 3, 2014
Kenny Drew, Jr., son of pianist/composer Kenny Drew, Sr., started music lessons at the age of four. He studied classical piano with his aunt Marjorie, but soon found he enjoyed playing jazz as well. He performed worldwide with a comprehensive variety of musicians, including Stanley Jordan, OTB, Stanley Turrentine, Slide Hampton, the Mingus Big Band, Steve Grossman, Yoshiaki Masuo, Sadao Watanabe, Smokey Robinson, Frank Morgan, Daniel Schnyder, Jack Walrath, Ronnie Cuber and many others. Read more...