Da La Senidras

– Bertha Hope

This lively medium-up song packs a challenging, angular set of changes into a 16-measure form. Bertha's Solo Piano arrangement is available, with an exclusive recording by Glenn Zaleski; we also have a recording of Glenn playing his own solo piano interpretation.
Recording:

Bertha Hope - Between Two Kings

Recorded on:

1992

Label:

Minor Music (801025)

Concert Key:

No key center

Vocal Range:

, to

Style:

Swing (medium up)
Piano - Bertha Hope
Bass - Walter Booker
Drums - Jimmy Cobb
A medium-up swinger propelled by bouncy rhythmic hits at the beginning, this song packs a challenging chord progression into a 16-measure form. The melody helps to connect the changes, starting in a generally descending direction and quite simple at the end. Though there are a few II-V7s, the changes also do a fair bit of winding around in unpredictable stepwise movements and there is no key center. It's sort of a cyclical form, but Em7 to A7 in the last measure resolves to an unexpected B7 at the beginning of the next chorus.

The head changes on our lead sheet are taken from Bertha's solo piano arrangement. The solo changes are slightly simplified as they are on both the head and solos in the original trio recording. A couple of passing chords are left out in these simplified changes, in the 12th and 13th measures—getting rid of V-I cadences and arguably making the solo changes even more of a challenge.

The bass does not play a steady 2-feel or 4-feel on the head. Besides the hits at the beginning, the notes below the staff in the third and fourth measures, and the last three measures, reflect both bass and piano comping rhythms. In measures 9 through 13 on the recording, the bass rhythm is varied between 1-feel, 2-feel, and looser "broken time."
The seemingly esoteric title
Da La Senidras
is actually an example of a bebop tradition of spelling names or phrases backwards. This song's title is "sardine salad" reversed, named for a favorite food of Bertha's husband, bassist
Walter Booker
.
In the liner notes to "
Between Two Kings
" Bertha reveals that she wrote
Da La Senidras
while in Japan, in a hotel room without a piano. She composed this song (and others) bit by bit, and would bring the pieces to her evening gig where she would play them at a ballad tempo to make sure the harmonies complemented the melody.
Recording:

Glenn Zaleski - Glenn Zaleski Plays Bertha Hope's Solo Piano Arrangements

Recorded on:

December 1, 2012

Label:

jazzleadsheets.com (JLS 1054)

Concert Key:

No key center

Vocal Range:

, C4 to C4

Style:

Swing (medium up)
On this exclusive recording, pianist Glenn Zaleski plays Bertha Hope's solo piano arrangement. Click on Piano Corner for more details about the arrangement.
For a time, when he was just starting his career, pianist Glenn Zaleski found the time to help jazzleadsheets with the Piano Corner. Part of the process was reviewing solo piano arrangements written by jazzleadsheets.com composers. When he got to Bertha Hope, Glenn became fascinated with her unique rhythmic and harmonic style and wanted to dig a bit deeper into her music. He spent some weeks internalizing her piano solos, then adjourned to Rudy Van Gelder's studio, accompanied by Bertha and
Don Sickler
, for his
master's thesis
.
The Solo Piano Arrangement outlines the chords very clearly. Widespread two-handed voicings are used for both the rhythmic hits at the beginning and the simpler melody at the end, while the bouncier eighth-note sections (measures 3 and 4, and 9 through 12) have a single-line melody with simple left-hand voicings. In the 4th and 13th measures, the "and" of beat 3 is accented with a chord—Bertha doesn't play these accents on her trio recording.
Recording:

Glenn Zaleski - Glenn Zaleski at Rudy Van Gelder's: Solo Piano

Recorded on:

December 1, 2012

Label:

jazzleadsheets.com (1055)

Concert Key:

No key center

Vocal Range:

, to

Style:

Swing (medium up)
Glenn Zaleski's own version is a very different take on Da La Senidras. He interprets the melody more freely than the solo piano arrangement, as Bertha does on the trio recording, but very much in his own personal style. A particularly unusual technique he uses at the beginning of the head is playing the chords very short but sustaining them with only the pedal. He returns to this effect toward the end of his solo.
Glenn Zaleski had spend a few weeks exploring Bertha Hope's music, especially the
solo piano arrangements
she wrote on her compositions. In a marathon day at Rudy Van Gelder's recording studio, with Bertha in attendance, Glenn recorded 14 of Bertha's solo piano arrangements. Some compositions attracted him so much, that he wanted to play his own
solo improvisations
.
Da La Senidras
was one.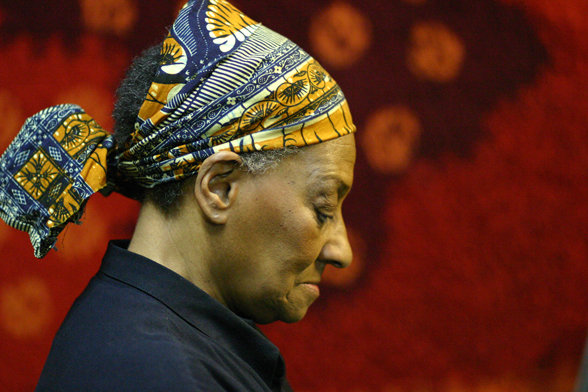 born on November 8, 1936
A dynamic force in improvised music, pianist Bertha Hope has been making headway in the jazz scene since the early 1960s. Raised in Los Angeles, Bertha attended Manual Arts High School. She began her jazz journey with pianists Elmo Hope and Richie Powell in her youth. Although she studied piano at Los Angeles Community College, she received her B.A. in early childhood education from Antioch College. She married Elmo in 1960; they moved to New York where Bertha worked as a telephone operator by day and performed at night. Read more...