Cyclops

– Grant Stewart

With its intense and angular line, this is great choice for practicing soloing over chord extensions.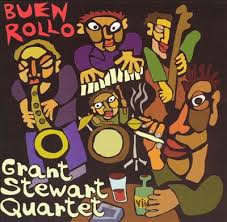 All selected items will be available for download after purchase.
Recording:

Grant Stewart - Buen Rollo

Recorded on:

June 2 & 3, 1998

Label:

Fresh Sound (053)

Concert Key:

B-flat minor

Vocal Range:

, to

Style:

Swing (medium up)
Tenor Sax - Grant Stewart
Piano - Fabio Miano
Bass - Chris Higgins
Drums - Marc Miralta
The angular, atonal-ish melody of this medium up swing winds around, always landing somewhere unexpected. Chord extensions feature prominently in the melody: Grant Stewart often accents major 7ths and sharp 11ths, which add to the modern sound. If you're looking to work on soloing over chord extensions, this is a great pick, as the harmonic progression is quite easy to master. We've extended our audio clip (which starts at the top of the track with the melody) so you can hear a bit of the solo section, where Grant begins his solo with the stop-and-go hits from the melody.
This is from Grant Stewart's
third album
as a leader. Sometimes it takes an artist a while to become widely known. Finally, Grant Stewart is getting recognition as one of today's finest tenor saxophonists. He's also a very interesting composer, and you'll be hearing more from him on jazzleadsheets.com. Grant's first recording of his composition
Scotch Thing
also comes from this recording.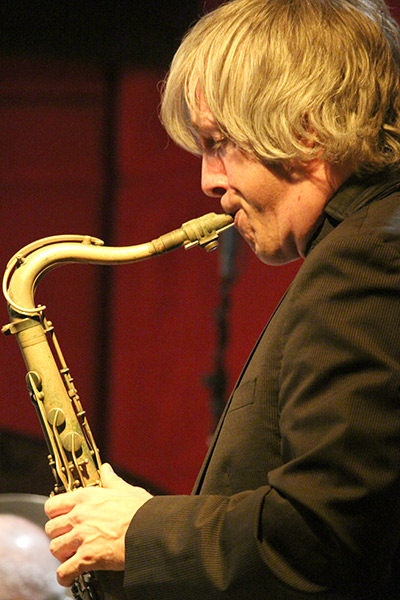 born on June 4, 1971
A swinging tenor saxophonist, Grant Stewart is a powerful, expressive stylist in today's jazz scene. Born in Toronto, Stewart's early exposure to giants like Charlie Parker and Coleman Hawkins came from his father, an English teacher and semi-professional guitarist. By the age of 14 Grant was so advanced on the alto saxophone that he began playing professionally in the Pete Schofield Big Band. At 17, he made the switch to tenor and starting playing with some of his greatest influences in the Toronto jazz scene, Pat LaBarbera and Bob Mover. (He still does play alto saxophone to this day, but his love of artists like John Coltrane and Sonny Rollins encouraged him to make tenor his primary instrument.) Read more...