Ruby Braff
March 16, 1927 – February 9, 2003
| | |
| --- | --- |
| Instrument | cornet, trumpet |
| Birthplace | Boston, MA |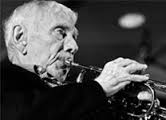 An expressive swing cornetist, trumpeter and composer, Ruby Braff had a distinctive and recognizable sound. At a time when many horn players turned to bebop, hard bop, and modern jazz, Ruby took after earlier jazz trumpeters such as Louis Armstrong and Bix Beiderbecke. Born in Boston, he began working in local clubs in the early 1940s. He played with clarinetists Edmond Hall and Pee Wee Russell in the late 1940s and early 1950s and moved to New York in 1953. In the mid-1950s, he worked with Benny Goodman.
He was a member of George Wein's Newport Jazz All-Stars through the 1960s. His career had a spike in the 1970s when formed a quintet with guitarist George Barnes. He continued to work in small combos and record as a leader and sideman until his death in 2003. In all, he recorded 14 albums as a leader and many more as a sideman alongside musicians like Scott Hamilton, Milt Hinton, Woody Herman, Dave McKenna and others.
Ruby was born too late to be part of the main wave of the Swing Era. However, his style was so obviously in the swing idiom that he was instrumental in continuing the genre from the '50s on, in the form of "mainstream jazz." This term refers to a subgenre,developed in the '50s and often overlooked today, of small-group jazz slightly more advanced than swing, but not quite as sophisticated as bebop. Mainstream recordings, mostly for Columbia, Verve and their associated labels, featured players who had started out in the Swing Era, such as Coleman Hawkins and Johnny Hodges, alongside younger players whose style was more swing than bebop such as Oscar Peterson and Flip Phillips. It was these settings in which Ruby Braff felt the most comfortable.