Here's Freddie

– Ruby Braff

A laid-back medium swinger with some unexpected wide interval jumps. A classic example of the subtly distinctive style known as mainstream jazz.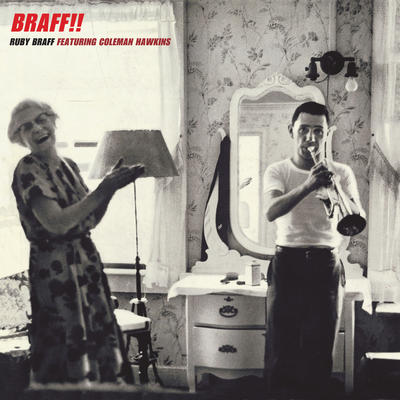 All selected items will be available for download after purchase.
Recording:

Ruby Braff - Braff!

Recorded on:

June 28, 1956

Label:

Epic (LN 3377)

Concert Key:

E-flat

Vocal Range:

, to

Style:

Swing (medium)
Cornet - Ruby Braff
Trombone - Lawrence Brown
Tenor Sax - Coleman Hawkins
Baritone Sax - Ernie Caceres
Vibes - Don Elliott
Guitar - Freddie Green
Piano - Nat Pierce
Bass - Eddie Jones
Drums - Buzzy Drootin
This song is a good example of a "mainstream" head—not quite bebop, but a little more complex and subtle than classic swing. The melody develops ascending seventh chords with an approach tone a half-step below (a typical bebop phrase) followed by lines that combine stepwise motion with a downward leap: a sixth in the second measure and a ninth in the fourth measure. These melodic shapes highlight the "pretty" scale degrees, the sixth and ninth (C and F).

The second half of the A sections is different each time, but always simple and bluesy. The bridge is also a simple swing riff, but the last two measures have the same steps/skips motion as heard on the A section. In this case the line ends on another "pretty" note, the ♯5 of the V chord (F♯). The changes are simple and standard-like. On the recording, the last four measures are repeated three times, with the ending different the last time; this is all notated on the lead sheet.
The term "mainstream jazz" is generally associated with all-star recordings and jam sessions featuring players who established themselves during the Swing Era in the 1930s, as well as younger players working in a similar style. The album "Braff!!" features an all-star lineup of this sort. Guitarist Freddie Green (45 years old at the time) had been in Count Basie's band since 1937; trombonist Lawrence Brown (49) had played in the Duke Ellington band on and off since 1932. Ernie Caceres was also 45 but not as well-known by then; he was mainly associated with Glenn Miller's band of the early '40s. And of course there is Coleman Hawkins, who at 51 was a long-established superstar soloist. Meanwhile Ruby Braff and Don Elliott were both 29 at the time, Nat Pierce was 30, and Eddie Jones only 27. Drummer Benjamin "Buzzy" Drootin, 36, was mostly associated with mainstream Dixieland and swing musicians such as Eddie Condon.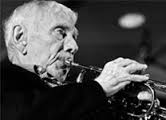 March 16, 1927 – February 9, 2003
An expressive swing cornetist, trumpeter and composer, Ruby Braff had a distinctive and recognizable sound. At a time when many horn players turned to bebop, hard bop, and modern jazz, Ruby took after earlier jazz trumpeters such as Louis Armstrong and Bix Beiderbecke. Born in Boston, he began working in local clubs in the early 1940s. He played with clarinetists Edmond Hall and Pee Wee Russell in the late 1940s and early 1950s and moved to New York in 1953. In the mid-1950s, he worked with Benny Goodman. Read more...