Meade Lux Lewis
September 4, 1905 – June 7, 1964
| | |
| --- | --- |
| Instrument | piano |
| Birthplace | Chicago, IL |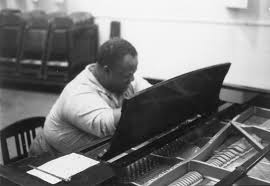 Born Meade Anderson Lewis in Chicago, Meade "Lux" Lewis is one of the most important early jazz pianists. When he was a child, his father insisted that Meade learn violin. After his father died, he took up piano at the age of 16. He learned by listening to pianist Jimmy Yancey and received no training. Despite this, his considerable skill earned him the attention of the Chicago music scene, and in addition to securing local gigs, he made his recording debut in 1927 with "Honky Tonk Train Blues" for Paramount Records.
However, the track received little attention and Paramount went out of business several years later. Meade Lux turned to digging ditches for the Works Progress Administration and driving a taxicab (a job he had previously done with childhood friend and fellow boogie-woogie pianist Albert Ammons). In 1933, jazz promoter/producer John Hammond discovered a copy of Meade Lux's recording and embarked on a two-year search for the pianist. This resulted in Meade Lux, Albert Ammons and fellow pianist Pete Johnson being brought to New York City in 1938 to play at John Hammond's historic Carnegie Hall concert, "From Spirituals to Swing." Their performance revived the boogie-woogie craze—so much so that it even incited a minor riot after the concert.
At the Carnegie Hall concert, Lewis was spotted by producer Alfred Lion, who recorded him a couple of weeks later playing a series of solos and duets with Albert Ammons. This date turned out to be the first session released on Lion's legendary Blue Note label. Meade Lux and Albert held a steady gig at Cafe Society for a while, but both left after the end of the boogie-woogie craze in the early 1940s—Albert for Chicago, and Meade Lux for Hollywood.
In Hollywood, he took up the celeste and harpsichord, becoming the first jazz pianist to double on celeste. He also made several films, including an uncredited appearance in the classic "It's A Wonderful Life" (1946). He continued gigging around Los Angeles until 1952, when he, Pete Johnson, Erroll Garner and Art Tatum did a US Tour entitled "Piano Parade." Lewis was frustrated at his identification with boogie-woogie, and he spent much of his later years experimenting with rags and old-time pop songs. He died in a car crash in 1964 at the age of 58, leaving behind his legacy of incredible boogie-woogie piano.