Blues part 1

– Meade Lux Lewis

The first in a series of five solo explorations of the blues, recorded at the very first Blue Note Records session. Our transcription is very detailed with all important dynamic and articulation markings.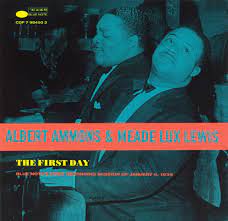 All selected items will be available for download after purchase.
Recording:

Albert Ammons - Meade Lux Lewis - The First Day

Recorded on:

January 6, 1939

Label:

Blue Note (7-98450-2)

Concert Key:

C

Vocal Range:

, to

Style:

Swing (medium slow)
Don Sickler:
"The first ever Blue Note Records recording session was this one in early 1939. The session actually started with Meade Lux Lewis recording
The Blues, part 1
—see the Historical Notes for more about the chronology of this session. His solo explorations of the blues in this session showcase a wide variety of textures and moods. Part 1 starts with a four-measure intro, then he develops his ideas over seven choruses. At first hearing, I was immediately struck by his dramatic use of dynamics, obviously a very important expressive tool in his arsenal, and essential to the magical flow of his music. We've tried to pay attention to his dynamics in our transcription, but, as you will hear, a true indication of his dynamic nuances would be overly distracting and make the transcription look too complicated.
"All of his five blues explorations in this 5-part series are in C, and all are slow blues, but at slightly different tempos. As I listened to them at first in succession, this also absolutely amazed me, because they are all different, each having their own magic. Of course, this is music from a different era; the world of 1939 is nothing like the world of today. Remember, in 1939, Meade was 31 years old, and his music was at the cutting edge at that time."
At the first ever Blue Note Records session in 1939, Meade Lux Lewis recorded five solo explorations of the blues, which between them showcase a wide variety of textures and moods in Lewis' signature boogie-woogie style. All of them are slow blues in C, and all are six choruses long except for the first which is seven choruses. These solos are generally more patterned and regimented than
Melancholy
and
Solitude
, two other slow C blues from the same session, but there's still plenty of inventiveness going on here particularly in part 1.
This first of the five blues is the fastest. It has a four-measure intro which starts with a long trill and sets up the first chorus with melodic triplet figures. In the first two choruses Lewis improvises over a wide range in the right hand, accompanied by steady, simple left-hand bass figures with a 2-feel. These bass figures continue almost throughout the solo. The third chorus introduces a rolling triplet pattern, the first example of a commonly occuring form in these five blues: a new texture is introduced at the beginning of a chorus and repeated for three or four measures, changing afterward to more freely-flowing improvisation. The fourth chorus starts with two measures of a minor 3rd tremolo, while the fifth starts with four measures of accented block chords in triplets. The sixth is the only chorus where the left hand changes to a different texture: short quarter notes voiced in open-position triads. This chorus also has tremolos in the right hand at the beginning. The seventh chorus returns to a texture similar to the first chorus, bringing back the left hand 2-feel. Chordal figures in the right hand bring the solo to a quiet close in the 12th measure of the chorus. Seven pages.
Lewis plays some interesting passing chords in the last two choruses. The left hand voicings in the sixth chorus are particularly notable; they include a 3-beat pattern repeated over the barline, with smooth voice leading using C diminished to connect C and G7 chords. A distinctive chromatic descending series of chords in the right hand appears several times in these five blues; in part 1 it's played in the ninth measure of each of the last three choruses.
The Blues
, part 1 through part 4 were the first four takes of the session. Takes 5 through 8 were solo tracks by pianist Albert Ammons. Meade returned to the piano for take 9 to play
The Blues, part 5
. Take 10 was an untitled original, which was followed by
Melancholy
(tk 11) and
Solitude
(tk12), two more of his originals on jazzleadsheets.com, as well as Albert Ammons'
Changes In Boogie Woogie
.
Here's a link to the album page so you can see all available titles: "
The First Day
."
This series of five blues solos were transcribed by Shaye Cohn, who is the daughter of guitarist
Joe Cohn
and the granddaughter of saxophonist
Al Cohn
. We have made these transcriptions highly detailed, with a special focus on the dynamics. Often the two hands are at different dynamic levels, and we feel it is very important to note where the left hand accompaniment is truly in the background behind the right hand melody.
These solos are played with a rolling swing feel, and we have notated swing eighth notes in triplets in many places where the rhythmic feel is dominated by triplets.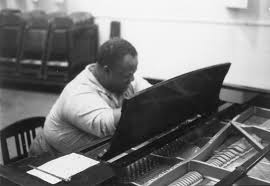 September 4, 1905 – June 7, 1964
Born Meade Anderson Lewis in Chicago, Meade "Lux" Lewis is one of the most important early jazz pianists. When he was a child, his father insisted that Meade learn violin. After his father died, he took up piano at the age of 16. He learned by listening to pianist Jimmy Yancey and received no training. Despite this, his considerable skill earned him the attention of the Chicago music scene, and in addition to securing local gigs, he made his recording debut in 1927 with "Honky Tonk Train Blues" for Paramount Records. Read more...