Emily Dickinson
December 10, 1830 – May 15, 1886
| | |
| --- | --- |
| Instrument | poet |
| Birthplace | Amherst, MA |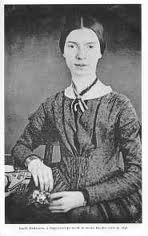 Emily Dickinson is one of the best known American poets. Over the span of her quiet and reclusive life, she produced close to 1800 poems and many letters, the vast majority of which were not published or even acknowledged until after her death.
Dickinson was born in Amherst, Massachusetts in 1830 into an educated family. Her young life was focused on schooling and reading and was quite socially active. As she grew older, however, she withdrew from society, eventually retreating entirely from public life and taking only a few visitors. She wrote most intensely during her late 20s and early 30s, writing almost 1100 poems over that time. During her life, she made very few attempts to publish her work and instead shared them with her family and friends. She wrote less poetry towards the end of her life and became even more reclusive, focusing instead on her ailing health until she died in 1886. Her work did not gain any attention until after her death and was not accepted as a part of the American literary canon until the mid-20th century.
Dickinson's unusual style is distinctive for its lack of titles, unusual capitalization and use of slant rhyme. Common themes include nature, flowers and gardens, morbidity and death, the Gospel and God.