Chicken An' Dumplins

– Ray Bryant

A classic Ray Bryant composition, Chicken An' Dumplins is a bouncy swing that never fails to please. Lead sheets and second parts available, as is a solo piano arrangement with an exclusive MP3 track. A Minus You track is also now available, in a different key; this recording comes from the vocal version.
Recording:

Art Blakey and the Jazz Messengers - At The Jazz Corner Of The World, Vol. 2

Recorded on:

April 15, 1959

Label:

Blue Note (BLP 4016)

Concert Key:

D

Vocal Range:

, to

Style:

Swing (medium)
Trumpet - Lee Morgan
Tenor Sax - Hank Mobley
Piano - Bobby Timmons
Bass - Jymie Merritt
Drums - Art Blakey
Our audio excerpt starts with the melody. Drummer Art Blakey loved to get into a funky groove. On the "live" recording, after giving Ray a nice plug over the microphone, Blakey sets up the groove himself alone, then the bass line (which you also hear under the melody) is added for eight measures, then the horns enter with the melody. All this is notated in the C treble clef lead sheet. The cute A section melody is guaranteed to put a smile on everyone's face; the contrasting bridge melody swings in four. The AABA solo form keeps the same format (A—bass pattern, B—swing in 4). Listening to Hank Mobley investigating "rhythm changes in D concert" is a real treat.

This composition was recorded with trumpet and tenor sax front line. We've included second parts for tenor sax, alto sax and trombone, making the whole combo arrangement available.

Don Sickler recalls, "1959 was a busy recording year for composer/pianist Ray Bryant. My research, in rough chronological order, shows Bryant on sideman dates for leaders Charlie Shavers, Aaron Bell, The Prestige Blues Singers featuring Coleman Hawkins, Hal Singer, Jo Jones Trio, Coleman Hawkins, Arnett Cobb, Jimmy Rushing, Benny Golson, Newport Jazz Festival All Stars, Coleman Hawkins again, Tiny Grimes, Benny Golson again, Bryant's own trio date for Signature, Toots Thielemans, Max Roach, Charlie Shavers again, Oliver Nelson, and on December 10, 1959, the first session for Ray's "Little Susie" album for Columbia Records. Ray told me that Bobby Timmons was one of the hand clappers for the famous "Little Susie" track.
"Timmons was a good friend of Ray's, and Ray had given
Chicken An' Dumplins
to him, so he could introduce it to Art Blakey. Blakey's was the first recording of it. Ray hasn't recorded it himself, but Bobby Timmons recorded it again on his own 1965 trio date for Prestige called 'Chicken & Dumplin's.'"
The notes above are correct, in that no recording of Ray Bryant playing
Chicken An' Dumplins
has been released to date. Ray wrote it and gave it to Bobby Timmons, who gave it to Blakey then recorded it himself. Ray just never got around to recording his own version. However, when vocalist Tina May did her "
Ray Bryant Songbook
" CD project, Tina recorded
Meant To Be
(the lyric version of
Chicken An' Dumplins
) with Ray playing piano. Unfortunately, there wasn't room for it on Tina's original "Ray Bryant Songbook" CD, but we'll be making this track available on jazzleadsheets.com in the near future, so you'll be able to hear Ray play his own song, for the first time.
Solo Piano Arrangement:
This is Ray Bryant's arrangement. The Solo Piano Arrangement MP3 available here
piano
is performed by pianist Kenny Drew, Jr.
Recording:

Don Sickler - Further Explorations With Larger Ensembles

Recorded on:

November 22, 2002

Label:

jazzleadsheets.com (JLS 1041)

Concert Key:

G

Vocal Range:

, to

Style:

Swing (medium)
Muted Trumpet and Trumpet - Don Sickler
Alto Sax - Bobby Porcelli
Tenor Sax - Patience Higgins
Baritone Sax - Jay Brandford
Piano - Ray Bryant
Bass - Tim Givens
Drums - Vince Cherico
This "
Further Explorations
" version has a Minus Melody track. The soloist gets to play accompanied by a four-horn arrangement. The intro sets up the groove and bass line, played by the baritone sax only; the bass only enters on the second A section. The melody is harmonized by the piano; the other horns come in on the bridge with some punctuations and fills. There are two solo choruses which have simple horn riff backgrounds on the A and C sections that leave plenty of space for the soloist. After the solo is a shout chorus, with horn figures that again leave space for the soloist; the bass line on the A and C sections of this chorus (G and I) is the same as in the head.
This version is in the key of G. The only melodic change in this new key is the note choice for the funky little ghosted pick up Lee Morgan plays to set up each succeeding repeat of the opening six-note melody phrase. In the original Art Blakey key, Lee ghosted the open horn note of C-natural, a minor 7th, before the first note of the phrase. In this new key, trumpeter Don Sickler finds the major 7th below note a better choice. An open horn ghost note doesn't sound right in this new key, but Don's choice works in this key for other instruments as well.
This "Further Explorations" track was adapted from the Minus Vocal recording of
Meant To Be!
, Fleurine Mehldau's lyric version of this song as it was done for Tina May's Ray Bryant Songbook project. Don Sickler's arrangement adapted perfectly to feature an instrumental melody and solo.
Exclusive Minus You audio track available
CLIP
A Minus Melody track is available. The form is as follows:
-- tacet for the intro
-- play the melody
-- solo 2 choruses
-- solo around the shout chorus
-- play the out melody
Recording:

Kenny Drew, Jr. - Kenny Drew, Jr. Plays Solo Piano Arrangements

Recorded on:

March 25, 2009

Label:

jazzleadsheets.com (JLS 1053)

Concert Key:

D

Vocal Range:

, to

Style:

Swing (medium)
Click on the other record covers for more details about this composition.
Kenny Drew, Jr., on a visit to the New York area from his home in Florida, went out to the Van Gelder Recording Studio in Englewood Cliffs, NJ, to record solo piano arrangements written by Second Floor Music/Twenty-Eighth Street Music's composers. Over four days, he recorded seventy-nine compositions on Van Gelder's pianos.
Check out some of the other ones: "
Kenny Drew, Jr. Plays Solo Piano Arrangements
."
Solo Piano Arrangement: This is Ray Bryant's two-page arrangement. The Solo Piano Arrangement MP3 available here piano is performed by pianist Kenny Drew, Jr.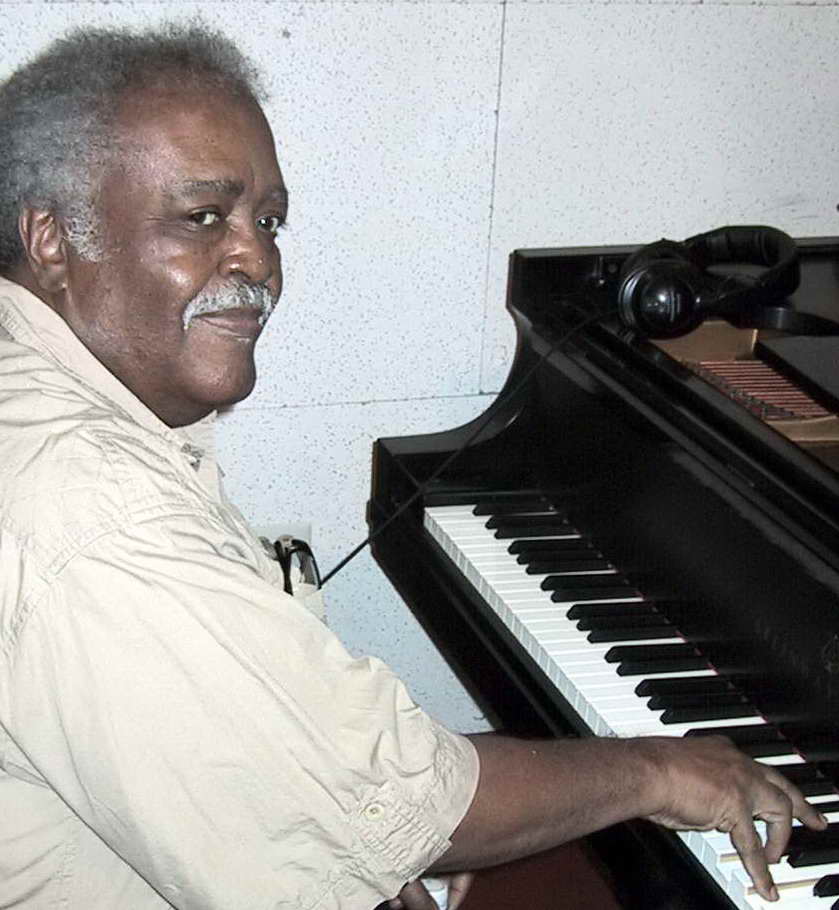 December 24, 1931 – June 2, 2011
Following performances in his native Philadelphia with guitarist Tiny Grimes and as house pianist at the Blue Note Club with Charlie Parker, Lester Young, Miles Davis and others, Ray Bryant came to New York in the mid-1950s. His first jazz recording session in New York was with Toots Thielemans (August, 1955) for Columbia Records. That session led to his own trio sessions as well as sessions with vocalist Betty Carter for Epic Records in May and June ("Meet Betty Carter and Ray Bryant"). On August 5, 1955, Ray recorded with Miles Davis, and on December 2, 1955, with Sonny Rollins, both for Prestige Records. Read more...