Blues Scam

– Richard Wyands

A blues with a bridge. Lead sheets and a piano/bass duo arrangement from the composer's recording with bassist Daryl Johns.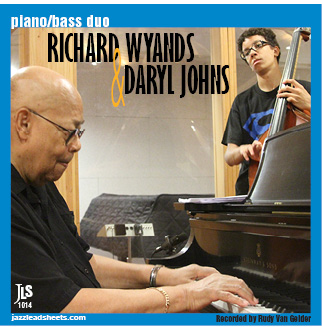 All selected items will be available for download after purchase.
Recording:

Richard Wyands - Richard Wyands - Daryl Johns Duo

Recorded on:

August 7, 2011

Label:

jazzleadsheets.com (JLS 1014)

Concert Key:

B-flat, No key center

Vocal Range:

, to

Style:

Swing (medium)
Piano - Richard Wyands
Bass - Daryl Johns
The purpose of our duo recording is two-fold. First, it introduces you to another great Richard Wyands composition that you can play in any instrumental format with our lead sheet editions. Secondly, our duo recording arranges the piece in an entire different setting, trading the melody between bass and piano (see:
About the arrangement)
.
Discussing the lead sheet, this rather angular hard-bop blues has an eight-measure bridge. The A section melody's varied phrase lengths are punctuated with a few passing-chord hits and open sections ready for someone to fill. The bridge has more hits and modulates from the IV down to the tonic twice, with a slightly different melody each time.
About the arrangement:
This arrangement for piano/bass duo by jazzleadsheets.com's
Don Sickler
divides the melody role between the two instruments, intentionally becoming a "cutesy" cat and mouse game between them. For example, the bass has the melody on the first two measures, and the piano on the next two, with the bass getting a written fill for the intentional hole in the melody.
Arranger's note (Don Sickler):
For measures 5 and 6 I decided to break up the melody even more by giving the first four notes of Richard's melody to the bass, and then have Richard play the last four notes of the melody. This actually backfired on the session. Richard came in a beat earlier each time Daryl played the melody straight. When Daryl decided to play another fill, instead of the melody the second time through A, Richard played his half of the melody rhythmically as on the lead sheet. I had told both of them that my fill ideas were just that, ideas. If either one heard something else as a fill—go for it. As I kept moving the melody back and forth between them, they both came up with fresh new ideas.
As arranger and producer, I loved their performance. In the ninth and tenth measures, the piano has two beats of melody, and the bass continues for a measure and a half. There are also several written bass fills, for example in the fourth, sixth and eighth measures. Richard often expands the voicings where his part is written as two lines, such as in the third measure.
The recording was filmed at Rudy Van Gelder's recording studio (see above). I think you'll have great fun watching these two attacking my arrangement. Fortunately they're both still my friends, even after I put them through the torture treatment of recording three of my tricky little arrangements. You can also check out
Yes It Is
and
Dee's Den
, both recorded on the same day, after just one quick first meeting and short rehearsal a couple of days before the session.
Unlike
Dee's Den
and
Yes It Is
, the other two duos recorded at this session,
Blues Scam
had not been recorded before. When Don Sickler was going through Richard's originals to see which would sound great with the bass also featured as one of the melody instruments, he found Richard's manuscript of
Blues Scam.
The truth must be told: when Don called Richard telling him that
Blues Scam
looked great for the Duo project, Richard said, what's
Blues Scam?
He'd had forgotten he wrote it!
Bass Melodies (Daryl Johns, bassist)
It has often been said that there is no jazz without the blues, and that is because the blues is at the heart of our music. The 12/8, triplet-dominated feel is a huge part of jazz's essence, yet it is clearly a large part of the blues, too. Richard Wyands provides a great piece utilizing the blues lexicon here, and happily for us it features the bass in both support and leading roles!

Putting these eighth-note lines right in the pocket is what's needed to make the music happen and will always be appreciated by the others playing with you. There is some rhythmic variety, for Wyands' has some crisp hits that are essential as well as a number of lines that deviate from each other. However, by far the most important aspect highlighted here is to just swing, groove and have a good time playing the blues. Having fun while playing is essential and when one is dedicated to seriously studying the art form, a great way to let that understanding flow is on a blues.

For a breakdown of how this arrangement differs from the straight lead sheet of the song, check out the Description tab.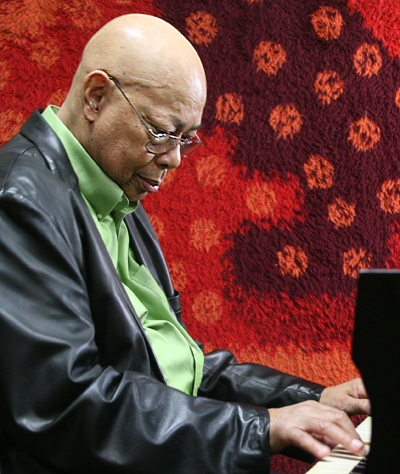 July 2, 1928 – September 25, 2019
Richard Wyands is a remarkably gifted and precocious musician who is best known as a sideman. A native of Oakland, California, he started playing piano in local clubs in San Francisco when he was only sixteen years old, at which time he became a union member (with a sponsor, of course, due to his youth). Since the 1950s, he has played alongside some of the greatest and best-known American jazz musicians, such as Charles Mingus and Roy Haynes. Read more...