Dee's Den

– Richard Wyands

Like Yes It Is, a Wyands composition from a duo recording with then-15-year-old bassist Daryl Johns, recorded exclusively for jazzleadsheets.com!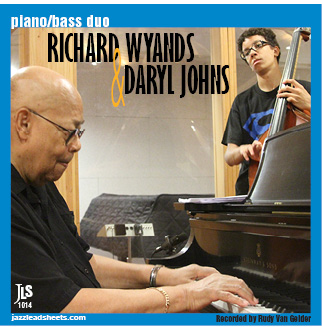 All selected items will be available for download after purchase.
Recording:

Richard Wyands - Richard Wyands - Daryl Johns Duo

Recorded on:

August 7, 2011

Label:

jazzleadsheets.com (JLS 1014)

Concert Key:

B-flat

Vocal Range:

, to

Style:

Swing (medium)
Piano - Richard Wyands
Bass - Daryl Johns
This is a repeating blues head with an added 2-feel eight-measure repeating B section, which is also used as an interlude between soloists and as the ending. Richard originally recorded this composition in a trio setting (piano, bass, drums) with the piano playing the melody, at a faster tempo
[audio excerpt]
. See the historical notes for more details regarding Richard's original recording.
Note from Don Sickler:
I love Richard's original recording, where he plays it as a faster
(ca.
220), more straight-ahead blues, punctuating the ends of the melodic figure with chords. I could also hear this piece more laid back, as a great medium swinger
Bass Melody
feature, so I arranged it for Richard and Daryl's duo recording session. Unfortunately you probably won't be able to find Richard's original recording, so I took the liberty of modeling our lead sheet editions after the duo recording, since that's what is available now, except I added some suggestions for drums and changed the bass concept, if the bass isn't also going to be playing the melody.
The melody develops a riff starting alternately on the first and second beats. I didn't alter Richard's melody, only changing some of the comping patterns to answer the melody, rather than accentuate it. The 2-feel B section is an eight-measure interlude, which repeats, featuring a "walk down" in whole steps followed by a "walk up" from the third to the tonic, and is also played as an interlude, before each soloist, and as a coda.
"Richard Wyands - Daryl Johns Duo"
was recorded at the legendary
Van Gelder Studio
in Englewood Cliffs.
Dee is the nickname of Richard's wife, Lenore.
The original recording of this song was on Richard's album "The Arrival" from 1992, with Lisle Atkinson on bass and Leroy Williams on drums. This is a DIW release from Japan, and therefore hard to get in the US.
For more information about the duo recording with Daryl Johns, see
Yes It Is
.
Bass Melodies (Daryl Johns, bassist)
Another mashup of melodic playing and foundational accompaniment, Dee's Den is a wonderful exposition for piano and bass duo, a treasured and popular format for instrumental fun! A variation on the twelve-bar blues, this is a cute head perfect for all levels of player. Since it is placed in a comfortable range on the bass, getting the notes together should be straightforward after initial study. Richard Wyands' melody becomes an effective, idiomatic blues line that conveniently uses the open G string, increasing a bass player's vocabulary.

The player will need to think about subtle but important aspects of phrasing. For instance, grace notes, off-beat accents, staccato note markings are highlighted. Again, time feel and rhythmic accuracy will be tested here, for the B section requires a steady 2-feel. Check out the duo recording and hear how well Daryl Johns plays long, connected notes with impeccable time!. It's hard to believe that he had just turned fifteen years old the month before.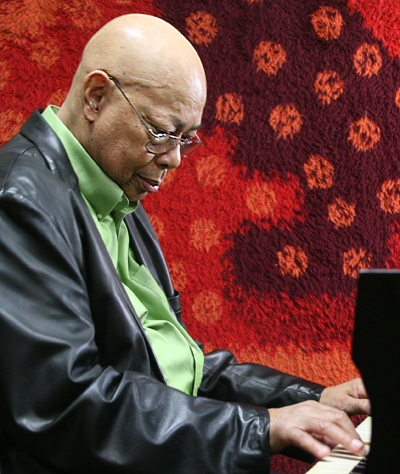 July 2, 1928 – September 25, 2019
Richard Wyands is a remarkably gifted and precocious musician who is best known as a sideman. A native of Oakland, California, he started playing piano in local clubs in San Francisco when he was only sixteen years old, at which time he became a union member (with a sponsor, of course, due to his youth). Since the 1950s, he has played alongside some of the greatest and best-known American jazz musicians, such as Charles Mingus and Roy Haynes. Read more...