Bass Song

– Yuriy Galkin

A lyrical composition originally written to feature the bass. Lead sheets and an arrangement for Solo Bass available.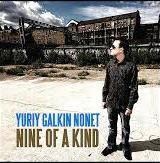 All selected items will be available for download after purchase.
Recording:

Yuriy Galkin - Nine Of A Kind

Recorded on:

May, 2011

Label:

F-IRE (CD 50)

Concert Key:

No key center

Vocal Range:

, to

Style:

3/4 swing (medium)
Trumpet - Freddie Gavita
Trumpet - Richard Turner
Trombone - Jon Stokes
Alto Sax - Dafydd Williams
Tenor Sax - George Crowley
Baritone Sax - Tamar Osborn
Piano - John Turville
Bass - Yuriy Galkin
Drums - Dave Hamblett
Yuriy says he usually writes his compositions at the piano, but this piece he wrote exclusively at the bass, and therefore titled it Bass Song. In addition to being a bass feature, it works great with a quartet, or with any instrument playing the melody. Our audio clip starts with the A section of the melody as played on Yuriy's nonet arrangement; the flowing melody goes through several tonal centers.

Yuriy has also created an arrangement for Solo Bass (see our Bass Corner notes).


Bass Song
was written exclusively on the bass. The song came out as a surprise to Yuriy, because commonly compositions written on bass tend to be simpler pieces, often featuring repetitive grooves and ostinatos in one key. However,
Bass Song
is different: the feel is a somewhat more open (but still with definition) 3/4 time; the harmonic direction is vast and multitudinous, moving through many tonal centers in short amount of time (we've counted at least five).
It turns out that this all began with a self-imposed challenge to write a tune entirely on the double bass. Yuriy usually does all his composing on the piano. He was pleasantly surprised with the results, deciding to first play it with his quartet in 2007. Once his nonet was formed a couple of years later, he felt that this song should be arranged for that ensemble. It is important and interesting to note that the format of the song as done on the featured nonet recording here is exactly how he played it with his quartet: the bass sings the lush melody out front, always.
The "
Nine Of A Kind
" album also includes Yuriy's
Evolvent
, written and arranged for nine-piece orchestra. That composition won the prestigious Dankworth Prize for Jazz Composition (Small Ensemble) in 2010. The Full Score and parts are available at a
ejazzlines.com
.
The complete nonet track starts with Yuriy introducing the melody—solo bass
audio clip
. His Solo Bass Arrangement is more complex, a real solo bass piece.
A wonderful composition that will warm hearts of listeners, performers and souls everywhere,
Bass Song
is a wave of beauty. Mr. Galkin has written a deliciously lyrical melody that suits the structure of the bass very well. We have both his own arrangement for solo bass, as well as a conventional lead sheet. The lead sheet will help in accompanying the melody and supporting the 3/4 time song. The harmonies move around a lot; this will encourage the bassist to develop greater continuity in a bass line. A player of contemporary music needs to know how to deal with chord changes that are not necessarily just diatonic, and this piece does a great job of having chords that make sense together but are not just in one key.
One reason it works so well for solo bass is that there is a good balance of long and short, which helps highlight the bass nature. For example, the first four measures alternate between a held note on the downbeat with other shorter rhythmic values as pickups. The pickups help accentuate the beauty of the slow held note and vice versa. There is much rhythmic variety, too; everything from dotted half notes, to extended fermatas, to sixteenth- note runs. We want you to see that it is possible and fun to bring out all these attributes in your playing.
Another key element of the solo bass version is how high and low are balanced. Throughout the piece there are notes in the top register followed by (and sometimes simultaneously played with) those in the lower end. This juxtaposition is great fun on the bass, whereas with other instruments these octave jumps are difficult and often unmusical. Such things as triplet figures incorporating two high pitched notes followed by an open low string are not necessarily used much by improvising bassists, but they are effective.
The solo arrangement wisely utilizes the bass chords. Major seventh chords sound delightful here, as do the gorgeous tenths that are widely present. Mr. Galkin very respectfully demonstrates the ability of the bass to simultaneously sing out a held note while providing beautiful accompaniment. You may want to adopt these measures for your own sound.
By learning
Bass Song,
a player will improve
-- intonation (no way are you going to be able to get the chords to sound good without that!)
-- interpretation (there are rubato runs, long held notes, not to mention an important melody to feature, all at once)
-- dexterity (to play the arpeggiations such as at letter B, one needs to be able to move around quickly)
-- and much more. Plus you'll have mastered an intriguing and beautiful composition.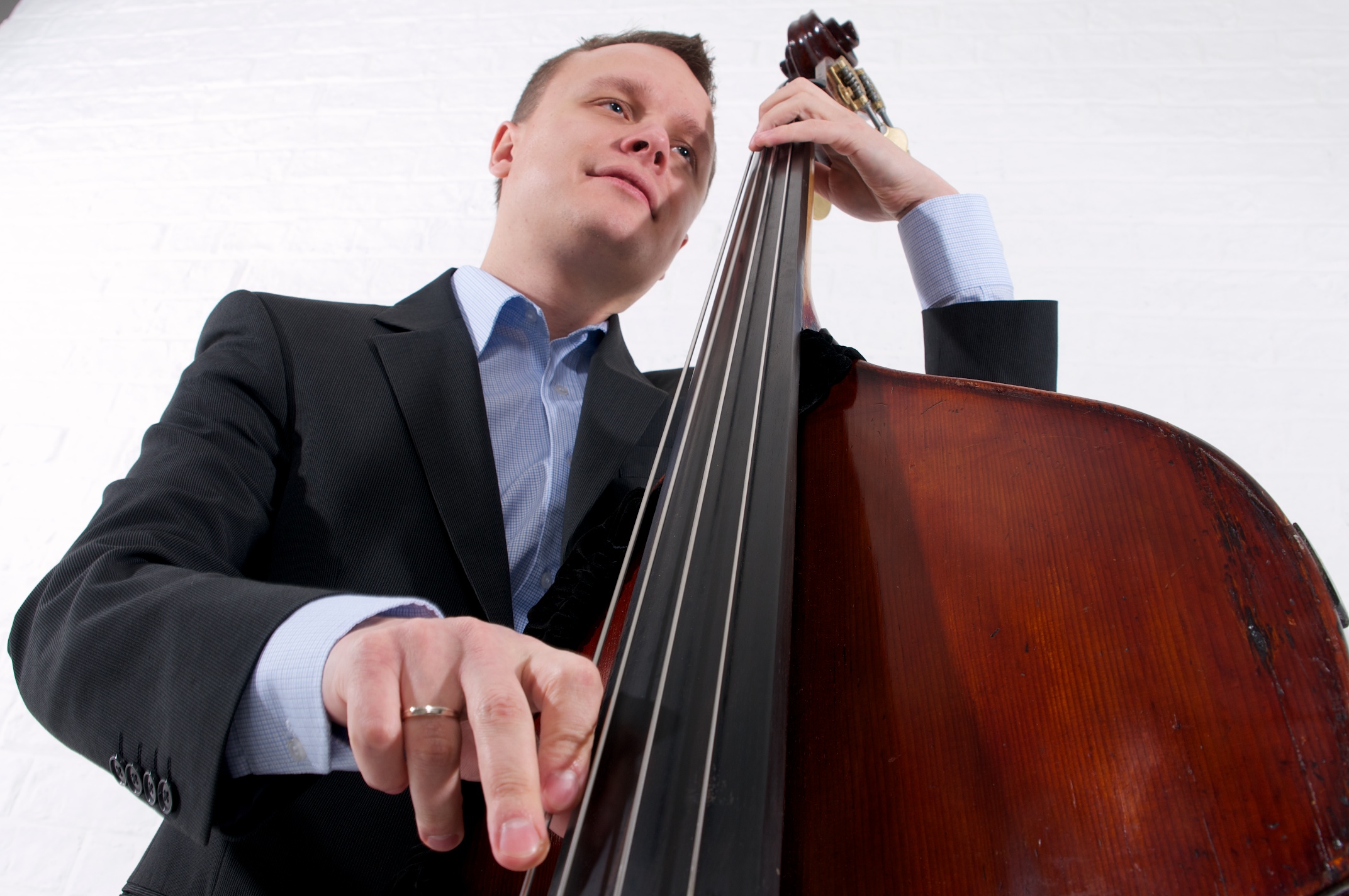 born on January 17, 1982
Yuriy Galkin was born in Russia into a family of musicians. He started to play classical piano at the age of 7, picked up electric bass by the time he was 15, and after only a few months of self-teaching he was able to play professionally. He became interested in jazz and was influenced by a number of great bassists including Paul Chambers, Ron Carter, Charles Mingus, Dave Holland, Niels Pedersen and John Patitucci. His imagination fueled by those great artists, Yuriy started practicing double bass and dedicated himself to the world of jazz music. Read more...