Norman Simmons
| | |
| --- | --- |
| Instrument | piano |
| Birthplace | Chicago, IL |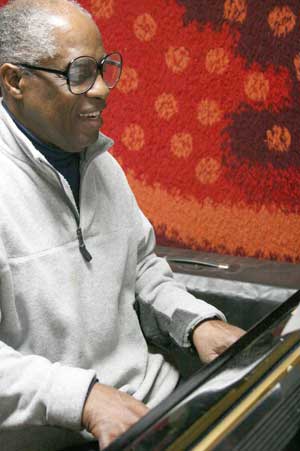 Accomplished soloist, accompanist, composer and educator, Norman Simmons is well known as a pianist with an great ability to connect with jazz singers. Born in Chicago, Simmons taught himself piano and at age sixteen enrolled in the Chicago School of Music. He formed his own group in 1949 and began recording in 1952 when he worked as a house pianist for Chicago clubs The BeeHive and the C&C Lounge. During this period, his first recordings were under the leadership of tenor saxophonists Claude McLin, Paul Bascomb and Coleman Hawkins.
In the late 1950s Simmons began his reign as a greatly sought-after accompanist, working with the likes of singers Dakota Stanton, Ernestine Anderson, Anita O'Day, Betty Carter, and with Carmen McCrae for nine years. In 1979 he began his long- standing collaboration with vocalist Joe Williams that lasted well into the 1990s.
Norman worked in 1960 with the Johnny Griffin-Eddie "Lockjaw" Davis group, and he composed and arranged two important Riverside albums for Johnny Griffin: "The Little Giant" (1959) and "The Big Soul Band" (1960). He then wrote for and recorded the Prestige "Battle Stations" album as pianist with the Eddie "Lockjaw" Davis-Johnny Griffin quintet. In late 2010, Norman produced and performed in a celebration of the 1960 Big Soul Band recording at the Jazz Standard club, NYC.
He is a prolific composer and lyricist, and currently has nine albums as a leader. He continues to teach and work in New Jersey, focusing especially on passing down the techniques he learned from the master singers he worked with over the years and helping rhythm sections learn to accompany vocalists with grace and skill.