Slumberettes

– Norman Simmons

A lilting and exceptionally beautiful waltz in 3/4 with melody and counter melody, perfect in a quintet setting, with second parts and a Condensed Score. Solo Piano Arrangements (plus exclusive audio) in two levels of difficulty.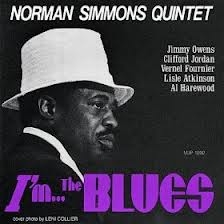 All selected items will be available for download after purchase.
Recording:

Norman Simmons - I'm . . . The Blues

Recorded on:

December, 1980

Label:

Milljac (MJP 10002)

Concert Key:

A

Vocal Range:

, to

Style:

3/4 swing (medium slow)
Trumpet - Jimmy Owens
Alto Sax - Clifford Jordan
Piano - Norman Simmons
Bass - Lisle Atkinson
Drums - Al Harewood
Slumberettes is a sweet, lilting waltz that is reminiscent of a jazzy lullaby. Trumpeter Jimmy Owens phrases the melody with sensitivity and grace, complemented by the counter melody played by Clifford Jordan on alto sax. This quintet arrangement is available with a Concert Condensed Score (melody and counter melody notated) as well as the lead sheets and second parts available for every instrument. The lead sheets have the melody and changes and the second parts have the counter melody and changes; the Condensed Score has it all notated the way it was played on the recording, including Norman's delicate piano introduction. Bass players and drummers should also read from the Condensed Score.
This composition was originally intended to be part of a classical-jazz hybrid suite called
Gremlins And Pixies
. Norman envisioned the suite to be a reflection on the inner child hidden within every adult. He scored the suite for symphony orchestra, but unfortunately the orchestra shut down before it was able to perform the piece. Fortunately, the individual movements are beautiful and meaningful individually and, although Norman had classical influences in his composing of the suite, the pieces are all distinctly jazz and perfect for soloing. Another composition from this suite, also released on this
album
, is
Los Milagros Pequeños
.
Arrangements for Solo Piano:
We have two arrangements for solo piano, both recorded by piano master Kenny Drew, Jr. The first is Norman's own arrangement
norman
in a flowing, ballad style, which is a good choice for intermediate piano students looking for a challenge. For younger or less experienced students, Don Sickler made another arrangement (labeled Easy
easy
) that maintains the medium slow swing feel of Norman's quintet arrangement while simplifying the voicings so students of all ages can explore this beautiful piece.
Don Sickler: "At the recording session, Kenny gave me a valuable arranging lesson about piano pedalling before he recorded my arrangement. Here is the recording session scenario: Kenny was in the piano booth, and I was in the control room with engineer Rudy Van Gelder and his assistent engineer, Maureen (my wife). Kenny just started talking, which we could hear in the control room through the piano mics. Fortunately Maureen heard that this was going to be something important, and pressed the record button.
"Here is Kenny telling me to add to the pedal notation for the introduction
clip
.
"Now that you've heard Kenny discuss and demonstrate the correct and incorrect pedalling, you'll see why I added further text:
"If you treat yourself to purchasing Norman Simmons' original recording (see the BUY MP3 link above), you'll get to hear Norman performing his beautiful intro which inspired mine."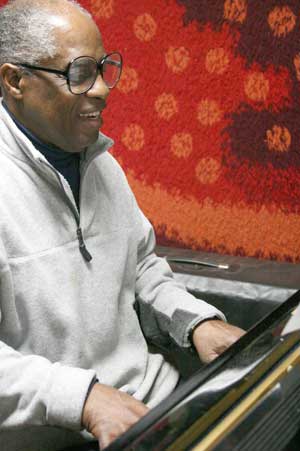 October 6, 1929 – May 13, 2021
Accomplished soloist, accompanist, composer and educator, Norman Simmons is well known as a pianist with an great ability to connect with jazz singers. Born in Chicago, Simmons taught himself piano and at age sixteen enrolled in the Chicago School of Music. He formed his own group in 1949 and began recording in 1952 when he worked as a house pianist for Chicago clubs The BeeHive and the C&C Lounge. During this period, his first recordings were under the leadership of tenor saxophonists Claude McLin, Paul Bascomb and Coleman Hawkins. Read more...