Horace Silver
September 2, 1928 – June 18, 2014
| | |
| --- | --- |
| Instrument | piano |
| Birthplace | Norwalk, CT |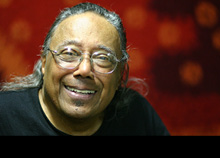 Horace Silver is the pianist on the recordings of the songs shown above. We've written out Piano Comping Voicings á la Horace Silver for these titles. Click on the song title then on the Piano Corner tab to see details.
The pioneering pianist and composer Horace Silver was a jazz legend best known for his contributions to hard bop, although he drew from and gave to a variety of musical styles like gospel, Latin, and soul jazz. His earliest musical influence was Cape Verdean folk music, which he learned from his father. Horace took up piano and saxophone as a teenager and soon began working in a piano trio (with Walter Bolden on bass) in Hartford, Connecticut. He quickly gained the attention of Stan Getz, who took the group on the road with him and recorded several of Horace's compositions. By the 1950s, his fledgling career was already booming: he moved to New York and began to freelance with the likes of Coleman Hawkins, Lester Young, and Oscar Pettiford.
In 1953, he joined forces with Art Blakey to form a jazz cooperative which went on to become the legendary Jazz Messengers. Their first album, "Horace Silver and the Jazz Messengers," was a landmark release that came to define the genre of hard bop, and included several of Horace's compositions that went on to become classics. Horace left the Messengers in 1956 and recorded a series of albums that established him as one of the most important pianists in jazz history, including "Blowin' The Blues Away" and "Song For My Father." Horace's legacy includes discovering and nurturing up-and-coming talent, such as Hank Mobley, Woody Shaw, and Tom Harrell. He was named a NEA Jazz Master in 1995 and received a President's Merit Award from the Recording Academy in 2005.