Another Point Of View

– Kenny Drew, Jr.

An elegant medium-up song with a melody that really tells a story in Kenny Drew, Jr.'s characteristic style. We have treble and bass clef parts showing the trio arrangement from the recording, in which the bass plays the melody with the piano, as well as lead sheets for all instruments.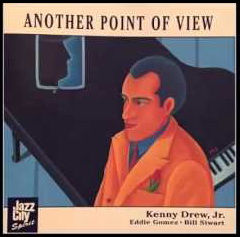 All selected items will be available for download after purchase.
Recording:

Kenny Drew, Jr. - Another Point Of View

Recorded on:

November, 1993

Label:

Jazz City Spirit (TKCB-70304)

Concert Key:

No key center

Vocal Range:

, to

Style:

Swing (medium up)
Piano - Kenny Drew, Jr.
Bass - Eddie Gomez
Drums - Bill Stewart
This medium-up song is classic Kenny Drew, Jr.—lyrical, constantly unfolding, with a longer form than initially expected. As with many of his songs, the melody builds gradually to a peak and resolves into a vamp-like repetitive final section. There is no key center, but the melody initially implies B minor. The A and C sections are the same, while the B section melody has the same opening phrase but is developed differently. The D section is 10 measures long (the other sections are 8 measures); the melody rises, falls, and rises again at the end into the E and F sections; these feature a bass ostinato that pedals on E and F, respectively. Each of the first four sections begin with stepwise ascending chords—half steps at A and C but all whole steps at D. As the D section melody descends, the changes also descend through resolutions going down in thirds.

The bass ostinato at E and F is played on both the head and solos. There is no intro; the ending vamps and fades out on the E section without going to F.

On the recording, the bass doubles the piano melody an octave lower from the beginning until the last two measures of the D section. We have treble and bass clef parts for this trio arrangement; click on the Bass Corner tab for more details about the bass part. Though the third note of the melodic theme is usually played long—a half note—on the recording, as shown in this trio arrangement, when Kenny performed this song he often articulated this note short, as a quarter note followed by a quarter rest. This articulation is shown on our lead sheets.
Kenny Drew, Jr., was one of many notable pianists who recorded with bassist Eddie Gomez in 1993. In that year Eddie played on albums by pianists Lonnie Leibowitz, Tania Maria, Joanne Brackeen, and Peter Delano, as well as with Tommy Flanagan on trumpeter Dusko Goykovich's "Soul Connection" and Lyle Mays on saxophonist Igor Butman's "Falling Out". Eddie also recorded his own album "Next Future"—his seventh as a leader—in 1993, featuring pianist Chick Corea.
On the recording, the bass plays the melody an octave below the piano for most of the head. This is very high for the bass, so our bass part shows the melody an octave lower than where it's played—in the sounding octave as opposed to the written octave. Some notable piano rhythms are shown below the staff.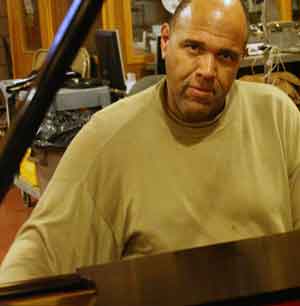 June 14, 1958 – August 3, 2014
Kenny Drew, Jr., son of pianist/composer Kenny Drew, Sr., started music lessons at the age of four. He studied classical piano with his aunt Marjorie, but soon found he enjoyed playing jazz as well. He performed worldwide with a comprehensive variety of musicians, including Stanley Jordan, OTB, Stanley Turrentine, Slide Hampton, the Mingus Big Band, Steve Grossman, Yoshiaki Masuo, Sadao Watanabe, Smokey Robinson, Frank Morgan, Daniel Schnyder, Jack Walrath, Ronnie Cuber and many others. Read more...