Aki's Blues

– Buddy Montgomery

A 24-measure blues variation in a funky hard-bop style. Besides our lead sheets, we have a bass part and a piano melody transcription showing how Buddy Montgomery played this song on his recording.
Recording:

Buddy Montgomery - Here Again

Recorded on:

July 21, 1997

Label:

Sharp Nine (1008-2)

Concert Key:

F

Vocal Range:

, to

Style:

Swing (medium up)
Piano - Buddy Montgomery
Bass - Jeff Chambers
Drums - "Killer" Ray Appleton
A 24-measure blues in that fun, funky hard-bop style Buddy Montgomery excelled at. The melody is based on a four-measure theme that begins with a strong rhythmic kick. The last eight measures (letter C) start with a more open-ended feel, but the rhythmic hits return toward the end. There are expressive grace notes in the melody that really bring out that funky blues sound.

The 24-measure form has space for plenty of passing chords and other alterations to the blues changes. The last eight measures of the head actually contain two four-measure "turnarounds" back to F. The solo changes are a bit different from the head changes, simplified at first but with two descending sequences in the second eight measures and a longer "turnaround" in the last eight. One particularly unusual chord in the head is the first hit on the fifth measure: an F triad on top of a D♭7. The dissonance in this chord is well resolved in the following C7 and F7 chords.

Our lead sheets show downward arrows on grace notes on the "and" of beat 4, for example in the second measure. The arrows indicate that these grace notes are played right on the "and" of 4 and not before, with the next note slightly delayed.

The feel on the head is not a 2-feel or 4-feel; the bass really plays the harmonic rhythm and is fully notated in our bass part. In the fourth measure of the head the bass briefly doubles the melody. A piano melody transcription is available as well; click on Piano Corner for more details.

Named for bassist Jeff Chambers' son,
Aki's Blues
is in fact one of three original songs of Buddy's from the "
Here Again
" album that had been recorded on earlier, unreleased sessions. As Buddy explains in Ted Panken's interview with him for the album's liner notes, "I did this on a Kevin Eubanks record date with Ralph Moore and Jimmy Cobb. He still owns the master, but nothing has happened with it yet, so I decided to record it." He says similar things about
Here Again
and
Hob Nob With Brother Bob
.
Our piano melody transcription shows how Buddy Montgomery plays the melody. It's a two-staff transcription with full voicings, one chorus long—Buddy plays nearly the same both times on the in and out heads. He uses spread-out, two-handed voicings for all the rhythmic hits. This transcription can also be played as a solo piano arrangement.
Recording:

David Hazeltine - Inversions

Recorded on:

February 5, 2010

Label:

Criss Cross Jazz (1326)

Concert Key:

F

Vocal Range:

, to

Style:

Swing (medium up)
Tenor Sax - Eric Alexander
Vibes - Steve Nelson
Piano - David Hazeltine
Bass - John Webber
Drums - Joe Farnsworth
David Hazeltine
's recording shows how well this song works in a quintet setting. The melody is played in unison by piano and vibes, with tenor sax an octave below; the last two measures of the first ending have the piano alone on the melody. The tempo and rhythm section arrangement are quite close to Buddy's original version. One notable difference is in the 7th and 8th measures: the changes are simplified to one chord every two beats, resulting in Cm7 in the first half of the 8th measure instead of B7. The melody notes are slightly different to reflect the harmonic change.
Recording:

Isaiah Thompson - Isaiah Thompson Plays The Music Of Buddy Montgomery

Recorded on:

August 28, 2019

Label:

WJ3 Records (WJ3 1025)

Concert Key:

F

Vocal Range:

, to

Style:

Swing (medium up)
Piano - Isaiah Thompson
Bass - Philip Norris
Drums - Willie Jones, III
Isaiah Thompson's version is closely based on Buddy's original recording but quite a bit faster. The C section features a more obviously open-ended, "broken time" feel, while the last two measures on the repeat of the head are a solo break. This version has a slick ending: on the repeat of the out head, the second to last measure is the same as the first ending, going directly into four measures of descending then ascending hits into a final F13(♯11) chord.

There's a bass part, based on Buddy's "Here Again" recording.
from Isaiah Thompson:
This long form F-blues has soul. Buddy Montgomery has some alternate blues chords written but the blues is the blues. A separate bass part has also been included because Buddy's writing can be so particular. This composition is very rhythmic and the different chords can throw you for a loop sometimes but it's what makes it sound so great.
See other Buddy Montgomery titles on
Isaiah's album
.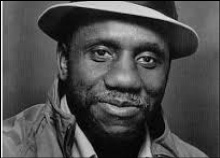 January 30, 1930 – May 14, 2009
Buddy Montgomery's music was straight ahead bebop jazz. He played in many styles, but always with a bebop approach. With no formal training, he played entirely by ear in any key, choosing what he felt were the most beautiful and creative chord changes, making his compositions challenging and inventive. He infused lyrical ballads with warmth and swung hard as well. Though he never crossed over outside of jazz, his music is accessible to casual listeners but still prized by jazz fans. Read more...