We're In Love Again

– Harry Carney

Harry Carney wrote the perfect feature for his extraordinary sound with this romantic ballad. The debut recording featured a string arrangement by Gerald Wilson.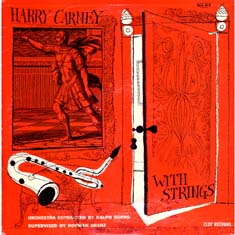 All selected items will be available for download after purchase.
Recording:

Harry Carney - Harry Carney With Strings

Recorded on:

December 13-14, 1954

Label:

Clef (MGC 640)

Concert Key:

E-flat

Vocal Range:

, to

Style:

Ballad
Baritone Sax - Harry Carney
Trumpet - Ray Nance
French Horn - Tony Miranda
Clarinet - Jimmy Hamilton
Violin - Mac Ceppos, Martin Donegan, Ben Gerrard, Gene Orloff, Sylvan Shulman, Zelly Smirnoff
Viola - Howard Kay, Isadore Zir
Cello - Sidney Edwards, Alan Shulman
Harp - Doris Johnson
Guitar - Billy Bauer
Piano - Leroy Lovett
Bass - Wendell Marshall
Drums - Louie Bellson
This lush, romantic ballad is very much in an Ellingtonian vein. It's relatively simple with an AABC form. The bridge goes to G minor (the III minor) while the A section also begins with Gm7, moving down in half-steps to a II-V7 going to the tonic. The melody of the bridge has some dramatic upward octave leaps. It's the perfect showcase for Harry Carney's inimitable melodic style, but lends itself well to other interpretations.

This arrangement has a four-measure intro. Harry plays the first A section in his lowest register, and the rest of the melody an octave higher. The first chorus is followed by another A section in the key of G, which starts unexpectedly after only seven measures of the C section. The first four measures of this section are played by baritone sax and clarinet two octaves apart, with strings harmonizing in the middle; Harry takes over for the rest of the melody here. After this section is another bridge and C section back in the original key; Harry solos on the bridge (staying close to the melody) and plays the out C section melody low at first and ending high. A six-measure coda starting on the last measure of the head is shown in the lead sheet. The arrangement ends on an unexpected E♭m6 chord.

A Melody Transcription is available for the entire track, for all editions. This transcription shows all the articulations and dynamics. Dynamic contrast is an essential element of Carney's (and many other Ellingtonians') ballad playing. Not only good for learning expression, but a nice sight reading exercise.
The string arrangement on this track is by Gerald Wilson; most of the other songs from this session were arranged by Ralph Burns, with one arrangement each by Jimmy Hamilton, Ray Biondi and Mike Simpson. This album is one of only two full albums under Harry Carney's leadership, though he also recorded two sessions as a leader in 1946 and 1947. Another recording of Carney with strings is a session from 1949 which produced two Duke Ellington compositions originally issued on the Clef compilation "The Jazz Scene." We're In Love Again was also recorded by the posthumous Count Basie Orchestra in 2005, arranged to feature baritone saxophonist John Williams.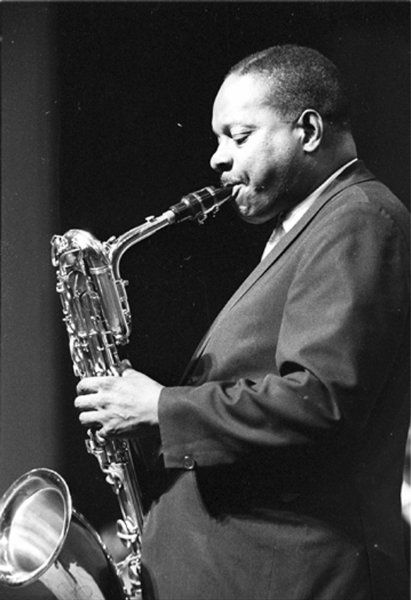 April 1, 1910 – October 8, 1974
Harry Carney is widely revered as the first important voice on the baritone saxophone. Best known for his association with Duke Ellington, he arguably did more than any other band member to define the Ellington sound. He certainly had the longest run of any sideman in the Ellington band. Read more...