Spring Song

– Don Friedman

Romantic and lyrical despite its fast tempo, this song continually unfolds over a long form. Our lead sheet is based on our exclusive recording featuring Don in a duo setting with bassist Daryl Johns.
All selected items will be available for download after purchase.
Recording:

Don Friedman - Circle Waltz 21C

Recorded on:

March 21, 2010

Label:

Eighty-Eights (VRCL 18847)

Concert Key:

A minor

Vocal Range:

, to

Style:

Swing (medium up)
Piano - Don Friedman
Bass - George Mraz
Drums - Lewis Nash
For a detailed description of the song, click on the second album cover; the duo version with Daryl Johns is the recording our lead sheets are based on. The form is different in this earlier version: the D section is only six measures long instead of eight, leaving out the 5th and 6th measures of the section as shown on our lead sheet. This creates a four-measure rhythmic "vamp" at the end of the form. The last solo chorus has the bass and drums trading 8s with each other. When they get to the six-measure D section, the drums solo for two more measures and then Don plays the last four measures to set up the out head.

Don had written Spring Song shortly before this 2010 recording. Don's trio read the song from his original manuscript, which had no intro. At the session, Don decided that the first four measures of D (repeated) would work as an intro—the same as on our lead sheet, though not the same as the D section in the head of this version.
This is an example of a composition Don wrote, and then almost immediately played on a
recording session
. As you'll hear, it sounds great! But, after the session, with a little time to reflect on it, Don changed the form for his final lead sheets, which are the ones we have available on jazzleadsheets.com, and which were also used for his duo recording a year and a half later with Daryl Johns.
All selected items will be available for download after purchase.
Recording:

Don Friedman - Don Friedman - Daryl Johns Duo

Recorded on:

August 6, 2011

Label:

jazzleadsheets.com (JLS 1018)

Concert Key:

A minor

Vocal Range:

, to

Style:

Swing (medium up)
Piano - Don Friedman
Bass - Daryl Johns
Faster than many other Don Friedman compositions, Spring Song is nonetheless a great example of Don's romantic lyricism. Though it's in a minor key, the fast tempo and soaring melody give this song a happy feeling—perhaps like the onset of spring. The melody keeps unfolding over quite a long form, 56 measures total. The first 32 measures have similar phrase lengths, with a loose 2-feel in the bass; this part of the song is one very long A section. The contrasting eight-measure B section goes to A major, pivoting between A and D chords on a quarter-note pedal in the bass. The melodic motion gets faster here, leading to an almost reel-like eighth-note line that ends with a break. The C section that follows is like the first eight measures of A, but transposed to D minor with a 4-feel. Finally the D section returns to A minor, alternating two measures of arpeggiated eighth-note melody with a rhythmic pair of chords. This D section is also used as an intro; there is also a coda using the same arpeggiated line to lead to a warm final A major chord.

The C treble clef lead sheet also works for pianists in a duo setting like the recording. Bass notes are shown below the staff for the intro, B and D sections, and coda. For the bass part, click on the Bass Corner tab.

As you can hear on our audio excerpt, Don starts this version by playing letter C alone, rubato, before going into the intro where he is joined by the bass.
"Don Friedman - Daryl Johns Duo"
was recorded at the legendary
Van Gelder Studio
in Englewood Cliffs.
Don Sickler:
"This is a good piece to explain how Don Friedman and I worked together to, first of all, get good lead sheets of his music finalized.
"For example, on May 12, 2010, Don emailed me his manuscript for his new composition
Spring Song.
I went over his manuscript, called him with my questions, and then edited it for my engraver to create a "from manuscript" edition. Don had already recorded the song on March 21, 2010, on a piano trio session for what would become his album "
Circle Waltz 21C
," which was released on September 22, 2010, at first only in Japan.
"Not knowing when that album would be available in the US, Don and I decided that it would be a good one for the piano/bass duo recording project I wanted Don to do with the young bassist Daryl Johns. On August 6, 2011, it became one of the six songs they recorded together. We also, as you can see, videotaped the session. Watching the video carefully, you'll see that the music in front of Don is not the lead sheet edition we currently have available; it is the "from manuscript" edition. After their duo recording was the first time that Don and I could actually finalize a correct lead sheet for
Spring Song.
"Many times, once Don had written out his first lead sheet for a new song, he would send me a copy immediately if he had a gig or session with a horn player. I would then send him back an engraved concert lead sheet, and a B♭ lead sheet, for example, if he was going to first play it with a tenor saxophonist."
Check out the other Don Friedman songs from the
duo session with Daryl Johns
.
Our Bass part has specific notes indicated on the Intro, letters B, D and the Coda. Letters A (2-feel) and C (4-feel) have the melody cued in bass clef so you can see what the piano or melody instrument is playing. During the 32-measure A section, the bassist's role is also to add fills under the sustained melody notes.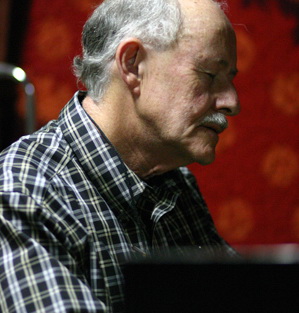 May 4, 1935 – June 30, 2016
Don Friedman was only four years old, living in San Francisco, when he started playing his parents' piano. A year later, he started lessons with a private teacher. His love for jazz music was born when he moved to L.A. and heard the likes of Les Brown and Lee Konitz for the first time. Read more...