Sign Off

– Kenny Dorham

A simple blues head that works well as a set closer. It comes from a session from the same album as Horn Salute but was not released on the original LP.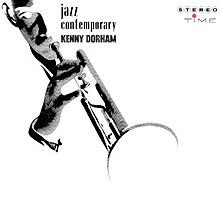 All selected items will be available for download after purchase.
Recording:

Kenny Dorham - Jazz Contemporary

Recorded on:

February 12, 1960

Label:

Time (LPM 52004)

Concert Key:

E-flat

Vocal Range:

, to

Style:

Swing (medium up)
Trumpet - Kenny Dorham
Baritone Sax - Charles Davis
Piano - Steve Kuhn
Bass - Jimmy Garrison
Drums - Buddy Enlow
The title suggests that Kenny used this song as the closer of a set; it certainly works in this context. It's a simple blues head with a funky, rhythmic riff. The piano answers the melody with rhythmic hits in the last measure of each four-measure phrase. A second theme is used to launch the solos, with eight measures of rhythm section pedal point on beats 2 and 4; the soloist begins in the last four measures of the chorus. This pedal point, like that of
Windmill
, is on the dominant (B♭ in the key of E♭), going to the tonic of A♭7 but back to B♭ for the next E♭7. This same pedal point section appears at the end, with one of K.D.'s classic stop-time codas (like
Stage West
) replacing the last four measures. This coda ends with a grand pause of just over a measure, and a final hit on the "and" of beat 2. It's easy to imagine Kenny playing with this on a gig, prolonging the pause by several measures so as to really make that last hit a surprise.
This song first appeared on a Japanese CD reissue of "
Jazz Contemporary
." For this session, Jimmy Garrison replaced Butch Warren, who had played on the rest of the album (including
Horn Salute
) the previous day. Garrison was the bassist on Dorham's other album for the Time label, "Showboat," from December 1960.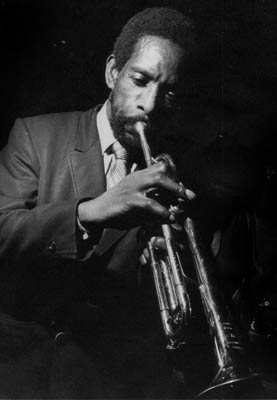 August 30, 1924 – December 15, 1972
Trumpeter/composer Kenny Dorham was very much on the jazz scene from the mid-1940s through most of the 1960s. He worked and recorded with all the major figures in the modern jazz movement, which includes the legendary Billy Eckstine big band, Dizzy Gillespie, Art Blakey, Bud Powell, Charlie Parker, Thelonious Monk and Max Roach as well as Kenny Clarke, Sonny Stitt, Fats Navarro, J.J. Johnson and many other giants of that period. Read more...