Ripples

– Eddie Bert

A swinging blues with an intricate melody.

All selected items will be available for download after purchase.
Recording:

Eddie Bert - Kaleidoscope

Recorded on:

November 3, 1954

Label:

Savoy (SJL 1186)

Concert Key:

B-flat

Vocal Range:

, to

Style:

Swing (medium up)
Trombone - Eddie Bert
Alto Sax - Vinnie Dean
Piano - Duke Jordan
Bass - Clyde Lombardi
Drums - Joe Morello
This head starts as a fiery blues. Eddie usually liked this head in a blues/bridge/blues format. However, on this recording he elected to solo a blues chorus with the drums and himself instead of playing the blues head after the bridge. The recording ends with the blues head after the bridge. For the solo section he prefered an AABA format: two blues choruses, an eight-measure bridge (with the chord changes going by twice as fast as they do in the opening head bridge), and then a third blues chorus.

By 1953, Eddie Bert was an established trombonist, with many big band as well as small group recording sessions to his credit. We counted ten sessions in 1953. The previous year (1952) had six, with nine sessions in 1954.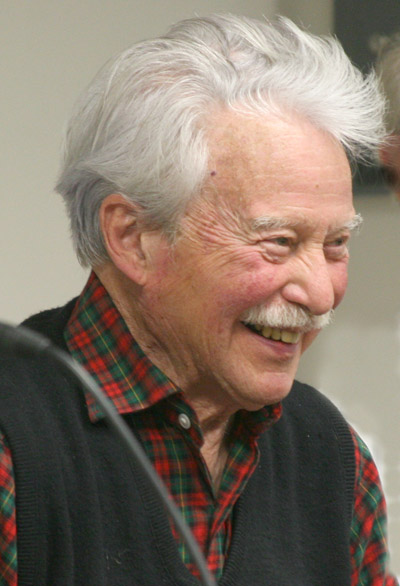 May 16, 1922 – September 27, 2012
Trombonist Eddie Bert was born in Yonkers, NY. His main interest, even in his youth, was music. When he started on trombone, he studied with Benny Morton, of the Count Basie Band. As a professional, he graced the bands of vibraphonist Red Norvo, Stan Kenton, Woody Herman, Thelonious Monk, the Thad Jones/Mel Lewis Orchestra and many others. He worked as a studio musician in the New York area, also playing in many Broadway shows. His mastery of the trombone allowed him to play in a variety of musical contexts, "from the infectious swing of Benny Goodman to the wild experimentation of Charles Mingus," as writer Peter Keepnews wrote. The only trombonist Thelonious Monk invited to perform and record with his two larger ensemble projects, Eddie Bert was someone special, musically and personally, to everyone who knew him. Read more...