Passos

– Fritz Pauer

An airy bossa with constantly shifting harmonic movement. Art Farmer's transcribed trumpet solo available in B-flat and C editions.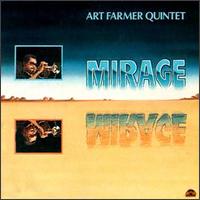 All selected items will be available for download after purchase.
Recording:

Art Farmer - Mirage

Recorded on:

September 18-19, 1982

Label:

Soul Note (SN 1046)

Concert Key:

E-flat

Vocal Range:

, to

Style:

Latin (Bossa)
Trumpet - Art Farmer
Tenor Sax - Clifford Jordan
Piano - Fred Hersch
Bass - Ray Drummond
Drums - Akira Tana
Our audio example starts with the horns playing the melody. The actual recording starts with an eight-measure rhythm section introduction which is notated in the C treble clef lead sheet. The intro clearly establishes the key of E-flat, but the horn melody starts with a II-V-I in B major, then moves to G major before returning to E-flat major. This type of constantly shifting harmonic movement is a key compositional ingredient. The arrangement ends with a Coda which is clearly notated.
Pianist/composer Fritz Pauer started recording with
Art Farmer
in 1970. He contributed many originals and arrangements to Art Farmer's library from 1970 into the 1990s. Fritz recalls, "Art was always looking for high quality, he was well prepared, he took very well care of choice of tunes (Recording Material), and he was open to suggestions. The booklet, cover, everything. And business was the same way: he always played very well, had the best musicians in his band, and always played fantastic!"
On Fritz's piano solo manuscript he wrote the subtitle "Shake A Leg"—in Portuguese
Passos<.i> means going, move; pace, step; pass; pitch; tread, walk.

Transcribed Trumpet Solo:
Our solo audio excerpt starts at the beginning of master storyteller Art Farmer's first chorus
trumpet
. He starts gently weaving his story, gradually gaining momentum. By his second chorus he's playing double time on top of the rhythm section, preparing for his third chorus, where the rhythm section also plays double time. At the end of this chorus Art turns the solo section over to tenor saxophonist Clifford Jordan, back at the original tempo.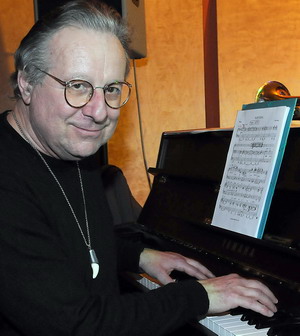 October 14, 1943 – July 1, 2012
Born in Vienna, Austria, acclaimed European pianist and composer Fritz Pauer began his career in the early 1960s, making his first recording (at age 19) with the Hans Koller quartet in 1962. He moved to Berlin, Germany, 1964-68, and played at Dug's Night Club & Jazzgalery as accompanist for Herb Geller, Johnny Griffin, Don Byas, Booker Ervin, Dexter Gordon, Leo Wright, Carmell Jones, Pony Poindexter, Jimmy Woode and vocalist Annie Ross, recording with many of them. Read more...