Outlook

– Steve Davis

Both melody and harmony parts are notated on each lead sheet. Great for a quintet. Steve Davis's trombone solo is available.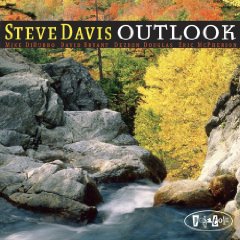 All selected items will be available for download after purchase.
Recording:

Steve Davis - Outlook

Recorded on:

November 19, 2006

Label:

Posi-tone (PR 8041)

Concert Key:

E minor

Vocal Range:

, to

Style:

Swing (medium up)
Trombone - Steve Davis
Alto Sax - Mike DiRubbo
Piano - David Bryant
Bass - Dezron Douglas
Drums - Eric McPherson
Our audio excerpt starts with the melody. On the complete recording, there is an eight-measure rhythm section intro (a four-measure figure, two times, which continues under the melody). The piano and bass parts are clearly notated in the introduction of the C treble clef lead sheet. Both horn parts are indicated in all lead sheets. The horn harmony part is above the melody in measures 6 through 8 of A1, also clearly indicated in each lead sheet. The B-flat lead sheet is written in the tenor sax range.

A solo section is included in each lead sheet. It's an interesting AAB solo form. The 20-measure A sections start with the rhythm section figures accompanying at least the first soloist. Then it either goes into 2-feel (like in the melody) or a 4-feel section. The solo section can also be just 4-feel.

Outlook
is Steve Davis'
twelfth recording
as a leader. He is also a very talented composer and arranger. 2006 was a productive year for Steve. In February, One For All recorded their CD "The Lineup." Steve also played on two big band recording projects in 2006, first with Jimmy Heath, and then with John Fedchock. Sandwiched in between his June and November "Outlook" sessions, he also recorded with pianist Larry Willis.
Some of Steve's combo charts from the One For All recordings are available from Second Floor Music at
MusicDispatch.com
and other online music stores.
Transcribed Trombone Solo:
Our audio excerpt starts at the beginning of Steve's solo chorus
trombone
. Note that the rhythm section starts the solo section the way they start the melody (listen to our melody excerpt), but this time, there are only eight measures of rhythmic figures instead of the sixteen measures that are played in the melody. Next, the rhythm section goes into 2-feel, like they do in the melody.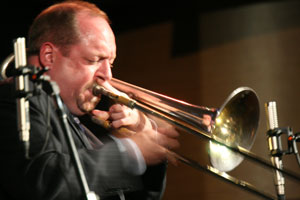 born on April 14, 1967
Steve Davis is widely regarded as one of today's leading improvisers on the trombone. His lyrical, hard-swinging style first gained him broad recognition during the 1990s while working with the bands of jazz legends Art Blakey, Jackie McLean, Chick Corea's Origin and the cooperative sextet, One For All. Steve also followed in his mentor Curtis Fuller's footsteps by joining saxophone legend Benny Golson and The New Jazztet in 2008. Read more...