Opus In Turquoise

– Gene Roland

Melodic phrases with counter melodies notated in the C lead sheet.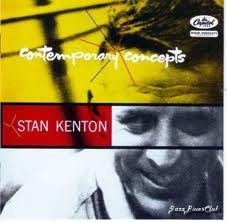 All selected items will be available for download after purchase.
Recording:

Stan Kenton - Contemporary Concepts

Recorded on:

February 8, 1956

Label:

Capitol (Cap 3243)

Concert Key:

D-flat

Vocal Range:

, to

Style:

Swing (medium)
Alto Sax - Lennie Niehaus
Tenor Sax - Bill Perkins, Spencer Sinatra
Baritone Sax - Jack Nimitz
Trumpet - Ed Leddy, Sam Noto
Trumpet - Lee Katzman, Vinnie Tano, Phil Gilbert
Trombone - Bob Fitzpatrick, Carl Fontana,
Trombone - Kent Larsen
Bass Trombone - Don Kelly
French Horn - Irving Rosenthal, Fred Fox
Tuba - Jay McAllister
Piano - Stan Kenton
Guitar - Ralph Blaze
Bass - Curtis Counce
Drums - Mel Lewis
The audio excerpt start at the top of the track with the melody. Composer Gene Roland demonstrates his mastery of ensemble orchestration with a simple melodic idea stated by the saxes, which he then develops. This time he centers the melody around either the fifth or the sharp fifth of the chords.

Stan Kenton started the color opus idea himself by composing and first recording
Opus in Pastels
in 1940. On July 22, 1955, Gene Roland's classic
Opus In Chartreuse
(also available at jazzleadsheets.com) was first recorded by the Kenton Orchestra. Early the next year Kenton added
Opus In Turquoise
to the book. At the end of that year, he finished his color scheme with Roland's
Opus in Beige.
More from this
album
.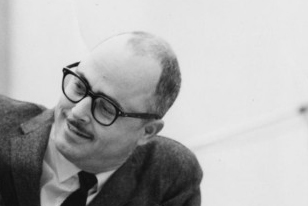 September 15, 1921 – August 11, 1982
The only composer with the distinction of working for Stan Kenton for all four decades of Kenton's band's existence, Gene Roland was born in Dallas, Texas, and began studying the piano at age eleven. Over the course of his career, he mastered many instruments, from trombone to trumpet to mellophonium to drums, but his real success came through his talent as an arranger and composer. Read more...