Opus In Chartreuse

– Gene Roland

Roland's easy swinger makes an art of simplicity.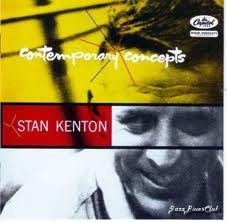 All selected items will be available for download after purchase.
Recording:

Stan Kenton - Contemporary Concepts

Recorded on:

July 22, 1955

Label:

Capitol (Cap 3243)

Concert Key:

F

Vocal Range:

, to

Style:

Swing (medium)
Alto Sax - Lennie Niehaus, Charlie Mariano
Tenor Sax - Bill Perkins, Dave Van Kriedt
Baritone Sax - Don Davidson
Trumpet - Al Porcino, Ed Leddy
Trumpet - Sam Noto, Stu Williamson, Bob Clark
Trombone - Bob Fitzpatrick, Carl Fontana
Trombone - Gus Chappell, Kent Larsen, Don Kelly
Piano - Stan Kenton
Guitar - Ralph Blaze
Bass - Max Bennett
Drums - Mel Lewis
In researching more about Gene Roland we found a nice biography compiled by Kenton's publicist Noel Wedder, who is also quoted at the end of the historical notes. After giving Gene's birthdate in the bio, he next says: "Gene Roland was the master of the riff." Creating a good short yet profound musical statement is an art. Developing it further into a composition shows true craft. That is exactly what Opus In Chartreuse is: an infectious gem that immediately gets in your ears and in your mind. You'll very likely find yourself humming it, maybe for days. It doesn't have to be played by a big band—it's a great song and will sound right with any size group.

Don Sickler: "The first Kenton-recorded performance of a Gene Roland arrangement I've found comes from May/June, 1944 ('I Got Rhythm'). Gene wrote many originals for the Kenton band. This one,
Opus In Chartreuse,
became a very popular fixture in the Kenton repertory. In addition to this arrangement, Kenton had Roland arrange it as a cha cha: check out
Chartreuse Cha-Cha
. For yet another approach, listen to the arrangement on '
Kenton With Voices
.'
"Here's the way Kenton publicist Noel Wedder starts his bio of Gene: 'Gene Roland, without a doubt, was one of the most skilled, inventive and underrated arranger/composers ever associated with the Kenton Orchestra.' Roland was the only arranger to write for Kenton in all four decades of the band's existence."
In a 1963 Downbeat article, we learn how the young Roland honed his arranging skills: " . . . Roland [went] to the Eighth Army Air Force Band, a 60-piece orchestra, in which he stayed for two years, and in which his primary job was to write dance-band libraries. He wrote six different ones."
More from this
album
.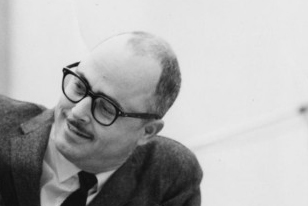 September 15, 1921 – August 11, 1982
The only composer with the distinction of working for Stan Kenton for all four decades of Kenton's band's existence, Gene Roland was born in Dallas, Texas, and began studying the piano at age eleven. Over the course of his career, he mastered many instruments, from trombone to trumpet to mellophonium to drums, but his real success came through his talent as an arranger and composer. Read more...