Old Ballad

– Kenny Wheeler

This intense yet peaceful ballad works great as a trio, a quartet or with two horns trading phrases.
All selected items will be available for download after purchase.
Recording:

Pepper Adams - Conjuration

Recorded on:

August 20, 1983

Label:

Reservoir (RSRCD 113)

Concert Key:

F minor

Vocal Range:

, to

Style:

Ballad
Trumpet - Kenny Wheeler
Baritone Sax - Pepper Adams
Piano - Hank Jones
Bass - Clint Houston
Drums - Louis Hayes
Don Sickler: "The seemingly nostalgic flavor of the opening of the melody constantly evolves and develops in this beautiful 32-measure composition. It's constructed in four-measure phrases; the second phrase starts by echoing the first. After a contrasting second eight-measure section, the first four-measure phrase of the melody re-enters, up a major third, then immediately moves back to its original position before climbing to start a development of the second contrasting theme. The last four measures of the ending section of the melody returns to the opening four-measure phrase.

"Before performing this powerful melody, you might find it interesting to examine two of Kenny's treatments. In the original recording featured here, with Pepper Adams, Kenny states the first eight measures of the melody, then Pepper has the second eight measures. Both players (in octaves) play the third eight measures, crescendoing into the fourth eight-measure phrase which decrescendos into the repeat of the opening four-measure phrase that ends the melody. Click on the 'One Of Many' album cover above for details about that performance."



Don continues: "Pepper Adams' week-long engagement in August, 1983, playing at Fat Tuesday's jazz club in NYC, was an easy walk from my loft in Manhattan. It was my first chance to see, hear and talk to Kenny Wheeler in person. He completely blew me away. Kenny had come to the US in May, 1983, to record his fourth album as a leader for ECM, 'Double, Double You.' Then he went back to the UK to record in July before coming to perform and record this live album with Pepper Adams. Pepper had been raving to me about Kenny, and he was right."

All selected items will be available for download after purchase.
Recording:

Kenny Wheeler - One Of Many

Recorded on:

July 30 & 31, 2006

Label:

CAM Jazz (CAN 5042)

Concert Key:

F minor

Vocal Range:

, to

Style:

Ballad
Flugelhorn - Kenny Wheeler
Piano - John Taylor
Bass (electric) - Steve Swallow
Don continues: "On Kenny's 2006 trio recording, 'One of Many,' the pianist states the first eight measures, with Kenny joining for the second eight. Piano again states the next eight, with Kenny coming back for the last eight measures of the melody. Electric bass then solos first. On the Pepper Adams recording, Kenny solos first. Listening to him solo, you immediately hear that he is a wonderful and unique soloist as well as great composer. I had carefully gone over the lead sheet melody with Kenny years ago and now notice that he had suggested an octave higher note for the last note. I've indicated the lower octave in parenthesis, since he records it that way."
This session took place 23 years after the "Live At Fat Tuesday's" album. Kenny himself recorded it several times in the intervening years:
-- Kenny Wheeler/Peter O'Mara/Wayne Darling/Bill Elgart : Kenny Wheeler (tp,flhrn) Peter O'Mara (g) Wayne Darling (b) Bill Elgart (d) - Munich, Germany, March, 1990
-- Overnight : John Taylor/Kenny Wheeler/Riccardo Del Fra : Kenny Wheeler (tp,flhrn) John Taylor (p) Riccardo Del Fra (b) - Pernes-les-Fontaines, France, October 30 & 31, November 1, 2001
And in 2011, with his big band:
The Long Waiting : Kenny Wheeler Big Band : Kenny Wheeler (flhrn) Henry Lowther, Derek Watkins, Tony Fisher, Nick Smart (tp) Dave Horler, Mark Nightingale, Barnaby Dickinson (tb) Dave Stewart (b-tb) Ray Warleigh, Duncan Lamont (as) Stan Sulzmann, Julian Siegel (ts) Julian Arguelles (bar) John Taylor (p) John Parricelli (g) Chris Laurence (b) Martin France (d) Diana Torto (vcl) Pete Churchill (cond) - London, September 2 & 3, 2011
Trumpeter
Marvin Stamm
did it in 1992:
-- Mystery Man : Marvin Stamm (tp,flhrn) Bob Mintzer (ts) Bob Malach (ts,sop) Bill Charlap (p) Mike Richmond (b) Terry Clarke (d) - New York, June 23 & 24, September 3 & 4, 1992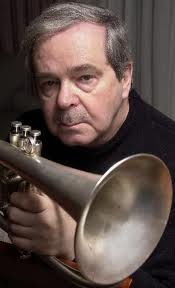 January 14, 1930 – September 18, 2014
Kenny Wheeler was an innovator in trumpet, a prolific composer, and a master of improvisation since his the beginning of his career in the early 1950s. Although he resided in England from the age of 22, he was born in Toronto, Canada. He began playing cornet at age 12 in his hometown of St. Catherines, encouraged by his father, a trombonist. He became interested in jazz in his mid-teens. He spent a year studying harmony and trumpet at the Royal Conservatory in Toronto in 1950. Read more...