Kenny Wheeler
January 14, 1930 – September 18, 2014
| | |
| --- | --- |
| Instrument | trumpet |
| Birthplace | Toronto, Ontario, Canada |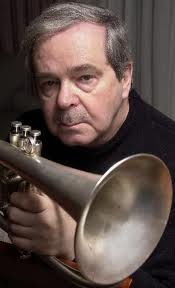 Kenny Wheeler was an innovator in trumpet, a prolific composer, and a master of improvisation since his the beginning of his career in the early 1950s. Although he resided in England from the age of 22, he was born in Toronto, Canada. He began playing cornet at age 12 in his hometown of St. Catherines, encouraged by his father, a trombonist. He became interested in jazz in his mid-teens. He spent a year studying harmony and trumpet at the Royal Conservatory in Toronto in 1950.
In London, Wheeler did commercial dance band gigs; in 1959 he joined bandleader John Dankworth. While a member of Dankworth's Boporchestra, where he became one of the principal soloists (1959-65), he studied composition with Richard Rodney Bennett (1962-63) and Bill Russo (1963-64). In 1966, Kenny became interested in free jazz and in 1976 started the trio Azimuth with pianist John Taylor and singer Norma Winstone. Kenny started recording with bassist Dave Holland in 1968 in many different groups, including some of Kenny's own sessions. In 1983 it was a natural transition for Holland to ask Kenny to record with his piano-less quintet, which also featured trombonist Julian Priester.
Kenny Wheeler performed and recorded his own compositions with large jazz ensembles throughout his career, starting with his first featured album "Windmill Tilter," recorded in 1968 with the John Dankworth band. His next and first solo leader recording was also a big band date (January, 1973), again featuring all of his own compositions. In 1975 he started recording for the ECM label with "Gnu High," followed in 1977 with "Deer Wan." With these albums, Wheeler started to get serious attention, not only for his great trumpet playing but also for his marvelous compositions. He loved to write for large ensembles, and Second Floor Music is proud to publish two of his large ensemble works, Gentle Piece and Kayak, as well as his small group work (Five For Six). He was a powerhouse in both the avant-garde and post-bop worlds of jazz.
A personal note from Don Sickler: As a trumpet player and composer, Kenny was definitely at the highest level. As a person, he was quiet and humble. I had the honor of arranging and producing two albums for Freddie Hubbard and Woody Shaw, two more of my trumpet heroes. One of our three-way trumpeter conversations at that time turned to who were "the other" great trumpet players as well as great trumpet players/composers on the contemporary scene. The first name Freddie and Woody mutually came up with was Kenny Wheeler. I remember Kenny was in total shock when I told him what they said. He was far too modest."