Ode For Aaron

– Robert Watson

Simple yet subtly detailed in the classic Bobby Watson style, this uptempo song starts with a bright calypso groove. In addition to our lead sheet, we have a condensed score reflecting Bobby's original recording, as well as quintet and sextet arrangements.
Recording:

Bobby Watson - Love Remains

Recorded on:

November 13, 1986

Label:

Red Records (NS 212)

Concert Key:

B-flat

Vocal Range:

, to

Style:

Latin (Calypso)
Alto Sax - Bobby Watson
Piano - John Hicks
Bass - Curtis Lundy
Drums - Marvin "Smitty" Smith
A bright-toned song in Bobby Watson's signature style. The melody is simple and elegant, flowing so smoothly that it's easy to overlook that the form is 17 measures long instead of a more expected 16. This song alternates a calypso groove on the first four measures with swing 4-feel for the rest of the chorus, in both head and solos. Rhythm section hits on the last four measures also appear in the solo choruses to stabilize the irregular form.

The key center is clearly B♭ major, but we honor Bobby's preference of not showing a key signature; a few of the changes are a bit unpredictable. The intro, which sets up the calypso groove with a rhythmic bass figure, vamps the first two chords of the head, C9sus and C7sus(♭9); these seem to set up an F major tonality, but on the head they reveal their direction toward B♭. On the intro, piano voicings and the bass line are shown in our C treble and bass clef lead sheets. Our audio clip starts at the melody.

Our lead sheet is closer to the later recordings by Justin Robinson and by Bobby Watson's quintet than to the original quartet version from "Love Remains." We have a condensed score showing notable differences in this recording. Unlike the other versions, on the fourth measure of the head the rhythm section hits with the melody on beat 3 and the "and" of 4; the drums set up swing around these hits. There is a drum pickup to the intro. Bobby plays a pickup to the start of the melody, and also always embellishes the second to last measure of the head, filling in the longer notes with an eighth-note line that is slightly different each time. We show what he plays here as two pairs of first and second endings, one each for the in and out heads.
Bobby Watson named this song for his son Aaron, one part of his desire to write a composition for every family member.
Pianist John Hicks and drummer Marvin "Smitty" Smith played together on quite a few recordings including two albums by baritone saxophonist Hamiet Bluiett and four by guitarist Peter Leitch. Smith played on Hicks' 1993 trio album "Beyond Expectations." A week before the "
Love Remains
" session, Smith recorded at Van Gelder Studio on a session for pianist
Buddy Montgomery
's "Ties Of Love" (which is not the same as "
Ties
," another Montgomery album recorded nine years earlier).
Recording:

Justin Robinson - Justin Time

Recorded on:

August 13-14, 1991

Label:

Verve (314-513254)

Concert Key:

B-flat

Vocal Range:

, to

Style:

Latin (Calypso)
Alto Sax - Justin Robinson
Piano - Kenny Barron
Bass - Peter Washington
Drums - Lewis Nash
Justin Robinson
's recording is closer to our lead sheet than the original Bobby Watson version, though Justin takes a few liberties with the melodic rhythm. As shown on the lead sheet, on the fourth measure of the head the rhythm section holds out a chord on beat 2; the next chord starts on the downbeat of the fifth measure, though the melody anticipates this downbeat on the "and" of 4. The lead sheet also reflects this version's dynamic contrast: the melody begins slightly softer and becomes
forte
in the last six measures.
The intro is the same as in the "
Love Remains
" version except without a drum pickup; our audio clip starts at the melody.
Justin Robinson's debut as a leader, "
Justin Time
" was produced by Bobby Watson. This album also includes a version of Bobby's
Quiet As It's Kept,
as well as a guest appearance from Bobby, plus fellow alto saxophonist Gary Bartz, on a three-alto version of Jimmy Heath's
Gingerbread Boy.
The rhythm section heard here appears on only one other recording so far: four tracks of violinist Regina Carter's 1998 album "
Rhythms Of The Heart
." Check out
Lewis Nash
's
Skeeter Blues
from this album; pianist Werner "Vana" Gierig replaces Kenny Barron on this track.
Recording:

Bobby Watson - Live In Slovenia

Recorded on:

October 25, 2000

Label:

RTV Studio, Slovenia ()

Concert Key:

B-flat

Vocal Range:

, to

Style:

Latin (Calypso)
Trumpet - Jack Walrath
Alto Sax - Bobby Watson
Piano - Orrin Evans
Bass - Curtis Lundy
Drums - Victor Lewis
For this quintet arrangement, instead of 1st and 2nd parts we have a transposed set of melody parts which each shows the 2-horn harmonies—essentially transposed condensed scores. Only a few measures of the head have harmony or counterpoint between the horns, with the rest in unison or octaves. The format is close to the Justin Robinson version; again the fourth measure has a chord hit on beat 2. A steady crescendo is added from the 7th to 11th measures. Like the "
Love Remains
" recording there is a melody pickup, so we show separate first and second endings for the head. The final melody phrase on the repeat of the out head is played up an octave.
This live recording has an extended vamp intro, set up by the bass before adding drums and piano. Our quintet arrangement shows the intro the same as the other two versions. Our audio clip starts at the melody.
This live video version was recorded for a TV broadcast in Ljubljana, Slovenia. In June 2000, Bobby Watson and Jack Walrath played on "Friends And Mentors," an all-star album led by tenor saxophonist Mel Martin. Bobby and Jack first recorded in a quintet setting together in 1994 on one track for "Bob Belden's Shades Of Blue," a tribute album to the classic Blue Note recordings of the '50s and '60s.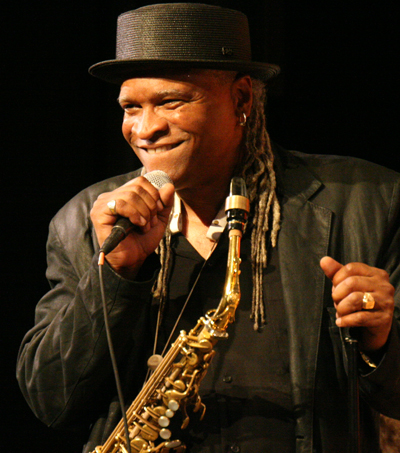 born on August 23, 1953
Robert "Bobby" Watson, who was born and raised in Kansas City, Kansas, grew up to become a jazz saxophonist, composer, arranger and education of formidable talent and acclaim. He got his degree from the University of Miami before becoming a member (and later the musical director) of legendary drummer Art Blakey's Jazz Messengers. He remained an invaluable member for four years, from 1977 until 1981. Read more...