Little Leona

– Adriano Acea

This is a great way to feature a drummer who has Latin chops.
All selected items will be available for download after purchase.
Recording:

Roy Haynes - Swingin' With Roy Haynes

Recorded on:

October 3, 1954

Label:

Metronome (MEP 90)

Concert Key:

C minor

Vocal Range:

, to

Style:

Latin (medium up)
Trombone - Ake Persson
Bari Sax - Sahib Shihab
Tenor Sax - Bjarne Nerem
Piano - Adriano Acea
Bass - Joe Benjamin
Drums - Roy Haynes
This is an enticing Latin/swing piece. The condensed score (in Concert key) shows the harmony parts in addition to the melody and is great for solo pianists or bandleaders. The lead sheet editions include the melody and chord changes but not the harmony parts. Our audio excerpt begins a measure before the horns come in with the melody and continues through the Latin A section into the swing bridge, fading out just as it turns around back into the final Latin C section.
If
Little Leona
sounds familiar to you, it may be because you've heard it sampled in
Who's That Man
, the theme song from the closing credits in Jim Carrey's classic 1994 comedy, "The Mask."
This Roy Haynes album was recorded in Sweden. The personnel included several Swedes as well as American musicians presumably traveling with Roy. The day before this session, on October 2, Adriano recorded on a Coleman Hawkins date with Osie Johnson on drums, also in Sweden, and he's listed as performing in a Coleman Hawkins concert in Europe in October 1954. Here's a photo of Roy and Adriano from the back cover of the second release of the album, on EmArcy, "Busman's Holiday."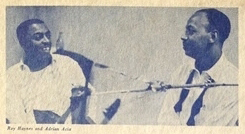 Throughout Adriano Acea's career, he was frequently miscredited as "Adrian Acia" or other mispellings. Such was the case for this release.
Little Leona
was initially released on a 7" EP for Metronome titled "Swingin' With Roy Haynes." It was later released again on "Busman's Holiday," on which the liner notes even featured a picture of Adriano and Roy talking. But on all of these releases, Adriano is credited as "Adrian Acia."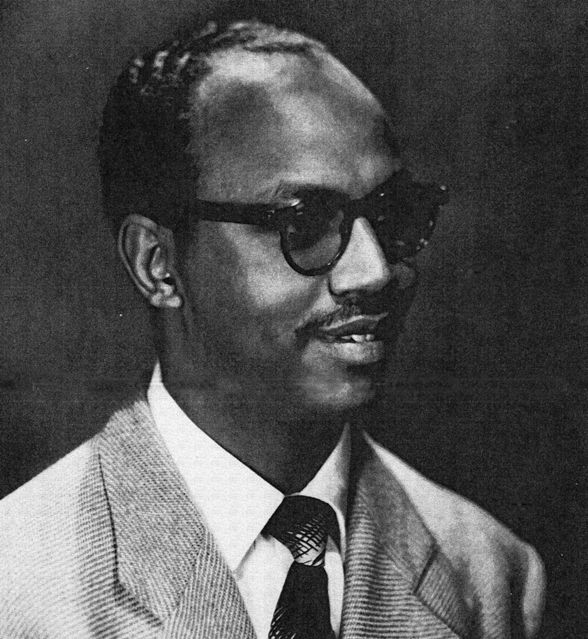 September 11, 1917 – July 25, 1963
John "Johnny" Adriano Acea was a Philly-based pianist best remembered for his superb accompaniment of many jazz legends. Known and credited by several names, his legacy is fragmented: some of his best work is credited incorrectly, making it difficult for historians to properly recognize this talented composer and pianist, landing him in some obscurity despite a skill that his peers heralded. His collaborations with Grant Green, Ben Webster, and Illinois Jacquet are his best-known. Read more...