La Mesha

– Kenny Dorham

A perfect 20-measure ballad. Lead sheets, second parts and solo piano arrangement available.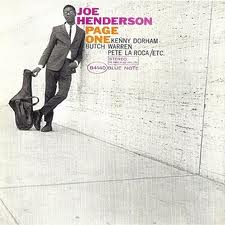 All selected items will be available for download after purchase.
Recording:

Joe Henderson - Page One

Recorded on:

June 3, 1963

Label:

Blue Note (BLP 4140)

Concert Key:

C-flat

Vocal Range:

, to

Style:

Ballad
Trumpet - Kenny Dorham
Tenor Sax - Joe Henderson
Piano - McCoy Tyner
Bass - Butch Warren
Drums - Pete LaRoca
Video
Benny Green Solo Rhodes
Jerry Bergonzi (ts), Carl Winther (p), Johnny Åman (b), Anders Mogensen (d), Live in Brückenstern
Evan Sherman (d), Chris Lewis (ts), Bishop Marsh (tpt), Micah Thomas (p), Vince Dupont (b), Live at Smalls Jazz Club 7/20/21
Conservatoire de Nantes, 2011: Dominique Le Voadec, trumpet; Jean-Marie Bellec, piano; Simon Mary, bass, Jean Chevalier, drums
Don Sickler: "For me, this is THE perfect 20-measure ballad. Our audio excerpts starts right on the melody. On the recording, McCoy Tyner's piano introduction sets up the melody entrance beautifully.

"Kenny Dorham was a master composer, especially when it came to using rhythm section instruments to enhance a composition. Listen to his bass line. It's definitely the magical ingredient that guides and moves the composition forward. In each of the first six measures the bass line propels you into a very special harmonic setting that stops and suspends, until the melody re-enters and sets up the next bass movement. In the seventh measure the bass establishes a two-feel pulse, starting a motion that ingeniously switches to a back-beat pedal pushing the momentum of the composition even more forward for two measures. Everything then opens up again, with the bass shifting to two measures of open 1-feel.

"Then a new bass line enters and redirects the melody which leads to the unexpected chords under the last two measures of the held melody note. Listen to how the same bass line is then used to propel the soloists in the solo section on the recording.

"If you examine the melody alone, you'll see this composition is one incredible evolving line from beginning to end. Performing this composition demands full sensitivity from everyone performing it. With everyone in sync, this composition always works!"

Don continues: "By the time I discovered this composition, I already knew Kenny Dorham's composition
La Villa
, which I presumed meant "the villa." When I saw
La Mesha
, I thought the name of this new composition I'd discovered referred to "the mesha." Once I got my hands on the LP record jacket, I understood. Kenny wrote the liner notes for the recording, saying that this beautiful ballad was 'named after my three-year-old daughter.' It's actually a play on words, since his daughter's name is spelled "Lamesha." On my first hearing of this recording of
La Mesha,
I knew it was something very special. For me, definitely the most beautiful 20-measure ballad that I know. It's perfect.
"The first published Second Floor Music folio was a solo piano book of 30 compositions by Kenny Dorham, arranged by pianist (and friend of Kenny's)
Walter Davis, Jr.
I love all of the compositions in that book, but I had to place
La Mesha
first, as the opening composition, because I was so entranced by it. If you don't have the book, get the Solo Piano Arrangement here.
"One of the first jazz artists I sold the book to was tenor saxophonist Clifford Jordan. At the time, I didn't know him that well. After about a year, I ran into Clifford again, and I thought it would be a good opportunity to get a quote from him as to how he enjoyed the piano book. His comment blew me away! Clifford said he opened the book and played from it every day. He started his musical day by sitting at the piano and playing through
La Mesha.
"
La Mesha
is the ballad on '
Page One
,' Joe Henderson's first leader album. That album also introduced two important jazz standards, Kenny Dorham's
Blue Bossa
and Joe Henderson's
Recorda-Me.
"
Note: purchase
K.D.: 30 Compositions by Kenny Dorham
at MusicDispatch.com.
Essential Bass (Butch Warren, bassist)
Interpreting a ballad is an art form that any serious musician must study in depth. The tender nature, slow moving and long length rhythmic values and the heightened effect of each individual note force the player to hone in and focus intensely. La Mesha provides a few additional challenges. To start, this is no mere bass chart with chord changes; it is a highly detailed, written line, directly tied to all of the parts around it. This is a bass part that should be played with the same precision and attention to detail that orchestral bassists must give when they are handed a page of music.

The first six measures of A can be difficult because they include arpeggios that span well over an octave in less than one beat, requiring the player to have great efficiency in shifting and a strong knowledge of where the notes lie on their instrument. The B section brings about another idiosyncrasy, which is having hits in a ballad. Normally when a song has hits, it's a hard driving, medium to up tempo tune. Here, the hits are a test of the player's accuracy, precision and attention to detail that will determine if they can help make the music happen or not. The player is challenged to make the hits in a rhythmically successful vein, yet keep them tender and appropriate for the music's texture and overall atmosphere.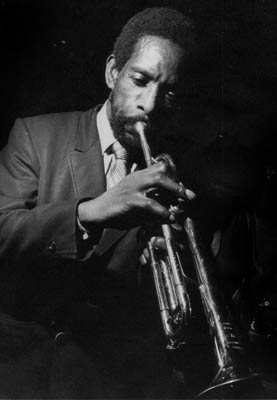 August 30, 1924 – December 15, 1972
Trumpeter/composer Kenny Dorham was very much on the jazz scene from the mid-1940s through most of the 1960s. He worked and recorded with all the major figures in the modern jazz movement, which includes the legendary Billy Eckstine big band, Dizzy Gillespie, Art Blakey, Bud Powell, Charlie Parker, Thelonious Monk and Max Roach as well as Kenny Clarke, Sonny Stitt, Fats Navarro, J.J. Johnson and many other giants of that period. Read more...