Jeremy Isaiah

– Justin Robinson

One of Justin Robinson's more harmonically advanced compositions, this medium swinger features piano and bass figures in contrary motion that fill in around the melody. A combined piano and bass part is available.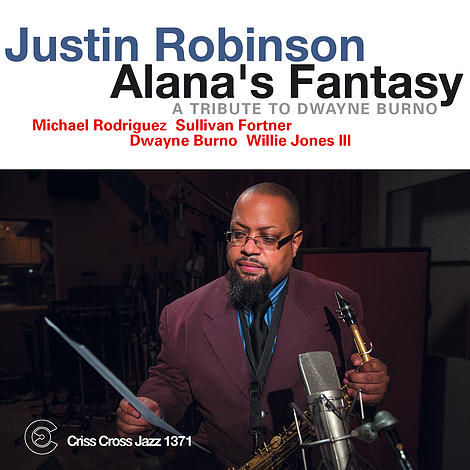 All selected items will be available for download after purchase.
Recording:

Justin Robinson - Alana's Fantasy

Recorded on:

November 4, 2013

Label:

Criss Cross Jazz (1371)

Concert Key:

No key center

Vocal Range:

, to

Style:

Swing (medium)
Trumpet - Mike Rodriguez
Alto Sax - Justin Robinson
Piano - Sullivan Fortner
Bass - Dwayne Burno
Drums - Willie Jones III
Like other Justin Robinson songs, this one is really held together by its relatively simple melody. The melody of Jeremy Isaiah, mostly in half notes and dotted half notes, connects an advanced set of changes that's a worthy challenge to blow on. There is really no key center in this song; the melody twists around in seconds and thirds, never seeming to land on a tonic. The changes feature some II-V7s that resolve in unexpected places, combined with descending motion in thirds at the beginning of the A section. Each section of this 32-measure AABC form ends with A♭m7 followed by Am7. One unusual chord in this song is Dm9♯5(maj7) in the seventh measure of the A and C sections. From the root up the notes in this chord are D, F, B♭, C♯, E. Our piano/bass part shows another voicing with the third on top. D "whole-half" diminished scale works with this chord; D harmonic minor could also be used.

In the first three measures of the A and C sections, the melody notes are filled in by a rhythm section countermelody—or rather two countermelodies. There's an ascending line in the piano right hand, harmonized with a descending line in the piano left hand and bass. On the first chorus of the first solo, the bass plays the same descending line in the A and C sections. The bridge of the head also begins with a double countermelody, one measure in contrary motion and the next in parallel motion. We show all these lines in a combined piano/bass part, which also includes a few notable piano voicings.

On the recording, the horns play the melody in octaves. There's one trumpet harmony note above the alto sax melody—E harmonizing C♯ a 10th above in the second measure. We have decided not to show this in our lead sheets because we want to make it clear which note is the melody here.
For more from this
album
, check out
Alana's Fantasy
and
Eazy E
. Justin Robinson has dedicated many songs to his friends and family; Jeremy Isaiah is named for his son, just as the title track is in tribute to his daughter.
This album is Justin's only recording so far with trumpeter Mike Rodriguez, who has recorded on albums by several other alto saxophonists including Miguel Zenon, Yosvany Terry, and David Bixler. Mike also played on Chick Corea's last studio album, "Antidote."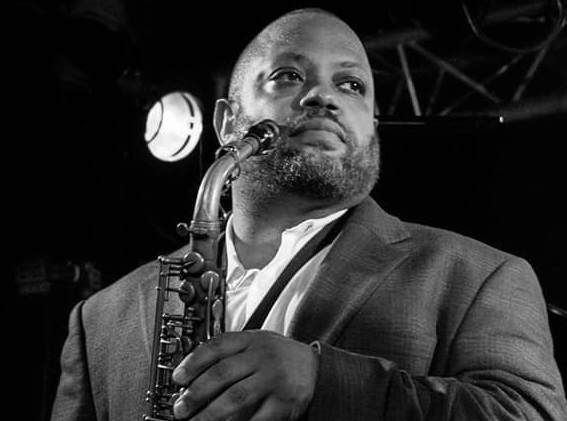 born on August 14, 1968
Justin Robinson is an important member of the generation of jazz musicians who began their careers in the late 1980s to early 1990s. Justin got his professional start at age 18 in the Harper Brothers Quintet, making his first recording with them in 1988. Three years later, he made his first recording with Roy Hargrove, on pianist Stephen Scott's debut album "Something To Consider." Justin would continue playing with Roy for the rest of Roy's life. Read more...