I Remember Love (vocal)

– Tadd Dameron & Bernie Hanighen

In the vocal version, the drama of this ballad is matched with a bittersweet lyric by Bernie Hanighen. Ballad vocal lead sheets are available in three different keys, as well as a long meter bossa Minus You track in F minor. A separate long meter bossa lead sheet reflects this recording.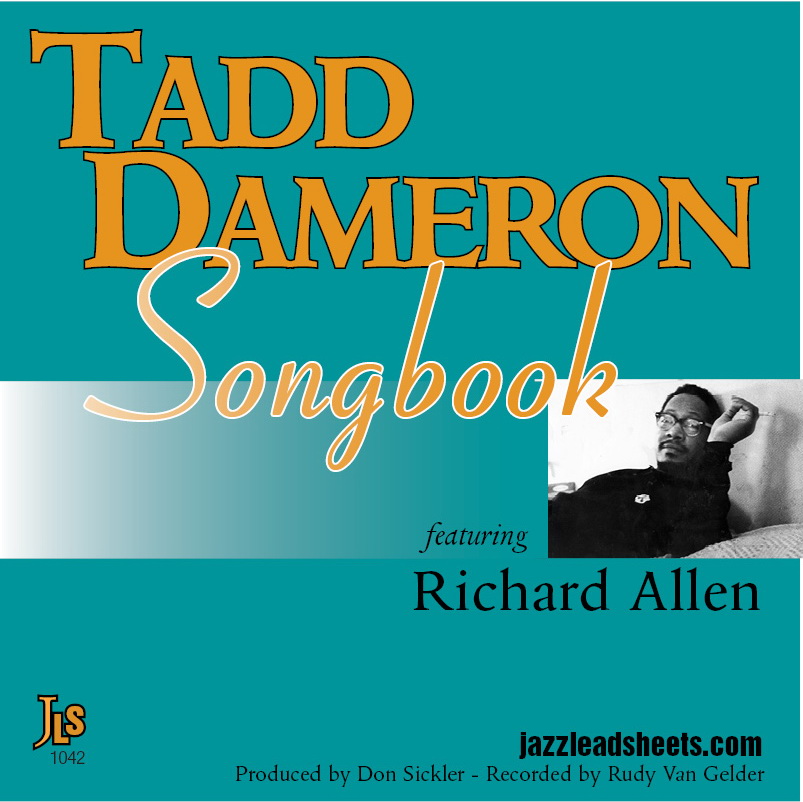 All selected items will be available for download after purchase.
Recording:

Richard Allen - Tadd Dameron Songbook

Recorded on:

September 13, 1997

Label:

jazzleadsheets.com (JLS 1042)

Concert Key:

F minor

Vocal Range:

Baritone, E3 to A-flat4 written 8va

Style:

Latin (Bossa)
Vocals - Richard Allen
Piano - Norman Simmons
Bass - Ron McClure
Drums - Billy Drummond
Another absolutely beautiful Tadd Dameron ballad, this one is particularly remarkable in the way it plays with expectations regarding major and minor tonalities. The opening melody pick up arpeggio, A♭ minor ascending to D, outlines a resolution that would imply C minor, but actually lands on C major. Despite this suggestion of C major as the ultimate key, the A section melody still implies C minor; the changes largely reflect this tonality but return to major on the fifth measure. The B section goes to A♭ major and then G major; note that the melody is similar in these two four-measure phrases, but a step higher in the lower key. This B section has a four-measure tag developing the melodic phrase of the seventh and eighth measures back toward C minor, resolving again in major for the C section. C is identical to A, and D begins in A♭ major like the B section, resolving back to a II-V7—finally in C minor as the initial melody had implied.
Similarly, the lyric by Bernie Hanighen plays with emotional expectations, leading in a positive direction only to climax at D with an unexpected ending. The lyric is perfectly melded to Dameron's melody; the surprise ending is revealed after the highest melody note.
We're presenting our ballad vocal lead sheet editions in a few different keys, including Tadd's original key of C minor (with a range of B3 to E♭5). Vocalist Richard Allen, with his rich low register, sings it in F minor—two octaves below where it is notated—this is a long meter bossa version. (Our F minor lead sheet is written an octave above where it would be sung in an alto register, to avoid too many ledger lines.) Neither of these are female friendly keys, so we're also providing G minor (with a range of F♯3 to B♭4).
The song never goes lower than the first note you sing, and the first five notes span the range of the song, except for one note a half step higher near the end. If you have a good low E, you'll probably want to do it in F minor. In G minor, you start on low F♯ which works for most female singers.
This song has been recorded instrumentally, by trumpeter
Benny Bailey
accompanied by pianist Kirk Lightsey. Our own
Don Sickler
added his muted trumpet and flugelhorn interpretations to Richard's rhythm section.
"The Tadd Dameron Songbook"
was recorded at the legendary
Van Gelder Studio
in Englewood Cliffs.
Years ago, Mia Dameron (Tadd's widow) told us that
I Remember Love
also had a lyric version. She found it and sent a copy of the manuscript. It had three flats in the key signature, and the last chord was C minor. The melody started in major and ended in minor; Tadd used the minor key signature.
We'd never been able to find a recording of the vocal version, so when Richard Allen's wonderful voice came on the scene, it seemed like a natural fit. He spent a few days at Rudy Van Gelder's New Jersey studio recording songs from the jazzleadsheets.com catalog; two were
Dameron's.
Exclusive Minus You audio track

Our Minus You track is in the key of F, as a long-meter bossa; use the "long meter" lead sheet. The form is two choruses.
-- a piano arpeggio gives the starting notes
-- count off sets up the melody
-- sing the melody
-- piano solo on A and B of the second chorus
-- sing the out melody from C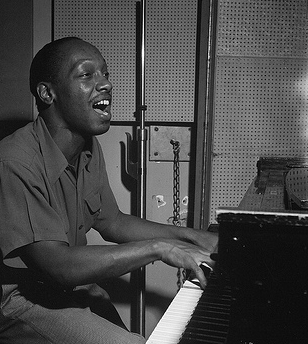 February 21, 1917 – March 8, 1965
A giant of the bebop era, Dameron had a wonderful melodic and harmonic imagination which he brought to compositions and arrangements for both small and big bands. Writing first for Harlan Leonard, Jimmy Lunceford, Count Basie and Billy Eckstine, in the late '40s Dameron started composing and arranging for Dizzy Gillespie's big band. He also recorded his own superb sextet for Blue Note Records in 1947 which featured trumpet great Fats Navarro. Read more...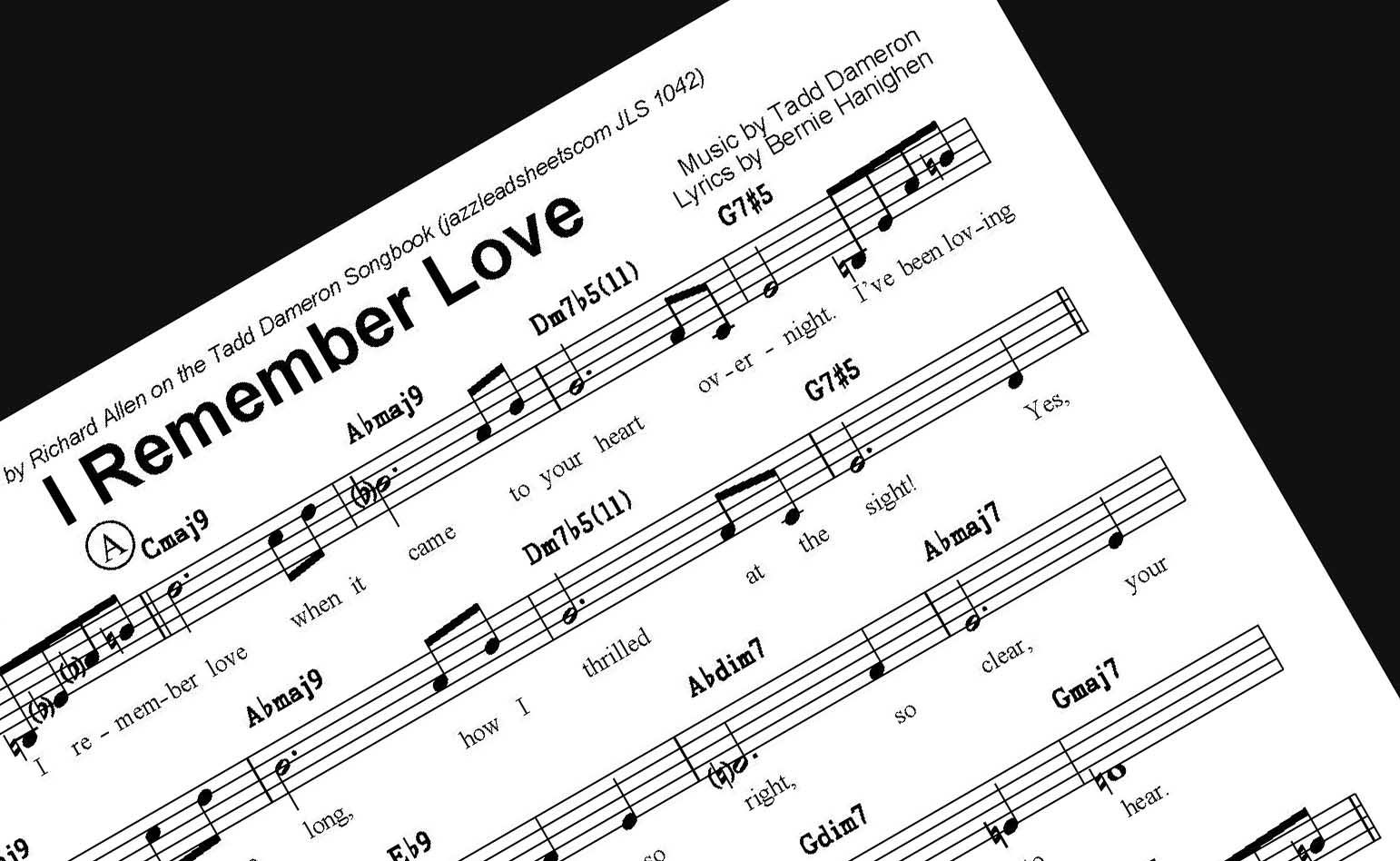 April 27, 1908 – October 19, 1976
Bernie Hanighen is best remembered for writing the lyrics to Thelonious Monk's standard 'Round Midnight. Hanighen, however, was not only a lyricist but a composer as well. Read more...