I Remember Love

– Tadd Dameron
All selected items will be available for download after purchase.
Recording:

Benny Bailey - I Remember Love

Recorded on:

June, 2002

Label:

Laika Records (3510175.2)

Concert Key:

C

Vocal Range:

, to

Style:

Ballad
Trumpet - Benny Bailey
Piano - Kirk Lightsey
Another absolutely beautiful Tadd Dameron ballad. Trumpeter Benny Bailey, who knew and loved Tadd, was honored to record this wonderful composition on his session. Our lead sheet editions for this album are normal ballad lead sheets. The lead sheets for the other instrumental recording shown here (above right) are long meter bossa lead sheets.
This Dameron ballad is particularly remarkable in the way it plays with expectations regarding major and minor tonalities. The opening melody pick up arpeggio, A♭ minor ascending to D, outlines a resolution that would imply C minor, but actually lands on C major. Despite this suggestion of C major as the ultimate key, the A section melody still implies C minor; the changes largely reflect this tonality but return to major on the fifth measure through the same melodic pick up. This time, the line is heard over G7; we see that it actually comes from a favorite Dameron dominant chord alteration (♯5, ♭9) which, by the way, Tadd might have been the first to introduce into the infancy of harmonic language of the bebop world. The B section goes to A♭ major and then G major; note that the melody is similar in these two four-measure phrases, but a step higher in the lower key. This B section has a four-measure tag developing the melodic phrase of the seventh and eighth measures back toward C minor, resolving again in major for the C section. C is identical to A, and D begins in A♭ major like the B section, resolving back to a II-V7—finally in C minor as the initial melody had implied.
Check out
Richard Allen's
vocal recordings of Dameron's music.
Trumpeter Bill Hardman was the first to record this composition:
from the liner notes to Bill Hardman's album "Home" by Michael Bourne, WFIU-FM, Birmingham, Indiana
Tadd Dameron's song I Remember Love is the only piece that they hadn't played before. "That's one Tadd never even played," Hardman said. "Tadd is from Cleveland [Hardman's home], and a friend of mine who grew up with Tadd has got all of these tunes that Tadd wrote in a trunk. I just went through the trunk one day and pulled out a couple." After a Junior Cook prelude, "I Remember Love" is Hardman's song all the way, lyrical as only Tadd Dameron's music is.

Don Sickler: I talked to Bill Hardman, one of my heroes and a fellow trumpet player, a lot about Tadd. I asked him if he still had a copy of his source for this composition, but he didn't have it anymore. I would have loved to study his source, because there are two important differences between his recording and my manuscript source (which came from Mia Dameron, Tadd's widow). First, Bill recorded it a step higher than the lead sheet Mia gave me (starting in D major concert). Second, and most important, Bill plays one different note in the four-note melody pick up. This four-note pattern happens four times in the melody, and each time I'm sure the third note should be the flat-9 of the chord, instead of the root, which Bill plays. Our recording excerpt comes from Benny Bailey's 2002 recording. Benny got the music for his session from me, playing from what is now our jazzleadsheets.com lead sheet.

Benny Bailey had always been one of my hero trumpet players as well, and I remember how excited I was in 1987 when tenor saxophonist Charlie Rouse suggested to me that we should get Benny to play the other trumpet book with me on our Monk All-Star Tentet European performances that summer. From that association Benny and I became friends, and in 1999 he honored me by having me produce his "The Satchmo Legacy" recording for Enja Records, recorded by Rudy at the Van Gelder Recording Studio in Englewood Cliffs, NJ.
All selected items will be available for download after purchase.
Recording:

Don Sickler - Further Explorations Vol. 1

Recorded on:

September 13, 1997

Label:

jazzleadsheets.com (JLS 1034)

Concert Key:

F minor

Vocal Range:

, to

Style:

Latin (Bossa)
Muted Trumpet/Flugelhorn - Don Sickler
Piano - Norman Simmons
Bass - Ron McClure
Drums - Billy Drummond
This Minus You version in the key of F is a "long-meter" bossa. The melody and chords are moving at the same speed as they would be at a ballad tempo, but because of the double-time bossa groove the song is notated twice as slow, a 64-measure form.
Don Sickler:
In this absolutely beautiful Tadd Dameron ballad, the melody starts in major and ends in minor. Years ago, I first wrote it out in major, but when Mia Dameron (Tadd's widow) sent me a copy of the manuscript of the vocal lead sheet, I saw that he used the minor key signature. It is an ABAC form. A is eight measures, B is twelve measures, then the same A returns. The C section starts the same as B for one measure and then develops in its own direction ending with a minor tonic.
Some years ago I produced a session for vocalist Richard Allen where he sang several compositions from my publishing companies. When I recently mixed Richard's version, I couldn't resist trying my own hand at this incredible melody. I overdubbed two versions, one on muted trumpet and one on flugelhorn. The audio clip above has a few measures of each one. Try your own version: the Minus You track is in F minor; lead sheets are available in all editions.
Check out
Richard Allen's
vocal recordings of Dameron's music. My instrumental versions use the same rhythm section tracks.
"Further Explorations"
was recorded at the legendary
Van Gelder Studio
in Englewood Cliffs.
Don Sickler:
This track, originally recorded with vocalist Richard Allen in a session at the Van Gelder Recording Studio, is a rare Dameron title, rescued from oblivion by trumpeter Bill Hardman (see Historical Notes for Benny Bailey's version above left). When mixing Richard's vocal track recently, I couldn't resist trying my own versions, on both muted trumpet and flugelhorn. You may feel the same—pianist Norman Simmons created such a sensitive accompaniment!
Exclusive Minus You audio track
Our Minus Melody track is two choruses long.
-- count off sets up the pickup to the melody
-- play the melody
-- solo 1 chorus, or solo A B and take the melody out from C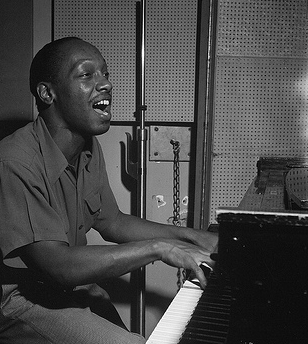 February 21, 1917 – March 8, 1965
A giant of the bebop era, Dameron had a wonderful melodic and harmonic imagination which he brought to compositions and arrangements for both small and big bands. Writing first for Harlan Leonard, Jimmy Lunceford, Count Basie and Billy Eckstine, in the late '40s Dameron started composing and arranging for Dizzy Gillespie's big band. He also recorded his own superb sextet for Blue Note Records in 1947 which featured trumpet great Fats Navarro. Read more...