Holunderkuchen

– Jerry Dodgion

A 24-measure minor-key blues that switches between 4/4 and 3/4.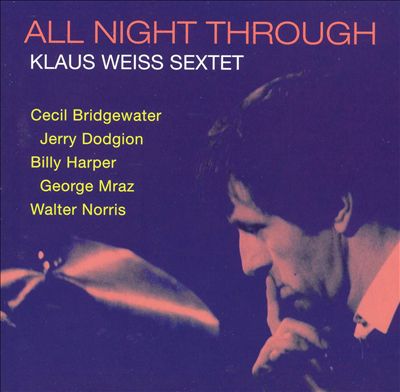 All selected items will be available for download after purchase.
Recording:

Klaus Weiss - All Night Through

Recorded on:

July 23, 1974

Label:

ATM (3816 AH)

Concert Key:

D minor

Vocal Range:

, to

Style:

Swing (uptempo)
Trumpet - Cecil Bridgewater
Alto Sax - Jerry Dodgion, Frank St. Peter
Tenor Sax - Billy Harper
Piano - Walter Norris
Bass - George Mraz
Drums - Klaus Weiss
Video
Jerry Dodgion performs Holunderkuchen at the jazzleadsheets.com studio with pianist Ben Rosenblum, bassist Ben Rubens and drummer Ben Zweig. March 8, 2015. The trio had performed this composition at a JazzHouse concert at Columbia University, with Jerry on alto sax and Graham Jacobsen on tenor sax, December 5, 2014.
This 24-measure post-bop minor blues poses a rhythmic challenge—though mostly in 4/4, the last eight measures are in 3/4. This situation continues on the solos.

Our lead sheet tempo heading (Uptempo swing or Medium up swing) gives you two options. For reference, the original recording was Uptempo swing (ca. 280), and on the video Jerry plays it Medium up swing (ca. 200).

The melody has two lines, which can be split up in several different ways. The bass plays unison with the lower line, which holds out a note for the upper line to fill in. In this version, the piano plays the bottom line and the horns play the top line the first time through. The second time it is split up among the four horns, with one alto sax and tenor sax on the bottom line, and the other alto and the trumpet on top. The B section (the turnaround) is harmonized.

The solo changes on our lead sheets end differently than on the original recording. On the recording, the solo changes end the same as the solo changes of the melody. The last two measures of the melody return to the tonic (Dm) for either a melodic break that sets up the return to A, or a break for a two measure drum fill that sets up the first soloist. When reviewing this original recording with Don Sickler, Jerry said, soloing-wise, it always bothered him getting back to the tonic before the start of the next chorus, so we revised the last four measures. Instead of using the last four measures of the head (II to V and two measures of I), for Jerry's video performance and the lead sheets, Jerry changed it to two measures each of II to V.
This session took place in Munich, Germany, as you might guess from the title: holunderkuchen is an elderberry cake and it's quite popular there. Jerry recalls he was pressured to very quickly (overnight) come up with a composition for the recording session. This is totally unlike the way Jerry usually composes. Don Sickler knows personally that it seems to take forever for Jerry to finish a composition. Jerry is always adjusting or altering little aspects of his compositions, unwilling to let it go until he feels he has everything just right. The wait is always well worth it, as evidenced in his big band compositions like
Butter
(for Quentin "Butter" Jackson, the famous trombone player with Ellington). Or check out his sax section works such as
Thaddeus
(named for trumpeter Thad Jones). Jerry tells a few stories about Thad Jones and other musicians on our
YouTube Channel
.
The lineup on this recording is taken mostly from the Thad Jones-Mel Lewis Orchestra, which was touring Europe that summer. Munich-based drummer Klaus Weiss did not make any other recordings with any of these players, but recorded extensively alongside
Fritz Pauer
. Dodgion's fellow alto saxophonist and Californian on this recording, Frank St. Peter, had settled in Germany in the late '60s, where he also recorded with guitarist Ira Kris and tenor saxophonist Leszek Zadlo.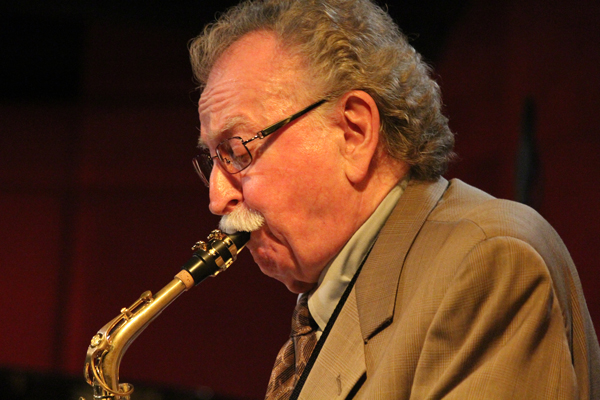 August 29, 1932 – February 17, 2023
One of the most in-demand sidemen in jazz, Jerry Dodgion is a saxophonist, flautist, composer, and arranger with over 50 years under his belt. Jerry was raised in the San Francisco area and took up the alto sax in his early adolescence. He began working in the early 1950s; by 1953 (at the age of 21), he was already working with trumpeter/band leader Gerald Wilson. Two years later, he joined Benny Carter's band in Las Vegas for the opening of the Moulin Rouge. In the late 1950s, he played with Frank Sinatra and became a regular member of vibist Red Norvo's quintet (1958-1961). Read more...