Here Again

– Buddy Montgomery

This hard bop swinger is a good introduction to the unique playing and composing style of Buddy Montgomery.
All selected items will be available for download after purchase.
Recording:

Buddy Montgomery - Here Again

Recorded on:

July 21, 1997

Label:

Sharp Nine (1008-2)

Concert Key:

F

Vocal Range:

, to

Style:

Swing (medium)
Piano - Buddy Montgomery
Bass - Jeff Chambers
Drums - "Killer" Ray Appleton
Buddy Montgomery is a very special composer/pianist (and vibraphonist!) whose music is so appealing you'll wonder why you don't already know it. This is our first release of his music on jazzleadsheets.com, but you can look forward to many more Montgomery compositions in the future.

Buddy Montgomery's composition Here Again is diverse, filled with blues, bebop and even more modern components. It feels almost like a standard, though the melody is rather complex. The changes are logical and rewarding to blow over. Though there is no F major 7th chord until the fifteenth measure, the key center is implied from the beginning by the melody and chord qualities.

The head has a lot of rhythm section hits, as many of Buddy's songs do; they provide a sort of counter melody. Though it has only been recorded as a trio, it works well with horns and could even be orchestrated effectively in a big band context.
.
The song title and the album title, "
Here Again
," was suggested to Buddy by bassist Jeff Chambers. As Buddy explains in Ted Panken's interview for the album's liner notes, "[When] Jeff Chambers got to New York, he said, 'Well, we're together again'—meaning that for the last 25 years we've been working off-and-on, sometimes a longer stint than the others. . . . He said, 'Man, I've got a title for at least two of your songs, if you don't mind.' I said, 'No, give it to me.' He said, 'Here Again.' That's where that whole idea came from." In the same interview Buddy mentions that this song was recorded earlier but not released.
Piano Melody Transcription: This detailed two-page transcription
clip
allows you to really explore Buddy Montgomery's mind and see how he thinks about and interprets his own melody.
from Don Sickler:
Buddy didn't read or write down his music. He therefore didn't have to think about the problems inherent in music notation. Buddy was always creating. When he'd play one of his melodies for me three or four times, each time there'd be little differences that just flowed naturally out of him. This made writing down the "absolute definite melody" an impossible task. Because of this, we'll often also make available a melody transcription of what he actually played on the recording, so you can see how he played it "that time."
All selected items will be available for download after purchase.
Recording:

Isaiah Thompson - Isaiah Thompson Plays The Music Of Buddy Montgomery

Recorded on:

August 27, 2019

Label:

WJ3 Records (WJ3 1025)

Concert Key:

F

Vocal Range:

, to

Style:

Swing (medium)
Piano - Isaiah Thompson
Bass - Philip Norris
Drums - Willie Jones, III
This tribute version by Isaiah J. Thompson is very slightly faster than the original. The feel in the head is a little lighter, with drummer Willie Jones, III, using brushes. The eighth measure of the A section is a break, but otherwise the trio arrangement is essentially the same as Buddy's, including the coda. This trio is really swinging and it's very fun to hear a contemporary band having such a good time with the music of Buddy Montgomery.
Isaiah J. Thompson became fascinated with the music of Buddy Montgomery when he first heard it, in 2014 at the jazzleadsheets.com studio. Isaiah worked an an intern for several summers, so by 2019 he was ready to present the music to the public, with "
Isaiah J. Thompson Plays The Music Of Buddy Montgomery
."
Recorded at the Van Gelder Recording Studio, where two of Buddy's albums were recorded, Isaiah put his own stamp on the music.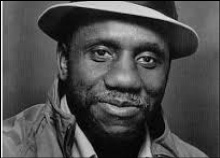 January 30, 1930 – May 14, 2009
Buddy Montgomery's music was straight ahead bebop jazz. He played in many styles, but always with a bebop approach. With no formal training, he played entirely by ear in any key, choosing what he felt were the most beautiful and creative chord changes, making his compositions challenging and inventive. He infused lyrical ballads with warmth and swung hard as well. Though he never crossed over outside of jazz, his music is accessible to casual listeners but still prized by jazz fans. Read more...