Eros

– Julian Priester & Judy Niemack

A multi-chorus tour de force that retells the Greek myth of Eros and Psyche over a blues in 7/4. Not your average blues chart! Recorded by celebrated vocalist Judy Niemack exclusively for jazzleadsheets.com. Full MP3 track and Minus You practice track without vocals both available.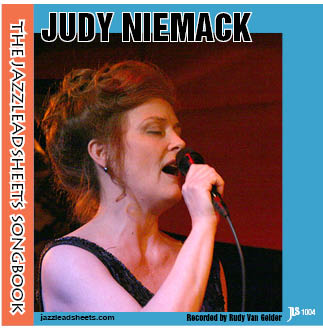 All selected items will be available for download after purchase.
Recording:

Judy Niemack - The JazzLeadSheets Songbook

Recorded on:

October 5, 2007

Label:

jazzleadsheets.com (JLS 1004)

Concert Key:

C

Vocal Range:

Mezzo Soprano, E3 to B-flat4

Style:

7/4 even 8ths (African)
Voice - Judy Niemack
Bass - John Webber
Drums - Victor Lewis
Horns - Don Sickler
This funky twist on the blues is exotic in every way. The 7/4 time signature is the main source of the intriguing groove, but the expansive melody that develops more complexity throughout the choruses also adds a layer of mystery. Nevertheless, the melody is catchy, tuneful, and easy to learn, making it a perfect introduction to odd meter blues.
Judy's lyric spans eight choruses—two times through the head, four choruses of lyrics to Julian's riffs, and two choruses on the head out (five pages). This tour de force of a song is just as epic as its mythological subject matter!
Our audio clip starts at the beginning of the head, after the introduction, and goes through the first chorus.
Lyric Description:
Judy Niemack's lyric is a sexy retelling of the Greek myth of Eros and Psyche. Eros, the son of the goddess Aphrodite, seduced Psyche. He didn't want his identity known, but she figured it out. In punishment, he abandoned her, forcing Psyche to seek counsel from Aphrodite, the goddess of love, who sent her on a difficult quest to win back her love. Judy draws out the theme of blind passion so strong it verges on desperation.
No-Vocal Version:
Our no-vocal version begins with a 10-bar instrumental introduction (two bars bass, four bars horns over pedal, and four bars over the bass riff). Then it goes through the form just as Judy'`s recording does. Note that the melody is accompanied by bass, drums and horns only, so it's important to really listen to the bass to lock in your pitch. The horns riffs help keep the singer in the right place in the form, as they change each chorus.
For tips on how to master this and other blues, along with lessons, no-vocal tracks, exclusive audio, and transcribed solos, check out Judy Niemack's book,
"Hear It and Sing It: Exploring the Blues"
.
If another key would be better for you, send the key you'd like to
Don
and we'll post the transposition on the website for purchase. If you're not sure which key is best, send us your range and we'll work with you to figure out the best key.
"The JazzLeadSheets Songbook"
was recorded at the legendary
Van Gelder Studio
in Englewood Cliffs.
Judy recalls her experience writing the lyric:
"I wanted to lyricize a blues in 7/4, and Don suggested Julian Priester's
Blues For Eros
. My first step was to listen to the recorded version by Art Blakey to get a feel for the mood. Then Don gave me Julian Priester's arrangement to work with. I began to research Eros, the mythical Greek god of love and sexual desire, the son of Aphrodite, who ruled love between men and women, and I became fascinated with the story of Eros and Psyche.
"Legend has it that Aphrodite became jealous of the beauty of a mortal, a beautiful young woman named Psyche, because men were leaving her altars to worship the beauty of a mere human. In a fit of jealousy Aphrodite asked Eros to shoot his arrow into the heart of Psyche and make her fall in love with the ugliest man on earth. He agreed to carry out his mother's wishes, but upon seeing her, Eros fell in love with Psyche himself. He would visit her every night, but remained invisible by telling Psyche not to light her chamber.
"Psyche fell in love with Eros even though she could not see him, but one night curiosity overcame her. She concealed a lamp and while Eros slept she lit the lamp, revealing his identity: a God. But a drop of hot oil spilt from the lamp awakening Eros. Angered that she had not trusted him, Eros fled and the distraught Psyche roamed the earth trying in vain to find her lover.
"Psyche begged for Aphrodite's help, and she insisted that Psyche must complete three tasks, one requiring descent to the underworld. By embracing the help of nature, Psyche completed the tasks successfully and was received into the pantheon of gods as an immortal and reconciled with her mother-in-law.
"Since Julian's arrangement for
Eros
has so many choruses, I had time enough to tell a short version of the legend, which contains all the elements of a great story, one where a young woman proves her worth and is rewarded. In it you'll find youth, beauty, maternal jealousy, true love, abandonment, the search for lost love, the accomplishment of difficult tasks, reunion with the lover and reconciliation with the family. What a great story!"
See more titles with lyrics written and sung by Judy in "
The JazzLeadSheets Songbook
."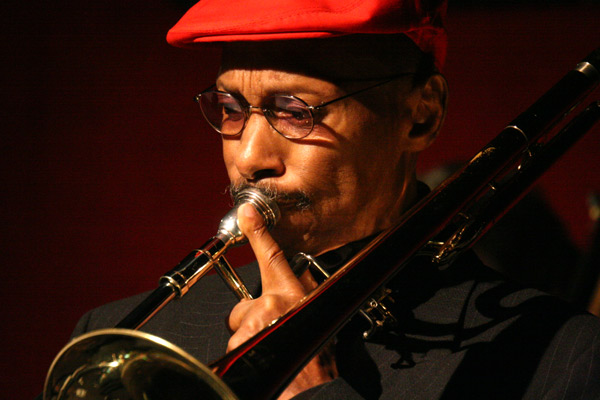 born on June 29, 1935
Julian Priester has brought a vital, spirited style of trombone playing to a wealth of artists, while contributing interesting compositions to the libraries of many of these groups. In his native Chicago, he played with bluesmen Muddy Waters and Bo Diddley, forward-looking bandleader Sun Ra, the master swing era vibist Lionel Hampton and blues-jazz singing marvel Dinah Washington. Read more...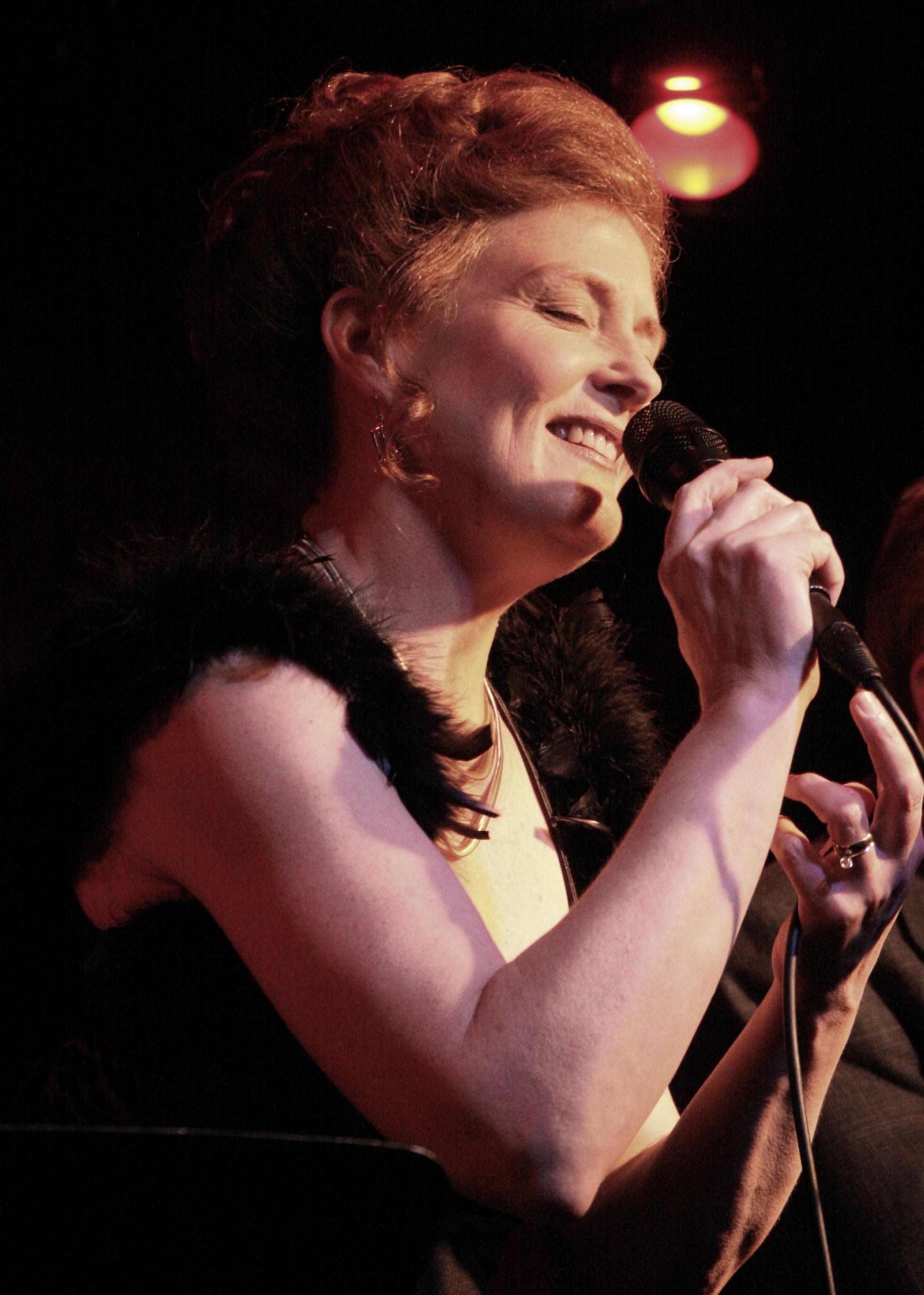 born on March 11, 1954
Acclaimed jazz vocalist Judy Niemack is a leader in jazz singing, vocal improvisation and pedagogy. She began her jazz studies in California with tenor saxophonist Warne Marsh as his first vocal student, which greatly influenced her scat style. Her debut album came in 1977, the same year she moved to New York. Since then, she has released 14 albums with the "Who's Who" of jazz, including Fred Hersh, Kenny Werner, Kenny Barron, Sullivan Fortner, Cedar Walton, Jim McNeely, Billy Hart, Lee Konitz, Joe Lovano, and Peter Bernstein. Read more...