Dark Days

– Robert Watson

Dark Days is an evocative ballad filled composed of equal parts sorrow and hope.
Recording:

Bobby Watson - Love Remains

Recorded on:

November 13, 1986

Label:

Red Records (NS 212)

Concert Key:

D-flat

Vocal Range:

, to

Style:

Ballad
Alto Sax - Bobby Watson
Piano - John Hicks
Bass - Curtis Lundy
Drums - Marvin "Smitty" Smith
A condensed score is available for this original quartet recording, which has a few slight differences from the others. This recording is longer, with a chorus each of alto and piano solo between the in and out heads. There is no fermata in the fourth measure of the solo chorus; on the head there is an extra fermata here as the piano switches upper structure triads from G♭ to F over A♭7. A specific bass figure is indicated at B of the head. The coda appears after the out head, but is shortened to only four measures. As with the other recordings, Bobby embellishes around the C section melody.
Though this exact lineup only appeared on "
Love Remains
," Bobby Watson recorded with pianist John Hicks and bassist Curtis Lundy in a variety of settings. Two other quartet albums they played on together are Hicks' "Naima's Love Song" from 1988, with
Victor Lewis
on drums, and "Project" in 1997, co-led by Watson and Lundy and also featuring legendary drummer Idris Muhammad. Also in November 1986, Watson recorded with German pianist Klaus Ignatzek.
Recording:

Bobby Watson - Horizon Reassembled

Recorded on:

January 25, 2004

Label:

Palmetto Records (PM 2102)

Concert Key:

D-flat

Vocal Range:

, to

Style:

Ballad
Alto Sax - Bobby Watson
Trumpet - Terell Stafford
Piano - Edward Simon
Bass - Essiet Essiet
Drums - Victor Lewis
The inspiration for this moving ballad is explained in the historical notes. This song is certainly a lament despite being in a major key. Once you listen to our audio clip, you'll hear that the melody is a perfect vehicle for Bobby's bending, sliding, mournful alto sax. The melody and solo sections have an ABC form, with 8-measure sections plus an extra measure at the end of C.

Our lead sheets are based on this recording. C shows the basic melody, but Bobby Watson embellishes around it on the head. The fermatas in the fourth measure of A and at the end also appear in the solo chorus. This recording is only two choruses long, with a piano solo on the second chorus; the horns enter in the last measure of this second chorus leading to a coda based on the A section. As indicated in the lead sheet, the whole head can also be played after the solos, followed by the coda; this is the format of the original "Love Remains" recording.

There is no quintet arrangement on this recording; the trumpet improvises backgrounds for the alto melody.

Bobby Watson recorded this beautiful ballad on three occasions: first a quartet version in 1986 on "
Love Remains
," then quintet in 2004 on "
Horizon Reassembled,
" and finally in 2013 on "
Check Cashing Day
" as a sextet. Our lead sheet reflects Bobby's
2004 recording
, which had a piano solo but no other soloists. The original 1986 recording was more expanded, with two soloists. We've included notations showing how Bobby expanded the arrangement for an additional soloist, as well as a return to the entire melody.
Bobby wrote this composition during the apartheid era, after he saw an image in the International Herald Tribune of an infant's coffin being carried in a procession.
Dark Days (Against Apartheid)
was dedicated to Nelson Mandela.
Many of Watson's printed combo arrangements are available from Second Floor Music. See more
information
(scroll down to composer name or click on letter at top). Purchase at
MusicDispatch.com
.
Recording:

Bobby Watson - Check Cashing Day

Recorded on:

May 19-20, 2013

Label:

Lafiya Music (2)

Concert Key:

D-flat

Vocal Range:

, to

Style:

Ballad
Trumpet - Hermon Mehari
Trombone - Karita Carter
Alto Sax - Bobby Watson
Piano - Richard Johnson
Bass - Curtis Lundy
Drums - Eric Kennedy
Spoken Word - Glenn North
This sextet recording has a format close to the "
Horizon Reassembled
" version, accompanying a poem written and recited by Glenn North. Again there is no added horn arrangement; alto sax and trumpet trade off on the melody, with trombone doubling bass lines starting in the second half of A. The second chorus has a piano solo for eight measures, with horns returning for a pickup to the out melody at B. This version has no coda, ending instead at the final measure of the head.
For more from "
Check Cashing Day
" check out
A Blues Of Hope
. Trombonist Karita Carter is Pamela Baskin-Watson's sister. Bobby Watson paid tribute to her with his composition
Karita,
another song he originally recorded with bassist Curtis Lundy.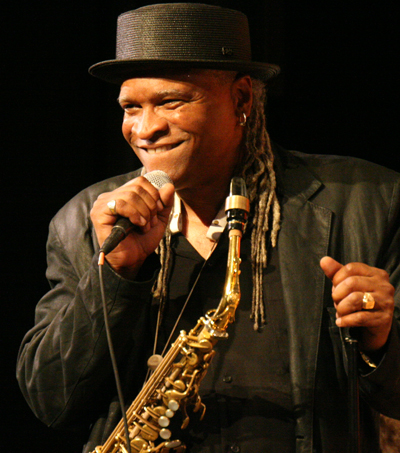 born on August 23, 1953
Robert "Bobby" Watson, who was born and raised in Kansas City, Kansas, grew up to become a jazz saxophonist, composer, arranger and education of formidable talent and acclaim. He got his degree from the University of Miami before becoming a member (and later the musical director) of legendary drummer Art Blakey's Jazz Messengers. He remained an invaluable member for four years, from 1977 until 1981. Read more...