Ray Starling
January 4, 1933 – May 15, 1982
| | |
| --- | --- |
| Instrument | trumpet, mellophone |
| Birthplace | London, England |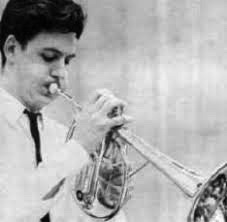 As both a player and a composer/arranger, Ray Starling is most closely associated with Stan Kenton's big band, specifically the expanded lineup of the 1960s that featured a section of four mellophones (also called mellophoniums).
Starling began his musical training on piano and started playing trumpet when he moved to the United States at age 16. By the time he joined the Kenton band in 1961, he had made several recordings not only on trumpet but also on flugelhorn and mellophone, notably playing the latter instrument on two songs on Kai Winding's 1960 album "The Incredible Kai Winding Trombones." Starling played in, and wrote for, Kenton's band in 1961 and '62. He replaced Gene Roland in the mellophone section, though Roland continued to arrange for the band at this time; Starling played on the album "Adventures In Blues" consisting entirely of original compositions and arrangements by Roland.
After leaving the Kenton band, Starling briefly co-led the New York Soundstage Orchestra #1 with Joel Kaye, who had played baritone and bass sax with Kenton. The Soundstage Orchestra, which accompanied vocalists such as Annette Sanders and Tony Bennett, later became the New York Neophonic Orchestra under Kaye's leadership in the '70s. Sadly, apparently Starling's arrangements for the Soundstage Orchestra have been lost.
Starling continued to record through the '60s, notably in Johnny Richards' big band and on J.J. Johnson's 1965 big band album "Goodies." He played piano in Buddy Rich's big band in 1967. Starling spent his last years in Phoenix, Arizona.